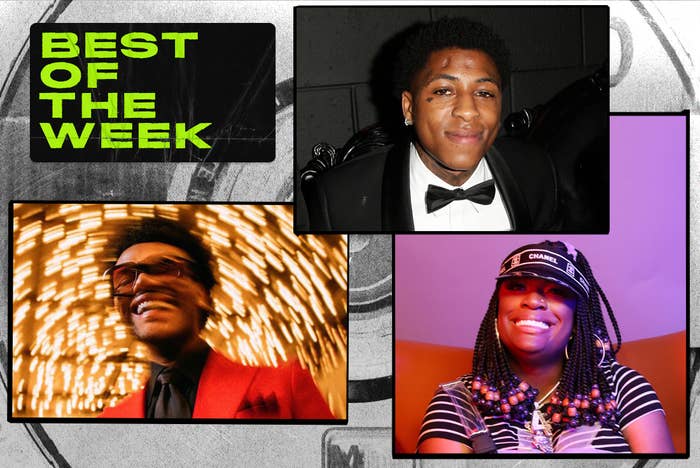 February is winding down, but the music releases aren't finished just yet. This week, some of our favorite artists gifted fans with new music. The Weeknd treated listeners to "After Hours" as he prepares to drop his long-awaited studio album of the same name; Jadakiss and Pusha-T united on "Hunting Season" ahead of his forthcoming album release (Ignatius drops February 28); YoungBoy Never Broke Again returned with "Lil Top" from his latest album Still Flexin, Steppin'; and Lil Tjay said farewell to the late Pop Smoke on his tribute record, "Forever Pop." These are the best new songs of the week.
Follow our accompanying Best New Music playlist on Spotify here.
The Weeknd, "After Hours"
The Weeknd ended 2019 with the ruthless anthem, "Heartless," which suggested he was back to his old ways. Now, he's revisiting an old relationship on a record that serves as an apology letter for the emotional turmoil he's caused. "I said you were wrong for me/I lied to you, I lied to you, I lied to you/Can't hide the truth, I stayed with her in spite of you," he croons over a grim beat. "After Hours," which is also the title of his upcoming project, is reminiscent of Weeknd's 2012 era, which covered similar themes of heartbreak, pain, and sex. Although the the singer previously ventured into the pop lane with 2016's Starboy, the new single would suggest we could bet getting the "old" Weeknd back. 
Duke Deuce, "Body"
The opening guitar strings on Duke Deuce's new single "Body" would lead anyone to believe this track was a romantic song, but it's far from it. On the Evil G-produced record, the Quality Control artist flexes melodic verses about money and murder. "Stash on his head, yeah I want that bitch dead/If you not a shooter, my nigga/Then that's how we play it," he spits. "Body" is the latest single from Duke's new project, Memphis Massacre 2. The track is certainly ominous, but hypnotizing in the best way. 
YoungBoy Never Broke Again, "Lil Top"
After releasing AI YoungBoy 2 in October 2019, YoungBoy Never Broke Again is back with his latest album, Still Flexin, Still Steppin. The 14-track project has a lot to offer his fans, but one of its standout moments is clearly "Lil Top." On the song, which trended on Twitter shortly after its release, YoungBoy reflects on his long and hard road to the top, rapping, "Lost my brothers, I ain't friendly nigga/I spent two-fifty on my Bentley/Straight out the mud, we from the trenches, nigga/The realest ones had the hardest way of livin." YoungBoy also dropped the visuals for "Lil Top," featuring him and some members of his crew toting guns and riding through the city. 
Lil Tjay, "Forever Pop"
Just one day after tragedy struck, Lil Tjay released "Forever Pop" in memory of his collaborator and rising Brooklyn drill rapper, Pop Smoke, who was shot and killed in Hollywood on February 19. On the tribute record, Lil Tjay struggles to make sense of Pop's untimely death, saying, "I'm still like, Damn, tryna put together screws/Takin' deep breaths, recordin' this, I'm busting' out in deep sweats." The outro includes an interview clip with Pop Smoke, where he sends a message to young kids who grew up similar to the way he did. "I'mma say, give like a message to my young niggas," he says. "We can't afford to fuck up. We can't afford to slip up, make no mistakes, you heard? Cause they watchin', and they want us to." Pop Smoke and Lil Tjay were good friends and collaborators. The Brooklyn duo most recently collaborated on "War" and "Mannequin" off of Pop's album, Meet the Woo 2. 
Lil Gotit f/ Young Nudy, "No Worries"
Lil Gotit and Young Nudy have connected on "No Worries," from Gotit's newly-released project, Superstar Creature. On the track, which is produced by London On Da Track, Gotit and Nudy discuss the hate they receive in their cities and why it's necessary to be ready for the unexpected. "Niggas don't wish me well / Just pray for your homies, I'm got' give hell," Gotit raps. Then Young Nudy, who is dropping a project of his own on Monday, comes in on the second verse with murder on his mind, spitting "I got a Glock that bitch hold a fifty… Got murderistic mind, I'll have a motherfucker missing." 
Royce da 5'9" f/ Vince Staples & G Perico, "Young World"
While the majority of this list is filled with melodic rap songs, Royce da 5'9" is stepping in to give hip-hop fans a classic-sounding rap record. On the track, Royce connects with Vince Staples and G Perico, where they each hold their own on individual verses. At first, the beat sounds like it's been stripped down, which allows Vince Staples to spits some metaphors about growing up in "the jungle." After a quick uptempo break, G Perico jumps on the smooth beat to drop a few lines about coming up in this "young world." And finally, Royce da 5'9" comes in on the third verse. On his verse, Royce appears to draw inspiration from real-life news, name-dropping everyone from George Zimmerman to the Carolina Panthers, Diddy, and Dr. Dre. "Young World" is the newest single from Royce's album, The Allegory, which is currently available on streaming services now. 
Jadakiss f/ Pusha-T, "Hunting Season"
Jadakiss and Pusha-T have linked up for a new collaboration,"Hunting Season." While Jadakiss' voice is just as menacing as it was in his heyday, he appears to attack the track with maturity, delivering gems for the old and new school throughout the verse. "We supposed to be leaders, then why y'all wanna follow each other," he raps. Make no mistake, though, it is hunting season, and Jada is still reminding these rappers that he has "a couple rappers heads on the wall of my crib." Pusha-T takes command on the second verse to shut the critics down. He also appears to take a jab at Drake, rapping, "They say all's fair in love and war/You say I moved the line just to score/Headshot to keep Adidas pure." The line may reference Pusha-T's infamous feud with Drake and a play on Drake's rumored Adidas partnership. "Hunting Season" will be included on Jadakiss' forthcoming album, Ignatius. The project will mark Jada's first solo album since 2015's Top 5 Dead or Alive. 
Kamaiyah f/ J. Espinosa, "Get Ratchet"
Kamaiyah may have a hit on her hands with the rambunctious anthem, "Get Ratchet." This is record that will help the girls get through the rest of winter and start prepping for the warm weather. With a title like "Get Ratchet," the record is not as uptempo as you'd expect, but Kamiayah captivates listeners with a Southern-influenced beat and fun and raunchy hooks. "Throwing that shit, like you catchin fits/Going crazy in this bitch, like a exorcist/Turning up, taking sips 'till ya exiting," she raps on the chorus. "Get Ratchet" appears on Kamaiyah's latest album, Got It Made. So if you like this track's vibe, you won't be disappointed with the rest of the project.
Jay Worthy, G Perico & The Alchemist, "The Routine" 
Jay Worthy, G Perico, and the Alchemist make a perfect trio on "The Routine," which is a smooth and laid-back record with an old school feel. On the track, Jay Worthy and G Perico outline the hood lifestyle. "Real players, they salute me/Real bitches come and pay/Haven't met a ho yet that's here to stay," G Perico raps on the hook. Jay Worthy has been pumping out a lot of new music as of late with Two4One releases like "Bellin'" with Boogie and "Bullshit" with Kamaiyah. It will be interesting to see where he takes it next.