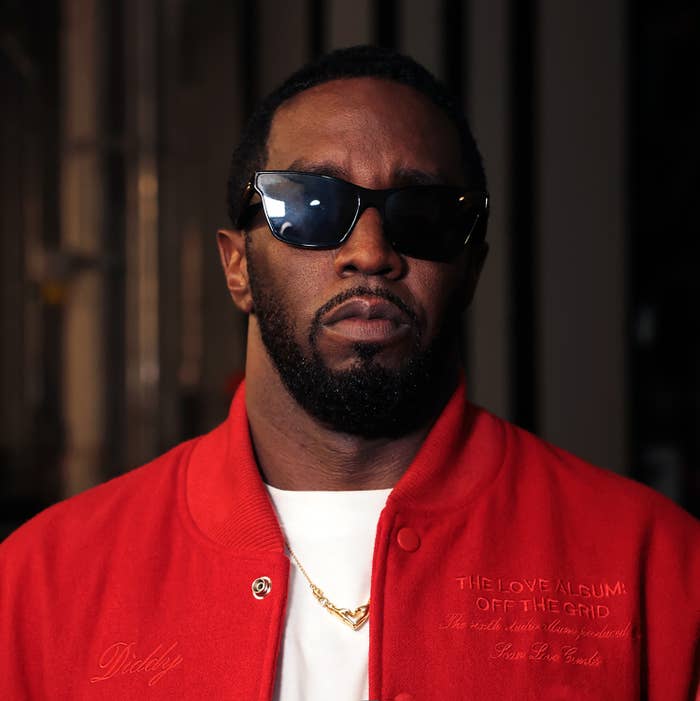 Last week, Diddy did something he hadn't done in 13 years: He dropped an album. Despite already being a music legend, a fashion icon, and a billionaire, the 53-year-old mogul opted to pick up the mic, get behind the boards, and call up a bunch of friends to create The Love Album: Off The Grid.
The new project is decidedly different from his last one, 2015's underrated mixtape MMM (Money Making Mitch), which was a rap-heavy lesser-known affair (His last official album was 2010's Last Train To Paris). Instead, The Love Album is, in his own words, the "Super Bowl of R&B," with an extensive guest list of vocalists ranging from superstars like The Weeknd to longtime collaborators like Mary J. Blige to relatively lesser-known acts like Jozzy.
Diddy didn't need to release this album. He has nothing to prove, nothing to gain. He says he doesn't care about streams, he cares about souls, but he's still striving to be No. 1. "If I'm not going in the studio and not trying to be No. 1, I shouldn't be making a record," said Diddy, via Zoom last week. "Not in the sense of the charts, but just being the best that I could be."
We caught up with the Bad Boy founder for a few minutes to talk about how the process for the album started eight years ago, why his superstar collaborators were willing to take direction, and the difference between producing and beatmaking. Take that, take that, take that.
This interview has been edited for length and clarity.
Complex: My first question is, is it okay if I call you Puff? I know you got a lot of names, but you're always gonna be Puff to me.
Puff Daddy: Yes. [Laughs.] That's love. I see that as the people that love me from day one. So yeah, definitely call me Puff.
You announced The Love Album: Off The Grid back in 2021, it seemed like it was gonna drop then but it's coming out now. Did you scrap that album to make all new material, or is it a mix of old and new?
It was definitely an evolution but it started two and a half years ago. It really started eight years ago when the "Another One of Me" record was done. Me and The Weeknd did that eight years ago. Then French wanted to jump on it and he brought 21 Savage with him and it was the whole vibe of the album. It was just us unifying as artists and producers under one banner for the Super Bowl of R&B.
But yeah, we announced that then but it wasn't ready to me. Most of the records were on there, I probably say there's maybe like only four new records from then. It evolved during time, it had to be right and now it's right. The time is now.
I'm just blessed that everybody came on there because they're like my favorite voices. It's not like I'm trying to do a collab album. This is really producing at a whole another level, this ain't no beat making. This is actually producing a song, producing a body of work, from every detail. The only way I was able to do that was the collaboration of some of the best producers and the best artists in the game.
Everything had to be intentional. I had to love their voice straight up. They're on this here because I love their voice and it's a dream for me to work with them. It's not because they a famous artist or a hot artist, this is real. I think the authenticity of that—especially when you have a lot of features on the album, you don't know how real the features' relationship is. These are relationships and voices that I'm fans of, they came to help me to tell my story, and let me tap into their talent. So that's just been a blessing.
The album does have an extensive guest list, lots of talented, successful artists. When you're in the studio with these artists coaching them, what kind of feedback are you giving them that maybe someone else can't?
I'm giving them what they want and what they need. A lot of times, somebody thinks that an artist wants to be in that studio by themselves without having somebody that they could trust from a taste level, from a choice level, from an experience level, from a success level. Instead of it being what you think it was, like, 'Are these artists gonna feel like they are taking direction and they're too big?' No, it's been the opposite. It's like, 'I've been wanting to work with you all my life, what do you want me to do?'
People really trust me as a producer, and that made this a pleasurable experience. I didn't have to deal with no egos or somebody who wanted to do it their way. I was able to have them do it the way that I felt it, so they let me be a producer. Everybody has their own sound, this is my sound that they're coming into and they're breathing life into that.
I done had my ego death as a producer, as an artist, so I'm making the music strictly for the people. — Puff Daddy
And, it ain't nothing wrong with beatmakers, we need beatmakers. I'm just saying, there's just a difference though. I had to get beatmakers to help me and collaborate on this. I'm just telling you what it is. Because you know, collaborations, you don't know if the people even know each other or be in the same room. You don't know what it is. Is it trying to trick the algorithm? Nah, this is making high-level Black unapologetic art. Soul, at its finest. Hip-hop Soul. R&B.
R&B is different than hip-hop. So that's what this album is also putting out there. A lot of people say R&B and hip-hop are together. No, baseball and football are not the same, it may all look alike but we're doing different things. That's one of the misconceptions that this album is lighting the fire up underneath. Don't put a R&B artist who's a different type of artist in a position to compete with a hip-hop artist with less resources. It's a whole different game.
You could throw Tom Brady into…well Tom Brady could do anything.
I do think Brady could be the Yankees starting pitcher, but I feel what you're saying. I love what you said about soul in the trailer, you said "I don't care about streams, I care about souls." You also say, "We're not stopping until we hit No. 1." This seems like an album you did from your heart, do you care about the sales or getting No. 1?
Yeah, I mean, I ain't gonna lie, every day I wake up, I'm trying to be number one. But that's not the intention of my music, you know what I'm saying? The purpose of the music, as I said, it's not about streams, it's about souls. I done had my ego death as a producer, as an artist, so I'm making the music strictly for the people.
I don't even trust any of the formats to be honest, that be saying who's number one or what. Like, you know, let's take it to the stage, we'll see who's number one. So it's just like I'm gonna still be competitive, but that's not the reason why I'm doing it.
As far as me saying that, if I'm not going in the studio and not trying to be number one, I shouldn't be making a record. I'm talking about not in the sense of the charts, but just being the best that I could be. Pushing it all away. No regrets, fuck that. I know that I was in there and I gave it everything that I could.
I'm not gonna be looking at number two, I'll be looking at number one forever. That's not in a literal sense of a chart. It's more like, that's the energy of us producing. It's like, yeah, if we do this good, it'll be number one all over the world. We got the same aspirations as Lebron and other sports players and stuff like that. We wanna be the best in our craft.