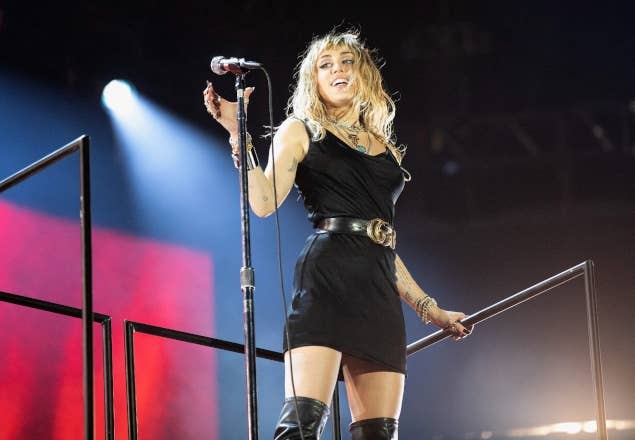 During her performance at Radio 1's Big Weekend in Middlesbrough, England, Miley Cyrus debuted three new songs: "Mother's Daughter," "Cattitude," and "Dream." In "Cattitude," the popstar mentions Cardi B and Nicki Minaj's well-publicized feud, singing "I love you Nicki, but I listen to Cardi."
The lyric isn't simply highlighting Nicki and Cardi's tensions, but also calls into question Cyrus' relationship with the "Anaconda" rapper. In 2015, Cyrus hosted the MTV VMAs when Nicki criticized the award show after "Anaconda" got snubbed for a Video of the Year nomination. "If your video celebrates women with very slim bodies, you will be nominated for vid of the year," she wrote on Twitter. "I'm not always confident. Just tired. Black women influence pop culture so much, but are rarely rewarded for it."
The "We Can't Stop" singer then denounced Nicki's stance during an interview with the New York Times. "If you do things with an open heart and you come at things with love, you would be heard and I would respect your statement. But I don't respect your statement because of the anger that came with it. And it's not anger like, 'Guys, I'm frustrated about some things that are a bigger issue.' You made it about you. Not to sound like a bitch, but that's like, 'Eh, I didn't get my VMA.'"
However, Nicki ultimately got the last laugh when she did take home the VMA for Best Hip-Hop Video. As the rapper was wrapping up her acceptance speech, she dropped Miley's name and delivered one of her more famous quips. "Back to this bitch that had a lot to say about me the other day in the press," she told the audience. "Miley, what's good?"
Earlier this year, Cyrus seemingly eased the tensions between them when she posted of video of she and Nicki with the subtext "We all love to see a woman on top." She captioned the gif, "Ohhh YEAH we dooo."