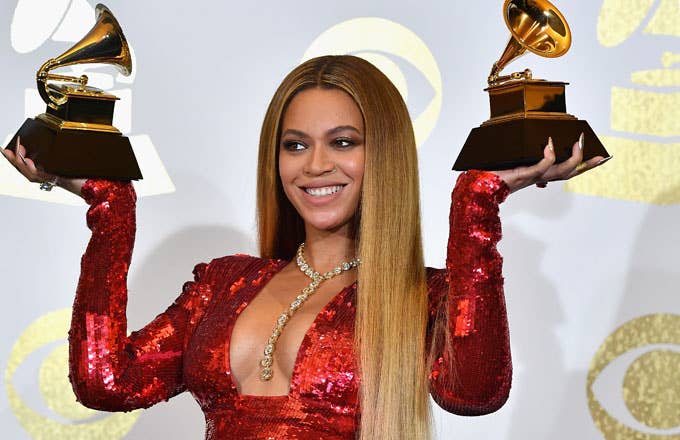 In a development that is ultimately unsurprising (but now official), the release of Beyoncé'a Lemonadeon streaming services other than TIDAL has gotten the now three-year-old album back on the Billboard 200, as it's hopped onto the list at No. 9. This showing, in tandem with the week-and-a-half old Homecoming: The Live Album charting at the No. 4 spot, marks the first time that Beyoncé has had two albums in the top 10 at the same time. Billboard further reports that she has two other records in the top 200, including her self-titled album in addition to I Am… Sasha Fierce.
In its first full week since its release, Homecoming hopped up from the No. 7 to the No. 4 spot on the back of 57,000 equivalent album units being sold. As for Lemonade, which previously stood at the No. 1 spot following its April 23, 2016 release, that pumped out 30,000 more equivalent album units after it was made available on streaming platforms, such as Apple Music and Spotify. As we said last week, that also included the original demo of "Sorry," and arrived with the video, "Formation (Choreography Version)."
Lemonade had last been in the top 10 when it was, once again, at No. 9 on the chart of the week ending March 7, 2017. It had risen back up to that point following exposure at that year's Grammys. Beyoncé's current claim to having two albums concurrently in the Top 10 makes her the first female artist to hit that particular milestone since Lady Gaga got two on the top 10 just a couple of weeks after her Super Bowl 2017 halftime performance.
Now that the lede's out of the way, here's a breakdown of the rest of those that charted this week.
Billie Eilish's WHEN WE ALL FALL ASLEEP, WHERE DO WE GO? got back to No. 1 (after two straight weeks at No. 2), marking the second time it's hit the top spot, after shipping out 88,000 equivalent album units over the past week.
Up from No. 3 to No. 2 was Khalid's Free Spirit. Down from No. 3 to No. 1 was BTS' Map of the Soul: Persona. We already told you No. 4 (Homecoming). Up from 6 to 5 was Ariana Grande's Thank U, Next. Lizzo made her debut on the Billboard 200, clocking in at No. 6 with Cuz I Love You. Nipsey Hussle's Victory Lap fell from 5 to 7. Juice WRLD's Death Race for Loveput in a strong showing at No. 8. At No. 9 was Lemonade, which you knew. And rounding out the top 10 was Post Malone's beerbongs & bentleys.