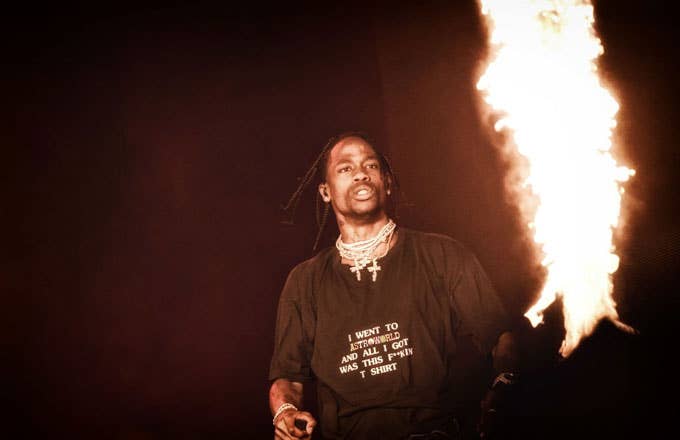 Ahead of the release of ASTROWORLD, Travis Scott told Zane Lowe that his new artist, Sheck Wes, would definitely appear on the album. Most probably expected something substantial from the Harlemite, like 16 bars or full hook duty. Instead, Sheck's contribution is his signature ad-lib—a singularly impassioned exclamation of "Bitch!"—peppered across multiple tracks. It's used as a winning punchline in some places (On "Sicko Mode," Drake raps, "When I shoot my shot, that shit wetty like I'm Sheck," and Sheck materializes immediately with an approving "Bitch!"). In others, well… Sheck's participation on the hook for "No Bystanders" is no heavy lift, but the song arguably wouldn't hit quite as hard without him playing spot duty.
Making an ad-lib feel crucial is no small feat, but Travis Scott is a master curator, and he has been since his seminal 2014 mixtape Days Before Rodeo. His gift for corralling the best, brightest, sometimes newest, and most unexpected minds in service of his particular vision, without flattening their own artistic identities, makes him valedictorian of Yeezy University. CyHi the Prynce, Travis' G.O.O.D. Music brethren who's credited as a producer and writer on four ASTROWORLD tracks, says the collaboration wave is one rappers need to get on if they want to compete for Album of the Year against the likes of Adele. And as far as rap is concerned, "That formula comes from Kanye West." In a recent interview detailing the making of the album, Scott's A&R Sickamore argued that when music writers give Travis props for this skill, it's a backhanded compliment to offset what they consider to be lyrical and/or substance deficiencies.
He's not wrong, but regardless of intent or subtext, the fact remains: Part of the excitement of a new La Flame project is seeing who he assembled for not only features, but production as well. A source of late pre-release buzz was news that Travis had decamped to Hawaii to finish the album with a team of the game's hottest producers as well as advisors, like Cash and Brock Korsan, and, of course, his right hand, G.O.O.D. music's OG producer-engineer Mike Dean.
that he knows what minds to put into the room is what makes him a great producer—but don't think that we're in there doing all the work. — Cyhi the prynce
Sonny Digital was among the A-team, though he's quick to clarify that Hawaii wasn't the end. "The finishing touches were, like, right after Hawaii. We were making sure it was tightened, making sure we had it right—but we were still out there making new stuff. I know he got some features while we were out there, too." The retreat had so many moving parts, Sonny isn't even 100 percent sure of which songs he's on. "Honestly, I see my name [on "Can't Say"], but I don't remember being behind it, though. We did a lot of work, too. We did a lot of work. I honestly don't know. Switch-ups and stuff can be kind of crazy."
La Flame brings more to the table than curation and orchestration, for sure. But anticipation of who he'll employ and how he'll deploy them is part of the fun of the first runs through his projects. Still, ASTROWORLD represents a gear shift. The stakes were higher, at Travis' own insistence, and he rose to them. The features are more surprising and integrated even more seamlessly—Philip Bailey, Kid Cudi, Stevie Wonder, and James Blake appear on one song. Two tracks later, Kevin Parker, Pharrell, and The Weeknd lend their vocals to another. The album sees Travis turn elements as subtle as guest ad-libs into crucial components of sonically adventurous arrangements. As CyHi notes, "The fact that he knows what minds to put into the room is what makes him a great producer—but don't think that we're in there doing all the work. No, Travis doing all the work; we're influencing him or giving him easier ways to express himself." Cardo, who produced one of Travis' biggest hits in "Goosebumps," says Travis sets a high standard from the jump, a wave collaborators have to catch quickly. "You have to really be in sync with this nigga. How he orchestrates, his whole energy when he's in that room with you...you have to catch on [to] what he's doing or whatever he's trying to present to you. Travis is just one of those unique people—you have to be on some shit to be in a room with him." Some ice-cold shit, he adds: "This nigga Travis records in a below zero room—it's freezing cold, you gotta be a vampire. Travis is a vampire." 
Cardo has a handful of unreleased tracks with Travis from the Birds in the Trap Sing McKnight and ASTRO sessions, but his work that wound up making the final cut, the raucous "Who? What!" wasn't even created until June 28, five weeks before the album dropped—the same night he met the track's co-producer 30 Roc. "Prolly within 30 minutes we had something. We played with a melody, I started switching up the drum patterns, and he had a crazy-ass sound effect," says Cardo, who was set to hit Miami the next day for Drake's Scorpion release party until he got an impromptu call from Sickamore. "Travis heard that shit and said, 'Stop.' He puts on headphones, and the engineer starts recording him while we still making the beat. Me and 30 are still making the beat. That whole breakdown shit how you hear it, that's us making that beat as he's recording the song." 
"Each track is like a rollercoaster," says FKI 1st, half of the production duo FKI, credited on ASTROWORLD tracks including "R.I.P. Screw" and "5% Tint." He's been with Travis since the rapper's beginnings, co-producing "Sloppy Toppy" and "Drugs You Should Try It" on DBR. Travis' directive, he says, is what set the ASTROWORLD sessions apart from previous collaborations. "Each song is like going up that first hill, to the drop, then the loop...it's not just going to be three to four minutes of the same beat. The musical elements are amazing. He's gotten even better with it."
The album sets this tempo immediately with "Stargazing," the intro every serious fan thought they knew from Travis performing it at recent shows. At the 2:45 mark, as the song creeps to a seemingly predictable climax, there's a sudden drop, and it accelerates from moody opener to uptempo banger. Sonny Digital produced the first half, the second time he's handled intro duty on a Travis album (which, when you consider Travis and Sickamore saying that, thematically, this album picks up after Rodeo, whose opener Sonny co-produced, is an interesting coincidence). But, like most of the producers on the album, he didn't hear the final product until the night we did. "The transition is crazy. Even when we were in the studio, it was sounding crazy, just seeing where they were going with it. I didn't want to hear until it came out."
When Sevn Thomas made the beat that would become "Wake Up" last year, he sent it to The Weeknd and heard back almost immediately: "Recording to this right now." Fast-forward to My Dear Melancholy, though, and the track was nowhere to be found. That makes sense: MDM is full of moody, raw music, while "Wake Up" is sun-soaked and shimmering.
"I guess maybe Travis heard it and loved it," Sevn says of how it ended up on ASTRO. "He took it to a whole different place." Prior to this, the two had only collaborated once, on the 2017 Travis-featuring-Playboi Carti loosie "Green & Purple." And while Sevn wasn't physically present for the sessions, his work with Travis illustrates the rapper's growing crossover appeal. "That's usually what I go for when I work with somebody. I love to extract something that no one has really gotten out of them [before], something that's different but still on the palate. Something that still makes sense and that's cohesive with their brand."
He accomplishes that twofold on ASTROWORLD, in different respects. His other contribution to the album is "Houstonfornication," the penultimate track, which finds Travis expressing frustration more plainly than usual. "I was definitely impressed with the lyrical performance. Normally, people don't really listen to Travis for his lyrical displays, but more so for the sonics and the audio experience, so it was really good to be a part of evoking that emotion out of him musically...Travis is definitely rapping in his bag right now." Adds Cardo: "You heard 'Coffee Bean'?" "'Houstonfornifcation,' even "'Carousel'"—the boy was rapping his ass off."
Thematically, ASTROWORLD is an album-length tribute to Scott's hometown of Houston. "He set out to making something that implicated Houston, old-school Swishahouse, DJ Screw shit, but mixed that in with new shit, and he did it very precisely—him and Mike Dean," Cardo explains. "Mike Dean's from that Rap-A-Lot era, so I feel like he brought that element, too." Keeping tracks in line with that theme was in some cases as simple as flipping a beat Sevn submitted, titled "Californication," to the 713 instead. Other overt nods, like "R.I.P. Screw," were happened on by coincidence. "I just was playing samples on my phone and an old Screw song popped up—like, one of his first mixes—and our imaginations soared from there," 1st recalls. "We'd actually chopped up a couple of samples from DJ Screw, but we ended up not using them and making an original beat. When I came back, the track was fucking crazy—he'd added Swae Lee to it. Swae brought a whole other element I didn't even think would be there. Roller coaster, man."
Swae Lee's is among a chorus of voices that appear unexpectedly on the album. ASTROWORLD's deep cast of supporting guests aren't announced so much as woven into any song's DNA. Still, as crucial as these features are, virtually none are listed. It's a trend that extends beyond ASTROWORLD (see: Ye, Kids See Ghosts, Testing) but is most noticeable here. The producers don't see that as a negative, but rather an element of surprise. The day the album dropped, Twitter was full of guesses and confirmations. Those who worked behind the boards were right there with us. "Even when I heard them, I had to go back and re-listen to try to figure out who it is," Sonny Digital admits. Cardo was in the same boat, having pulled up to the studio the day Frank Ocean recorded "Carousel" to find him among a group of people listening to other songs for the album. "'Stop Trying to Be God,' I thought [Philip Bailey's part] was Frank at first."
"I guess that's kind of the fun part about it," Sonny concludes. "The surprise factor and that chance to guess who it is."
1st maintains that not listing features keeps attention squarely on the music. "It's hard to be surprised nowadays. [This] is a way better experience. And you gotta check the notes. Focus on the music, then go check the notes if you really want to know. It's like opening a CD."
Sevn says the unlisted features contribute to the album's roller-coaster-like feel. "There's all sorts of surprises and gut-wrenching moments when you hear voices pop out of nowhere, like you hear Drake on 'Sicko Mode' just come out of nowhere. Abel and James Blake and Frank Ocean just pop out on you. It's like walking through a haunted house or something. You never know what's going to jump out and grab you—I love how they captured everyone's attention."
Two weeks removed from the album's release, it's clear that Travis delivered. Critically, die-hards, casual fans, and detractors alike have expressed satisfaction with it. Longtime collaborators like Cardo, who says they go back something like eight years, are happy to salute. "Hearing the whole project, in the order that it's in, he did everything he said he was gonna do. Every song is getting better with time." Commercially, the album went No. 1, with first-week sales more than five times greater than those of Travis' last full-length release. While the album is the result of plenty of ego-free collaborations, Travis lets it be known early on who presided over the organized noise, right before "Sicko Mode" morphs for a third time: "Who put this shit together? I'm the glue." It's a flex-affirmation via rhetorical question that we didn't need posed—we know whose album we're listening to, after all—but given everything he pulled off, stunting is inevitable. And he didn't even empty the clip. A few weeks before the album, 1st got the internets hyped by teasing a sequel to "Drugs You Should Try It," a DBR cut many Travis fans count among his top five and 1st himself declares "one of the best songs ever made." So did he mean spiritual sequel? "I can't speak that far ahead, but it's coming," he says. "It's coming. It's all about surprises."