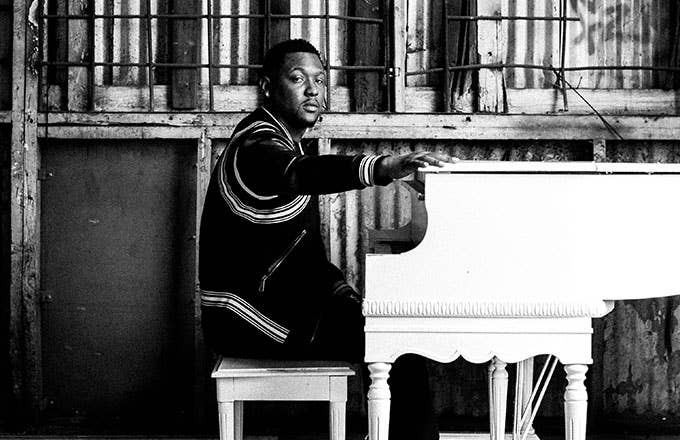 Hit-Boy never left. Since scoring the most talked about beat on JAY-Z and Kanye West's Watch the Throne, the Inland Empire-based producer has enjoyed steady placements on some of the biggest projects and singles of the decade, across rap, R&B, and pop. And yet, flashing back to 2011-2013, when it felt like he had a hand in every hot song out of G.O.O.D. Music (and later, the music industry at large), some have wondered if he should be even bigger by now.
As his profile as a producer rose, Hit-Boy pursued a career rapping, in tandem with launching a handful of up-and-coming acts alongside him. The endeavor resulted in great songs—"Grinding My Whole Life" and the ensuing G-Unit remix was a moment—but it also split Hit's focus and stunted his growth to becoming a household name.
Nowadays, peruse the credits of many major releases—Travis Scott's ASTROWORLD, Ariana Grande's sweetener, Juice WRLD's Death Race for Love, Beyoncé's Lemonade, to name a few—and you'll find Chauncey Hollis. But Hit-Boy isn't content to be a name that's looked up; he wants to be front and center. Now, on the heels of producing a new project with the combustible Bay area collective SOB x RBE, Hit-Boy is ready to dominate 2019.
Complex caught up with him to discuss his plans for the year, producing what would tragically become Nipsey Hussle's last release, whether he'd work with Kanye and G.O.O.D. Music again, his disappointment with not making JAY-Z and Beyoncé's album, and more.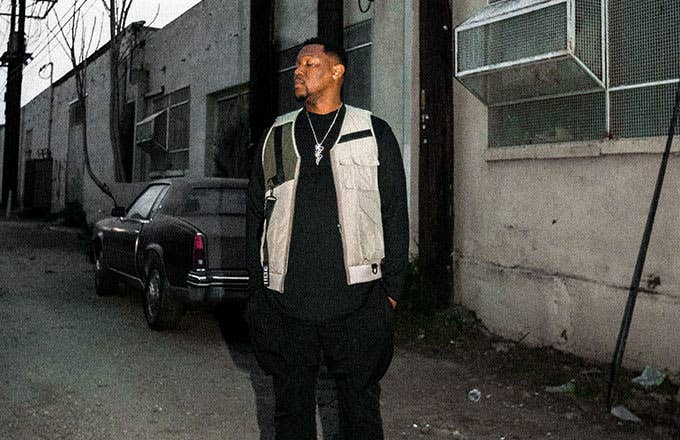 You just produced the entirety of  SOBxRBE's new project, which sounds crazy.
This is probably my most West Coast-driven project. I did shit like "Racks in the Middle," but I feel like the vibe is just the perfect thing between Northern California and Southern California. Because them niggas, they go dummy, they get hyphy. But [SoCal], we on some laid back shit. So I feel like the music beds that I use are kind of on some SoCal shit, but then the bopping is giving that bass that you can just go crazy to.
You mentioned on Instagram that this is the first project out of a new deal with Def Jam. Can you go into the specifics of what that deal is, and what it's going to mean going forward?
Shit, I'm just putting out a few projects with them, just compilation type situations. That SOB shit just happened organically. I kind of caught a vibe within a few sessions, and felt like [we had something] so we did the whole first project on SOB. But next, I have a song coming out featuring ASAP Ferg and Big Sean called "Berserk." I think that's going to fuck the summer up. I feel good about it, so that's going to be the next drop right after the SOB shit. I'm just coming back to back this summer as far as my shit, and then producing for other people, too.
Is producing projects in their entirety a wave you want to pursue for yourself more often?
For sure. I feel like a lot of my career has been... I might get one, or two, maybe three off on somebody's project. But as of late, it's a new motivation for me. I had five on Juice WRLD's album.I'm just getting to the point where I'm doing five to seven songs on a person's album, so I feel like that's even going to expand people's minds, too.
It's kind of been a slow transition, even with the shit I do with Dom Kennedy, Half a Mil, then my own shit. That's kind of me just building on a sound, and being able to lock in with a motherfucker that ultimately wants to lock in with me. I feel like anybody I catch a vibe with, I could make whatever type of music. I been on Selena Gomez shit, I was on Ariana Grande's last album, you feel me? People don't even really put it together that I got so much work with Beyoncé. There are probably seven or eight songs that I've co-produced on, and I feel like that kind of gets swept under the rug. They kind of keep it like, I'm just "Clique," or "Niggas in Paris," or "Trophies," and shit like that. 
But this thing is bringing in a whole new era now. I was a big part of the intro to "Sicko Mode," which was big for Travis and his tour. I also did "Way Back" from the Birds in the Trap album, and "Carousel" featuring Frank Ocean, which is in the first 10 minutes of a very relevant fucking show we have right now [ASTROWORLD Tour] but nobody puts that together. If you went to the On the Run Tour, there were like six records that were being performed that I had a hand in and nobody really... They kind of swept that under the rug for whatever reason, you dig? I just kind of let people know this shit is deeper than just "Niggas in Paris." I feel like the conversation is still [about how] that's all I've had. I've had 20-30 platinum records since "Niggas in Paris." I'm just trying to get pass all of that shit.
Why do you think that is? You're still getting all the placements and you're working with everyone's favorite artists. Do you think it's because you don't have a producer tag, and people don't have the attention span to read credits?
Yeah, that plays into it. I feel the tag thing overall says it's a bigger brand than just a beat. I did a lot of joints that are relevant, but people don't really attach my name to it. I feel like that's a big part of it, which I've been more conscious of. I've got a couple of tags right now from some dope artists. I'm moving on that.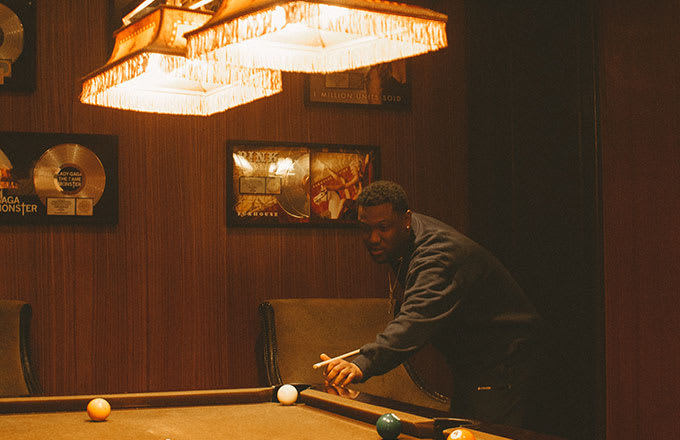 How do you plan on putting all of that to rest and making yourself undeniable?
Staying on the path I'm on, you feel me? I've had a pretty decent run so far, but its like, there's more work to do. I mean, just even me producing Nipsey's last track, I would have never imagined some shit like that. We've got a history with Bullets Ain't Got No Name, and all that type of shit, you know.
Now I'm just staying in the zone I'm already in, which is having a vibe and just being able to connect with the artists that I need to connect with. The studio I work at now is in West Hollywood and a lot of people book this studio, so I'm able to connect with people. I was able to do "100 Summers" on Meek's album because I saw him in the parking lot.
Do your plans include a focus on rapping, as well?
I mean shit, I have songs on songs and projects on projects. I'm definitely going to drop another after Half-a-Mil with Dom [Kennedy]. I'm also working on some solo shit with Dom. They kind of go hand in hand. My own music gives me more perspective when I'm working with other artists, to be able to really produce, beyond just giving them a beat. I can hear different flows. I mean, there are songs out there where I've thrown lines and flows to a point where I can just help a motherfucker catch a vibe. I'll always make my own music.
I feel like I'm almost in a second life. I've been able to get a restart.
Taking it back to 2012 when you dropped HITstory, do you feel like that contributed to stalling your rise as a producer? Because you were trying to focus on both?
It was a combination of that, and also at the time I was signing artists. A bunch artists were kind of like my homies before I even came up. So it was just about showing them love that I thought I had to show. They were people who I believed in at the moment, and people who I thought could help bring my vision to light. But everybody has their own path. Everybody looks at shit in different ways. [That era was] me trying to focus on working with a person of a Kanye stature, but also trying to pop off two or three acts on my own. Then I'm doing my own projects. Ultimately, I feel like I was doing too much. To forward the conversation [to the present], I feel like I'm almost in a second life. I've been able to get a restart, and the restart is me producing multiple songs on records and doing whole records. The first part of my plan is: I got known off just doing one or two songs on motherfucker's albums; now it's just about advancing that sound.
When do you feel like that second life started?
Shit. The minute I opened my eyes to what was going on. When I started working on the first Half-a-Mil with Dom [Kennedy], working closely with someone who has been able to maintain as an independent. He never went and did no deals. He's still able to do shows that are sold out and filled with motherfuckers who know the words to every song. You got people on the radio that can't even sell out shows. So it's like, what type of artist do you really want to be? Once I started locking in with Dom for Half-a-Mil, that opened my eyes to the fact that it's all about the art. It's all about what's moving the homies. In 2016, I started focusing less on everybody else and started focusing on myself, and just getting back to a place of being all about the sound. It's not about the extras.
Looking back on the era of HITstory and when you started HS87, what are you most proud of and what would you do differently?
I'm most proud of me holding down the homies, you feel me? Just giving people a platform. Whatever level it was on, I was using my platform to make music with the homies that I had been fucking with for years. Looking back, I feel like my infrastructure was just off: the people I had around me, and me trying to focus on so many things. I just needed to be more locked in with people in place, but at the end of the day everything happens how it's supposed to. At this point, I'm using this new energy just to push forward.
From 2011 onward, you've had placements on really big projects. But is it fair to say that you placed a priority on using your talents to push up-and-comers forward, as well?
I always try to stay in the mix with pretty high-level shit, and then street-level shit that people are just now getting to. I might have some hard ass shit out there that a lot of people might not know about, because they're not [familiar] with that artist. That leads to me not having a brand as big as it should be. People just ain't connecting to the story as much as they should.
Right. I think about a track like "Home Alone," where you guys flipped the movie around the beat, but I doubt many people remember that one. What's the state of HS87 now, and the guys who you were running with at that time?
Well, now they're doing their own thing. Everybody is solo. I know Audio Push, they're on tour. As far as HS87, I'm on the rebuild. The rebrand. Focusing on production first. That's what HS87 was originally: producing. So I'm letting it build from there.
In 2019, how do you reflect on your G.O.O.D. Music days?
Man that shit spoiled me. Working at such a high level, we had such focus on everything. Not just music, like everything. I remember being at the Coachella shit. I'm from that area, Inland Empire, which is more east of L.A., and I'd always think of Coachella like, "I'm not going to touch the stage." Then [this year] I fucking went on stage with SOB and I was able to honor Nipsey.
Everyone was celebrating the G.O.O.D. Friday series recently, and I think people forget that your first song with them was actually "Christmas in Harlem."
Exactly. Going back to Coachella, I watched Sunday Service, the whole thing. And just the presentation, the level of music, it was very easy to listen to. It felt good. So just kind of going back to that, Kanye is just at a very high level. He just thinks on a high level. Looking back on the G.O.O.D. Music shit, it's just that we put a lot into perspective of what's possible.
In that 2011-2012 era, you were lacing that whole camp with heat, like "Clique" or Pusha's "My God." I think people would like to see you back with those guys again.
Nah, that's facts. I'm locked in so, even with the Kanye shit, I definitely would love to get some more work in with bruh. With Sean, we got a lot of shit. I don't want to talk too much about his project, but we got some shit right now.
What's the status of your relationship with Kanye? Did you guys chop it up at Sunday Service?
Nah, I was really just a spectator at Sunday Service. Last time I saw Kanye was at Travis' show backstage, and it was all love.
You mentioned Jay earlier. I've always felt that you two established a chemistry that he doesn't always have with newer producers.
Yeah, man. That's a whole different level. I got some legendary Hov verses that I don't know if the world is ever going to hear.
We need to make that happen.
I know, that would be lovely.
I was surprised not to see you on Everything is Love, because like you said about the On the Run tour, so many of their recent hits were with you.
Yeah, that was an interesting moment. We worked on some pretty nice ideas, and I feel like that's the beauty of this art. You never know. At the moment, you might have some shit that 20 people in the studio are going crazy over, and you still might not make the album. You take it one day at a time and hope for the best, but you still create.
Juice WRLD is insane. I watched him freestyle the whole album. To be able to say different things and still keep a melody, I was really impressed. And he's like 20 years old!
You mentioned Juice WRLD earlier, and how that was one of the more recent projects to feature several beats from you. How did you two strike up that rapport, where you ended up having so many placements?
My homeboy Dash from Interscope, he's an A&R up there. They used to air all these L.E.P. Bogus Boys back in the day, and he always used to show me love. He actually set up the sessions where I made the beats for "I Wish you Would" with Kanye and Rick Ross, and the "Cold" joint. Those were supposed to be L.E.P. joints. We've had a relationship, so he brought Juice to my studio and we just connected. The first song we did was crazy. Then we worked on like 20 songs within two weeks, and we ended up keeping five. Juice WRLD is insane. I watched him freestyle the whole album. To be able to say different things and still keep a melody, I was really impressed. And he's like 20 years old!
"Sicko Mode" was another one, too that we talked about where it's like people may not give that other section as much shine as it's supposed to be. I've seen people actually say that your section is their favorite.
I like that a lot, man. I definitely think the way that shit comes off, it just sounds massive. And the cold part is, we did that song the night Birds in the Trap came out. Travis FaceTime'd me like, "Yo I got a session, I need you to send me some crazy shit." Having to hold on to that shit for that long was like: Damn, motherfuckers think I'm not hot right now, but I'm sitting on crazy shit. But even with Everything Is Love, that just shows you it's all about timing. You got to put out gas like every day. You can't get content.
You worked with Juice and SOB. Who else is in that new class do you want to get in with?
I love Roddy Rich. We got hella shit tucked. What people don't know is, "Racks in the Middle," that was supposed to be on my Def Jam compilation. I had played Nip the song, hoping to get a feature on it. Once I played it, he was like, "You got to let me have this shit." That's why I get chills when I think about the last few months. We made "Racks" and put it out so fast. His team didn't even believe Nip wanted to drop the song, because he don't move like that. He don't just make songs that are going to drop; he put out bodies of work.
How do you plan to keep Nipsey's message going and promote his values?
Just stand up. No matter what, the outside is feeling what they're feeling. I know exactly what's going on, so just kind of stay in tune. Stay in tune to facts and keep it real.
By the end of the year, I want to have like 100 songs out.
What are some of your favorite beats that you think are underrated or showcase your skills in a different way that people kind of slept on?
"1 Train" by ASAP Rocky. That shit got hella rappers on it: Kendrick and a whole bunch of fire rappers. "Belly of the Beast" by Joey Badass. Rihanna on the Anti album. What was that shit called? I think Travis wrote it? Not "Woo" but "Pose." I did five or six songs with M.I.A. back in the day. That was some shit I would have given her, if I had it at the time.
Is there any kind of game plan that you're holding yourself to this year?
Going harder than ever. Just feed off the energy that's out there right now and keep this shit moving. By the end of the year, I want to have like 100 songs out.
"Beserk" is dropping soon, then what's the game plan going into summer?
I can't go too much into all of it, but just a lot of production on a lot of different projects. I've been super tired. I've been sleeping on my couch. But it's real fire shit, and I'm just hoping it will actually come out.
Who would you like to get in with, who you haven't worked with before?
Shit. I want to get in with Justin Timberlake. I think that shit would be interesting.