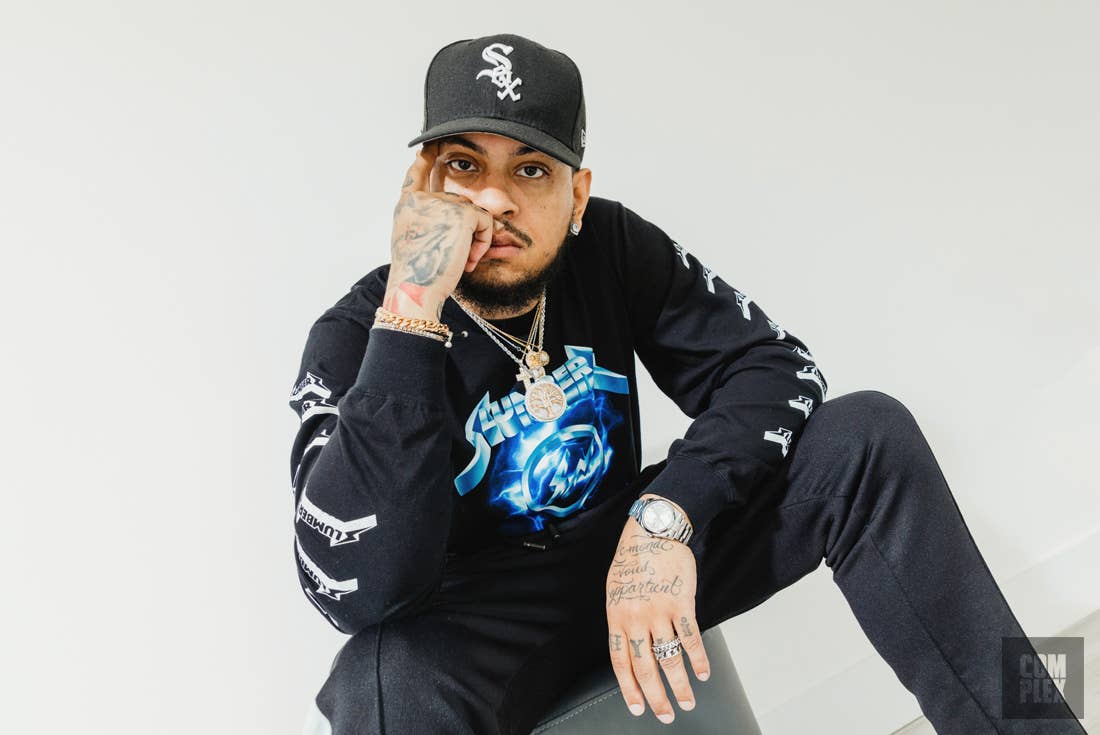 "It's a good problem to forget making a great song."
When I pull up on Cardo and his producing cohorts Yung Exclusive and Johnny Juliano, they're hunkered down to work in a mid-city Los Angeles Airbnb near The Grove. Weed is the only visible form of recreation—pre-rolls and papers are scattered across granite tabletops—but that seems to be more fuel than anything else. I'm clearly interrupting, but these guys rarely stop working. On a walk from the backyard to the kitchen after a smoke break, Cardo reflexively reaches for a nearby laptop and tinkers with a beat. It's muscle memory.
The sessions are piling up. ScHoolboy Q is in the home stretch of his fifth album, and there may be a legend or two who require his presence, too.
"He was just sitting right there, in that chair," Cardo nods.
This same chair? Yesterday?
"You're sitting in André's chair. That's big bro."
I'm at the dinner table in the modern-deco living room, while Cardo swivels his six-foot frame aimlessly in a stool at the kitchen's L-shaped counter. We're flanked by Exclusive and Juliano, who comprise his Everything Is Gold (EI$G) collective, and occasionally chime in on our conversation while finishing up beats on a pair of laptops. Which is currently centered on André 3000, who was apparently the occupant of the same green-velvet plush table chair that I'm slouched in now.
"That's big bro," Cardo repeats. "André is somebody that's better than you expected, the most highly energetic guy that you can possibly speak to. He came to my fucking house and recorded in my room—not here, my other house. This nigga came to my room for hours, he didn't leave till like 6:00 in the morning. We were just sitting there watching figure ice skating."
At first, Cardo almost opts to play it coy, lest he jinx it. Then he decides that saying it out loud, on the record, will have a manifest destiny effect: "I'm gonna just say it and put it out there: André 3000's on my album."
Manifest destiny is a sentiment that Cardo attributes to his whole career—a run that caught fire before we had even made it a third of the way through this calendar year. Just 40 days into 2018, his list of accomplishments was staggering:
-produced "God's Plan," Drake's comeback song after a notable hiatus, with Yung Exclusive
- produced Kendrick Lamar and Travis Scott's musical reunion for the Black Panther soundtrack
- produced "Open It Up," one of the immediate standouts on Migos' sprawling Culture II   
- produced the entirety of Payroll Giovanni's critically acclaimed Big Bossin Vol. 2.
Fast forward to the tail end of the year, and that run was supplemented with placements on high profile releases like Travis Scott's ASTROWORLD and Mac Miller's Swimming. Now, "God's Plan" is staring down the barrel of diamond status. As the year winds down, Cardo is feeling much better about his output at this juncture than he did about the entirety of 2017—a year he acquiesces as "quiet," but nevertheless allowed him to plant seeds for where he is now.
Cardo's got wings, as his producer tag aptly drawls, and his brand is soaring. At this point, what's left to accomplish? There's only one answer really: an album. Many a superproducer has failed trying to bottle the magic they give out to artists, as they attempt to distill it into one cohesive project that registers as more than a glorified compilation project. Cardo insists he has the range to deliver the exception, and based on everything he's accomplished thus far, I'm inclined to believe him.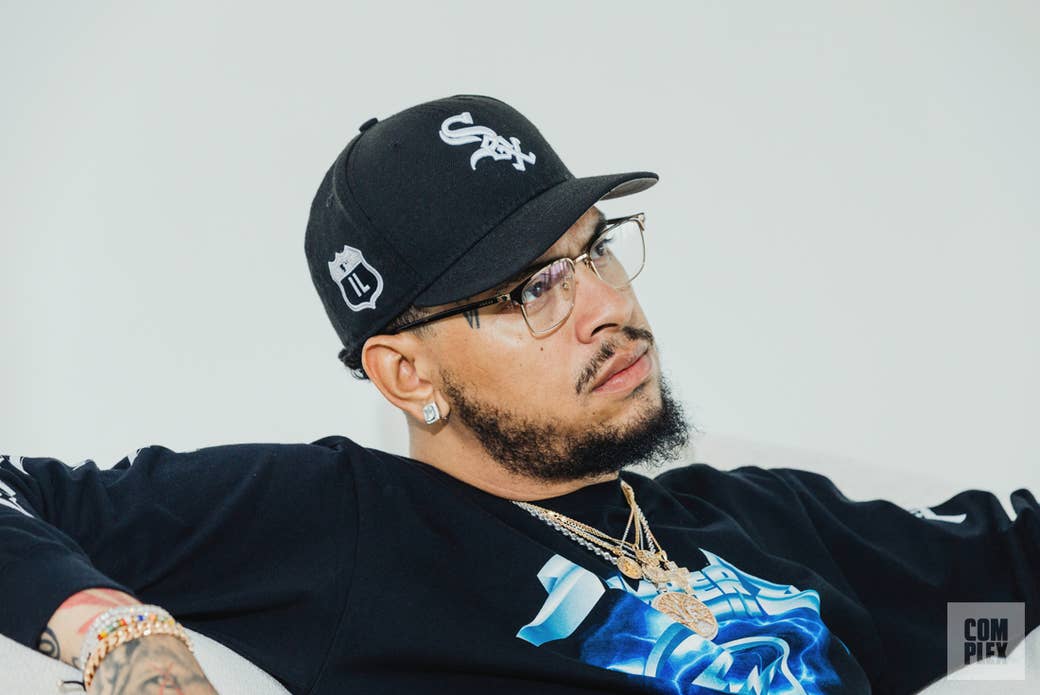 Of everything Cardo released in 2018, he may have given his best work to the rookie among his clientele, Payroll Giovanni. The beats on Big Bossin Vol. 2 span from exceptionally lush ("5s and 6s") to thunderously assertive ("In Me, Not On Me") which is to say, it's the breadth of Cardo's sonic array in a microcosm.
Asked how he and Cardo linked up, Giovanni places the initiative entirely on Cardo: "He reached out to me like, 'You fire.' He liked the work I did with Doughboyz Cashout and my solo projects, so he sent me over a couple beats and I sent them back immediately." That kind of unprompted outreach toward a rising artist isn't common from a producer who already has clout within the A-list. But Cardo moves differently—and humbly. He recounts his come-up with a stoner's calm of stunned disbelief, mixed with a serene sense that everything played out in the time and fashion it was supposed to. It's God's plan, or—as the beat was originally titled when he made it—the Grace of God.
Born Ronald LaTour, Cardo got his name when cousins jokingly referred to him as Ricardo because they thought he looked Puerto Rican. Cardo and his younger brother gained an interest in producing early, learning about chopping samples on Playstation 1, no less. Then, after being sent to live with their father in Denver, they took the hobby more seriously. Still, recklessness during his formative teenage years threatened to derail his potential, a series of what he contextualizes as "petty bullshit": marijuana possession, getting "caught with pistols," "beating teachers up and shit," and an arrest at home on his 20th birthday. Cardo's wake-up moment finally came in 2005 after relocating to Texas, when he lost his cousin Steve, who had been by his side through most of his trouble. "That made me focus on my vision," he says. "To just focus on music."
Cardo's seminal moments are marked with a sense of banality that he's more than willing to share. Like how, on the night that he finally met Wiz Khalifa in person—the same night his daughter was born—he had bubble guts: "I don't know what it was I ate, but whatever it was it fucked me up to the point where if I hit a pothole, I was over with." He'd go on to play beats that would land on Kush & O.J. like "In the Cut" for Wiz at his hotel while sneaking sips of Pepto. "I picked up Pepto and a six-pack of Coronas. The damn cashier looked at me like 'Man, what kind of party you going to?'" Or, how he had diarrhea draining down his arm courtesy of his infant son, while on the phone with Def Jam, learning he was about to have a Jay-Z placement.
But before he was lacing legends, Cardo credits another rapper with being one his early entries into the game—one who would later talk some sense into him when he expressed doubts about producing and considered retiring: Mac Miller.
"[Mac] was on my ass about it: 'You're going to let some little bullshit knock you off your square? You can't do that, you're going to let so many people down. You just got to overlook all that bullshit and overcome it,'" Cardo remembers. His first major credit with Mac is "Ignorant," his Cam'ron collaboration on the underrated Macadelic. But they go back to 2009, pre-Kush & OJ, pre-Wiz. "The beginning of 2009, man. Me and Mac got songs that nobody ever heard. We damn near got a whole project together. This is when he just transitioned to Mac Miller from Easy Mac, we were just making records and shit. I seen he had some kind of movement going on in Pittsburgh, so I was like, lemme fuck with this kid. I hit him up on Twitter and we got cool."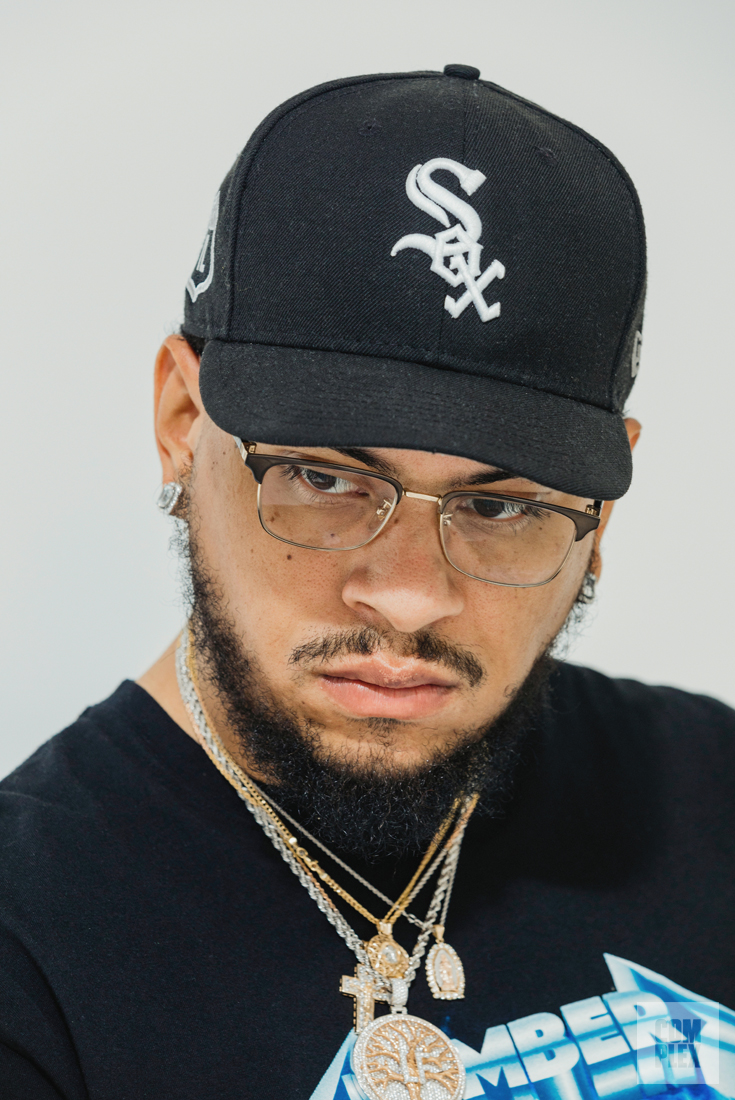 Cardo has one contribution on Mac's last album, Swimming: the moody "Conversation Pt. 1." But they collaborated well beyond that, and had plans to translate their decade-long friendship into an entirely Cardo-produced EP, with all new beats that he had already begun recording to. "I actually talked to him a day before he passed," Cardo divulges. "I was in Atlanta at the Lenox Mall. [Frequent Mac collaborator] Sledgren hit me like, 'Yo, Mac died.' And I was like, 'Fuck outta here.' So, with Mac, if he doesn't answer the phone the first time, you have to call him a few times. I must have called him like three times, then I look on social media and shit and [people were] confirming it. I just broke the fuck up in the middle of the mall."
To Cardo, and mutual friends like ScHoolboy and TDE engineer Ali, Mac wasn't a peer—he was a little brother. "We were both broke and both trying to make it, and to see my brother rise above it all, become a superstar, and have such an impact on these kids was mind blowing," he says. "And I always told him I loved him, always. Every conversation I told him I loved him, because you just got to hear that, no matter what." Cardo is aware of the many narratives surrounding Mac's death, of course, but he's certain if Mac himself were to find out he died of an overdose, "He'd be mad as fuck. He didn't want to go out like that. It was just an accident.
"Of course he might have been sad at that moment because he loved that girl and I knew what she meant to him, because I knew Mac. And when that shit happened, of course it affected him. But," he adds adamantly, "it did not make him go to the edge and just be like, 'Fuck it,' because he was not like that. It's crazy—the two people that kept me producing are no longer here: [A$AP] Yams and Mac."
"Sometimes we'll be in a lull on an album and someone will be like, 'we need Cardo, man. we just need him in here.'" - Brock Korsan
Brock Korsan has been managing Cardo since they were introduced back in 2010. That's around the time Bank of America stopped appreciating the heat being made during office hours, when Cardo would not-so-discreetly make beats at his desk—and fired him. "We talked on the phone and [Korsan] was like, 'Fuck yeah, I fuck with you, dude. I'll fucking manage you. I'm hanging out with Curren$y tonight; you should send me some shit,'" Cardo remembers, approximating an exaggerated surfer voice as he impersonates Korsan. "First beat I sent him [became] 'Showroom.'"
Korsan, a Jeff-Bridges-as-The-Dude dead-ringer, has become one of the industry's most sought-after A&Rs and overall creative minds. He and Cardo both attribute their rise and success over this past decade to grinding together. "Let me tell you how deep this nigga Brock came up," Cardo laughs. "This nigga had a fucking family van. Old-school caravan. Tore up. Clean, though. Seeing broke Brock go from that to where he's at now—this nigga got multiple surfboards now. I believed in him as much as he believed in myself."
Despite the growing demand for him, Cardo maintains his base of operations in Texas, where he resides with his family. When searching for a way to put Cardo's intangible contribution to any given session into words, Korsan explains that Cardo's presence is sometimes just as important as his beats. "Aside from the creative aspect he brings to the table in terms of production, you know, he's got this unmatched energy and excitement every time he walks into a room and it's infectious," he says. "He's one of the most rare souls I've ever come into contact with because he has this constant influx of infectious energy."
Korsan is most well known for his work with Top Dawg Entertainment, where Cardo (along with Exclusive and Juliano) has scored some of the label's most indelible bangers ("THat Part") and album cuts ("God"). But it was a Meek Mill song that changed Cardo's career and renewed his belief in his own prospects. It all started with his adolescent daughter: "She was sitting in the chair by herself, and I heard her playing on the keyboard. She just looked at me like 'What?' I said 'Do it again! What key was that?' That was the start of Cardo going completely left, mad at the world.
"That time was the darkest time in my life," he remembers. "My options were running low. That was 2014. I had no money, selling-beats-online-type shit." The result of that session was Meek's "Levels." Before that, Cardo was the architect of hazy, stoner records: "Mezmoried"-type tracks suited to smoking and driving. With "Levels" and its menacing keys and aggressive bass, he finally had something for clubs—and a whole new arsenal to play with.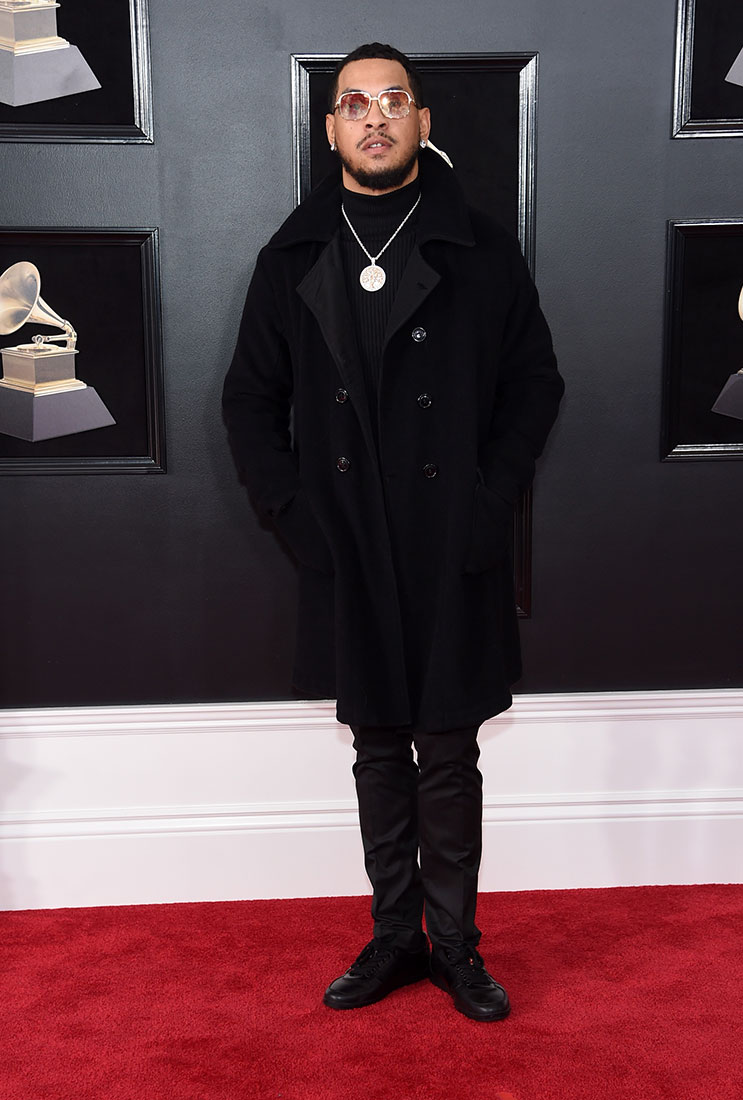 Since then, high-profile placements have landed regularly. Cardo has worked on projects with the likes of extended fam Travis Scott to albums you probably didn't even realize he was on like The Pinkprint. His production inspired Jay-Z to reminisce to the point of tears on "Seen It All." And there are plenty of almost-moments that sputtered out in the eleventh hour as well, like the time Roc Nation sent through paperwork for a Rihanna track written by PARTYNEXTDOOR, only for it to not make Anti at the last minute. All the while, he's kept busy working even more closely with rap's up-and-comers, like Giovanni, West Coast spitters G. Perico and Jay Worthy (with whom he formed the group G-Worthy), and Valee, the G.O.O.D. Music upstart whose distinct melodic drawl has already spawned a legion of imitators. According to Cardo, they have a whole collab tape ready to go.
Success hasn't rendered Cardo brand new—either in regards to who he will or won't work with or how he carries himself. On Twitter, you wouldn't know he was one of the most sought-after producers out, with connections to some of the most popular camps out. He puts his real thoughts on any given issue out there with the rest of us. Kanye co-signs Candace Owens? He's not having it. A Russ quote surfaces that seems to disparage contemporary producers? Definitely not having it: "You're gonna say someone gives trash beats or whatever, clarify who it is. Be specific. Don't just say music producers as a whole because now you're taking aim at everybody that's a music producer, or calling themselves a beat maker or a drum programmer, which, I think, sloppy. So, yeah, I said what I said, and I meant what I meant. That's just what it is. This is how we feed our families, so we ain't gonna take no disrespect for that shit. It's all fun and games, and so if you take any major offense to that and take it personal, that's on him."
As for Kanye and Candace: "Get her the fuck outta here. Get her the fuck outta here, man. Colorblind my ass. I speak my mind and sometimes Brock will be on my ass about it and he's like, [*surfer voice*] 'Dude, calm down.' But that had to come out."
Still, there's a version of Kanye's "Yikes" out there with Cardo co-production. "Pusha had hit me and he sent me a voicemail of the record. I guess there's multiple other different versions of it. Shoutout to everybody that's on the final version of it. Pi'erre and everybody else on it. I wasn't expecting much from it just because it was so early on, and with Kanye, you never know what may change. That nigga change his mind every day, so my hopes was pretty much second to none."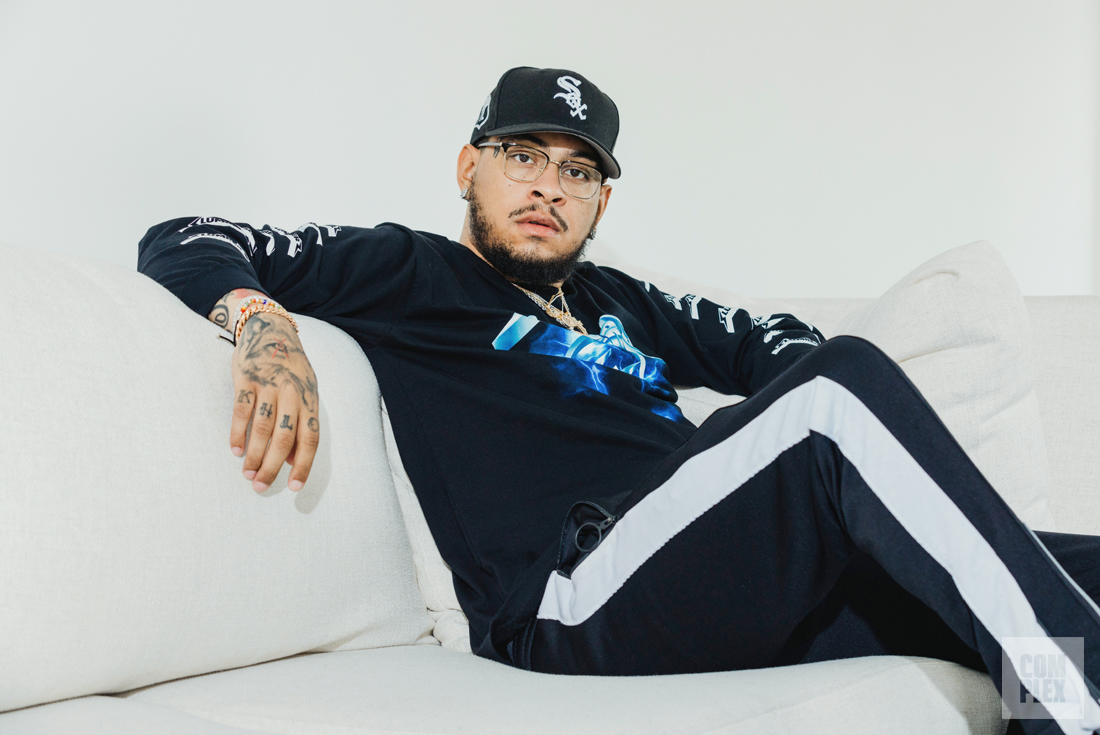 An honest-to-goodness Kanye collab is still on the bucket list. Same for JAY, even though he already culled one of JAY's best verses of late. "What's crazy is Lenny [S] hit me awhile ago, right before 4:44 dropped, like, 'You got some beats for Jay?' Man, I sent him a pack; I don't know what happened. I just hope something lands, you know. JAY is a big guy. That nigga's over the clouds. I hope we get that call from my lawyer, like, 'They said the paperwork's here for this record.' Beyoncé definitely. And Sade."
J. Cole, who's been uncharacteristically open to working with producers aside from himself as of late, is interested. "If I really do a whole project with him, we would kill them all," Cardo promises. "I've talked to him about it a few times. I do it with Kendrick all the time, and we laugh about it, but I know at a point in time, Kendrick will be like, 'Aight, let's do it.' You just never know. J. Cole, if you read this article, man, we gotta go."
"I'm gonna just say it and put it out there: André 3000's on my album." - Cardo
Cardo's ambitions go further than more "God's Plan"-type placements. He's hard at work on his own album, and he's driven by a goal to make it stand apart from typical producer-albums that come and go, yielding two memorable songs at best. "Everybody can do an album, but I want mine to be like an actual story," he explains. "I know it seems kind of impossible—like, how the hell you're gonna do that with other artists? But I'm learning the concepts of what I want to do with this album and putting it together piece by piece. It's gon' work out like I want it to work out." He already has one legend locked in (André), and he's courting another. There's this thing he's been doing on social media the last few months where he implies correspondence and collaboration with...Celine Dion. It isn't quite trolling so much as it is a running gag—one he hopes will bring the real deal into his orbit. When I ask if he'll have a beat ready to go if she actually contacts him, he quips, "I got a whole folder for her."
Right now, he's only willing to describe the album as "Michael Myers at the beach. Not like horrorcore type shit—it's dark, but it's bright at the same time. It has this energy where it makes it sound bright but it's still dark." As random as that metaphor might sound, Cardo, a self-professed horror fan, has actually taken to writing screenplays recently. "I would love for him to have a No. 1 record on his own album," Korsan says. "I would love for him to break into doing the film ideas that he'd like to do and all the little ventures that he's got his mind set on because he's a big thinker and a big dreamer. Those people are important to what we all need, in terms of inspiration. And I just want to help him become everything that he's been destined to be and more."
Cardo's got wings, and his ambitions are sky high. Most would be content with the achievements he's already notched—a sentiment Johnny Juliano scoffs at. "When we score a hit, we're not like, 'Oh my God,'" he says pantomiming awe with his hand over his chest. "We're right back here working for the next one." More sessions are scheduled, while more "packs" are assembled and sent off to artists in hopes of a placement. The work builds up to a point where no one is sure who did what and when. The hit isn't the win; the foundation it helps set is.
Yung Exclusive puts it plainly as I make my way out: "It's a good problem to forget making a great song."
Cardo nods approvingly, swivels his stool back around, and gets back to work.