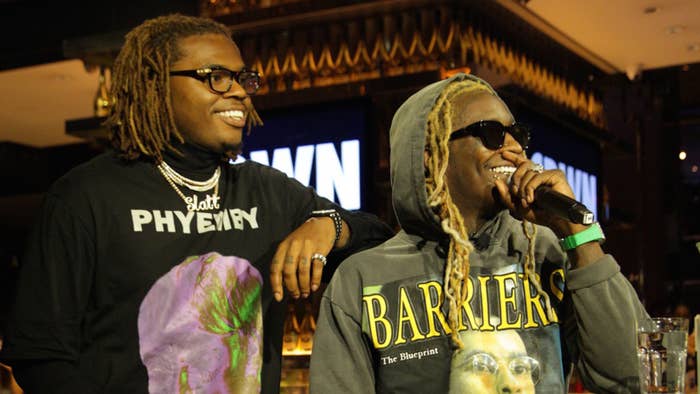 Young Thug and Gunna have been making timeless music since Thugger first introduced the world to his protégé. Now it looks like the duo is sitting on some more heat. 
On Monday, Thug posted a video of himself and Gunna in the studio to his Instagram Stories. In the background, an unreleased Gunna track was playing.
"We f*ck in a Sprinter/No Ike but I beat her," Gunna raps. "Ice in my grill, dirty Sprites on the Lear."
Just when viewers think this another great Gunna verse, the video transitions to give them a taste of Young Thug's bars. "I just spent a half a mill on one watch," Thug raps as he shows off his jewelry. His part of the clip wraps with, "Caterpillar Lamborghini, but the 'Rari better."
It's unclear where this song could end up, but Future and Young Thug have been promising fans that Super Slimey 2 is in the works. Pluto and Thugger also revealed last August that they are expanding their supergroup to include the dynamic duo of Lil Baby and Gunna. Although there are always multiple projects being cooked up in the YSL laboratory, it feels like this song would fit perfectly on this joint mixtape.