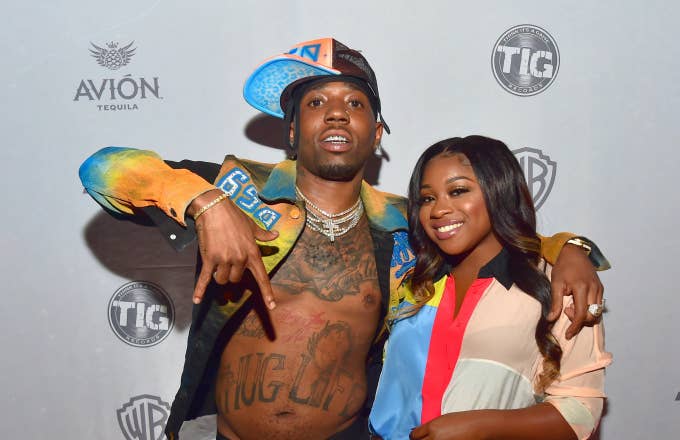 YFN Lucci has had a complicated relationship with his girlfriend Reginae Carter. But, now it appears like their hot-and-cold love life is on the rocks. 
In a series of tweets, Carter explained how she broke up with Lucci after spying on him at Lil Boosie's "cucumber party."
"I've made myself look like a fool for this man," Reginae tweeted. "I apologize for allowing you guys to see it."
This weekend, Lil Boosie threw a party at his mansion in Baton Rouge to celebrate Trouble's birthday. As expected, the event started to get a little risqué, leading someone to initiate a cucumber-sucking contest. This led to VH1 star Alexis Skyy using a cuke in a way that's illegal in some states.
Skyy allegedly got into a fight to cap off the evening. 
Lucci's support of the viral cucumber challenge has been a habitual issue in their relationship. Just this month, Reginae took to social media where she chastized Lucci for participating in something that degrades women when he has a daughter.
"Also, if you have a daughter...that shit is not cool," Carter said. "Honestly, the folks that's posting it and stuff like that you gotta understand if you got kids your kids is going to school and trust me [people] addressing your kids about that and it's not cool."
Now, it seems like Lucci's willingness to participate in Trouble and Boosie's cucumber soiree was enough for Reginae to close the casket on their relationship.
If this is indeed the final straw, Carter will be closing a complex chapter of her life. Lucci and Reginae's relationship has played out in the public eye for several reasons. It was first rumored that Lucci and Carter were dating in 2018, when he was 27 and she was 19. The fact that Carter is Lil Wayne's daughter brings more attention to her life. As the child of a hip-hop icon, everyone's interested in your moves, especially if you're dating another rapper. Despite this, Carter has vowed to learn from her mistakes and take measures to keep her life out the public eye. 
"I'm young," Carter said in another tweet. "Unfortunately, every move I make is publicized. I can't control it... But I gotta learn to deal with my problems alone and in private."