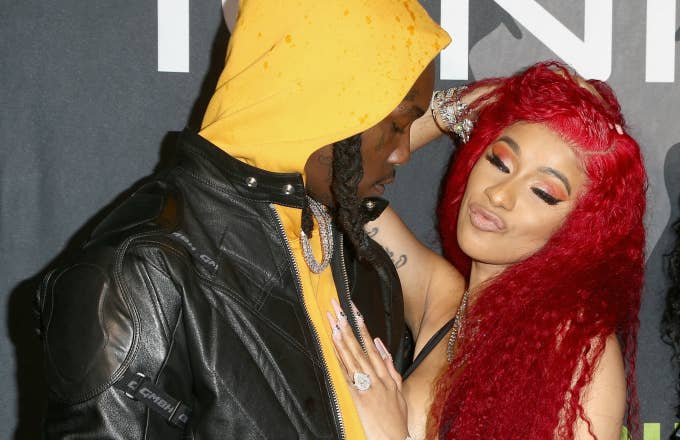 After playing months of "makeup-to-breakup" it seems as though Cardi B and Offset have officially reconciled their marriage as the Best Rap Album Grammy winner was seen wearing her engagement ring for the first time in months. 
According to reports, Cardi chose a lavish pre-Valentine's Day party in Beverly Hills to reintroduce her flashy 8-carat, halo diamond engagement ring.
Fans first saw Cardi's ring when Offset proposed to her in late 2017 at Power 99's Powerhouse concert in Philadelphia. The two then wed in a secret ceremony prior to Cardi giving birth to their daughter in July 2018. But amid Offset's much-discussed infidelity, the ring was safely tucked away as the two prepared for divorce.
After Offset's various public apologies and denied proposition of marriage counseling, it was rumored that he and Cardi were back on the same page. These rumblings were confirmed at this year's Grammys when their public split turned into a public display of recommitment on the show's red carpet.