Montreal's English and French rap scenes don't always come together, but when they do, it's usually a momentous occasion. And this is one of those.
Jay Century-produced single "Poutine Sauce," out everywhere today, features two of the biggest rappers in the province: Nate Husser repping the anglos and FouKi repping the francos. In the video, they're gorging on the titular dish, rapping atop upright cars, riding toy go-karts and shooting paintballs. It was shot at a race track around Montreal's North Shore.
Husser made waves last December when YouTuber-turned-boxer Jake Paul used his track "Iced Out Baby-G" as a post-match celebratory anthem, before following it up with the release of the Adult Supervision EP in June. In Quebec, "rap keb" star FouKi is nothing short of a household name. He's a festival headliner and catchphrase creator who dropped two major albums in 2020: Génies en herbe with fellow 7ième Ciel signee Koriass and Grignotines de Luxe.
The rest of Canada knows what poutine is, but since the title isn't actually mentioned in the song, so is the track really about fries, curds, and gravy? Or is it the Quebecois equivalent of Esco's "Too Much Sauce"?
"The song was really about having fun, a bit like the video," says FouKi. "We 'dropped le flame,' like we say. It's a special sauce, something Quebecois. Chef's choice. It's for the epicureans."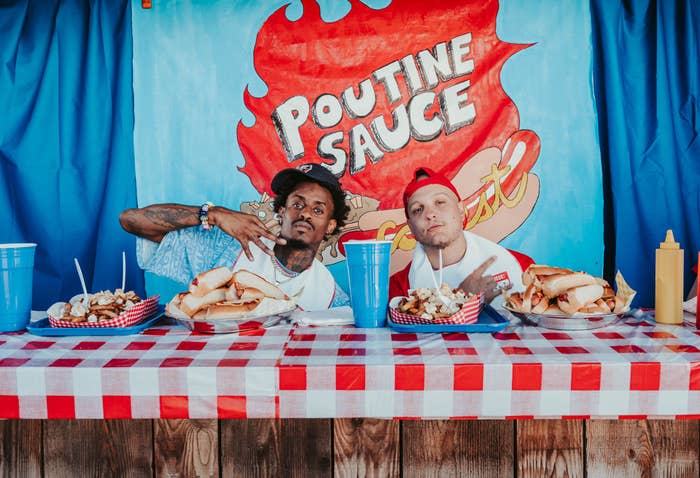 Adds Husser: "I call it 'Poutine Sauce' because FouKi is popping crazy in the city on French side, and me on English side, and it's the city's most famous dish. It's a saucy track and we've got the best of both worlds on it, so we had to call it that."
Both agree the vibe in the studio was immediate. They worked on an unreleased track previously, so they came in with an existing relationship.
"For this track, we went to the studio and did two demos. One 'on a flushé' but the second one we kept, which we pretty much did on the spot," explains FouKi of the recording process, which went down at Jay Century's home studio in the Sud-Ouest.
Their paths don't cross too much naturally, although FouKi says he's been a fan of Husser's since his Posterz days.
"Some of my fans might know him, but for others it'll be an introduction," says FouKi. "But that's what's cool about doing features like this. In my personal life, I listen to more English rap than French rap, so it's natural to merge English and French on a track."
Husser says it doesn't really matter what language anyone else is speaking once you step in the booth.
"It's all art at the end of the day. It's something that people will hear all over the world. It's more of a reason to bridge gaps, to show you can make a dope song in any language."