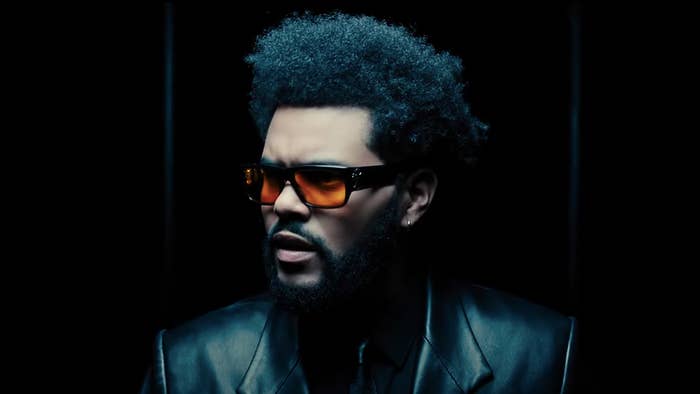 In 2020, the Weeknd released the best album of the year, and now he's back with the follow-up: Dawn FM.
Before the album arrived, Abel dropped some hints about what would come after After Hours. First, in a May 2021 interview with Variety, he teased a connection between the two records, revealing, "If the last record is the After Hours of the night, then the Dawn is coming."
Then, in a November 2021 interview with Billboard, he outlined the album's conceptual theme. "Picture the album being like the listener is dead," he said. "And they're stuck in this purgatory state, which I always imagined would be like being stuck in traffic waiting to reach the light at the end of the tunnel. And while you're stuck in traffic, they got a radio station playing in the car, with a radio host guiding you to the light and helping you transition to the other side. So it could feel celebratory, could feel bleak, however, you want to make it feel, but that's what the Dawn is for me."
As for the actual sound of the album, Abel dropped hints that it would be upbeat. He says he started writing it during the pandemic, and he had an urge to create something that sounded like the opposite of being stuck inside, telling Billboard, "I wanted to make music I thought sounded like going outside — I was obsessed with that feeling." As the story goes, he had started writing music right after After Hours that sounded like it was too weighed down by depression, so he scrapped that material and got started on this.
Now that it's arrived, does Dawn FM live up to the high expectations? What's the best song? Biggest skip? Best and worst parts of the album? After giving it a couple initial spins, members of the Complex Music team—Eric Skelton, Jessica McKinney, and Waiss Aramesh—answered these questions and more. Here are our first impressions of the Weeknd's new album.
Eric: "Out of Time." Abel's vocals are perfect, the I'm-working-on-myself-and-I-miss-you lyrics are simple but effective, and the '80s-inspired production is tasteful. It's everything I want from the Weeknd at this point in time. Close behind, my other favorites right now are "Less Than Zero" and "Is There Someone Else?"
Jessica: "Take My Breath" is the longest track on the album, but it's easily the best. Abel has definitely found the sound that works best for him, and he dives into it fully here. It's a refreshing pop record, but it also has a nostalgic feel that's reminiscent of the early '80s pop sound. There's no way you can sit still when this song comes on.  
Waiss: "How Do I Make You Love?" sets the tone of Dawn FM, delivering a disco anthem that builds toward a passionate chorus. It's euphoric, inviting us to release ourselves from purgatory and join the album's protagonist in the light. It ends with an incredible transition into an extended "Take My Breath," underlining the Weeknd's focus on the album as a whole.
Eric: "Gasoline." I get why Abel opened the album with this—it establishes a tone and opens the door for what he's trying to accomplish on the rest of Dawn FM—but after a couple initial listens, I don't think I'll need to revisit it. The strange voice he does on the hook keeps throwing me off, and the whole "I'm staring into the abyss" '80s pop energy is fine, but he pulls it off much better elsewhere on the album.
Jessica: I don't think there are any skips.

Waiss: There's something unsettling about "Best Friend." Hearing the Weeknd's take on hookup culture would have been fine, but some lines sound like they're out of a parody. It's hard to take lyrics like "you're my best friend now" seriously. The writing falls flat and the production isn't captivating enough to keep coming back.
Eric: The hits. The highs on this album are extremely high. Abel said he wanted to make music that "sounds like going outside," and Dawn FM is full of songs I want to hear at a crowded club in the middle of the night. The new version of "Take My Breath" is even better than the original, "Less Than Zero" is a fucking smash (I can't believe it's not being pushed as the next single), "How Do I Make You Love Me?" is begging to be played in a packed room full of people at 2 a.m., and "Is There Someone Else?" is a sleeper hit that could become a streaming monster if it gets added to the right playlists. 
Jessica: According to the album's description on Apple Music, Dawn FM was created in the middle of the Weeknd's depression during the pandemic and was the result of "creatively searching for a way out of the claustrophobic reality of the previous two years." This is another concept album from Abel, and you can see his vision very clearly. From the radio interludes by Jim Carrey to the commercial ads and the songs themselves, he does a great job of illustrating that journey from darkness to light.

Waiss: On the heels of "Blinding Lights" becoming the biggest chart hit of all time, the Weeknd doubled down and created a slew of hits primed for dance floors over boisterous and lush production. The new extended version of "Take My Breath" sounds even better in the context of the full project, with an expanded intro and outro that lodges itself in Dawn FM. The transitions across the project are seamless and don't interrupt the story that Abel is trying to tell. The highs of Dawn FM are very high, reminding us of Abel's gifts as a hitmaker.
Eric: It could have more balance. The old Weeknd—the mysterious, drugged-out figure we were first introduced to a decade ago—is a thing of the past, and that's fine. He's become one of the biggest, best pop stars in the world, and his music has evolved with him. That being said, one of my favorite parts about After Hours was how well he merged his two sides, making an album that was full of massive pop hits ("Blinding Lights," "Heartless") and the more unique, shadowy cuts that made him stand out so much in the first place ("Snowchild," "Escape From LA"). It had the best of both worlds. Dawn FM swings much more in the pop-friendly direction, and some of his more interesting edges have been sanded off more than I expected. This is all by design, of course. Abel has made it clear that he wanted to make an album that veered more towards "the light" at a time when the world is attempting to crawl out of a pandemic, and I'm grateful for all the positive energy. If I had one complaint, though, it would be that he swung a little too far in that direction and sacrificed some of his more unique, compelling quirks in the process. 
Jessica: There isn't much to dislike about the album. 

Waiss: Abel excels in cohesiveness on Dawn FM but he sometimes stumbles to find meaning past the surface. One could argue that looking for something deeper in a project about embracing the light and freeing one's thoughts is moot. Am I missing the point? Maybe. But it's not until the album's eighth track "Here We Go…Again" that I'm reminded who is actually singing: "Ring froze like it's February/ XO, that's a mercenary." At what point do we become too removed from the source material that we have Abel Tesfaye playing the Weeknd playing yet another character? Some of the music does more than make up for it, but it's easy to long for something autobiographical at times.
Eric: Lil Wayne on "I Heard You're Married." It looks like his phenomenal run of guest features in 2021 is already carrying over into the new year. And you can tell he had fun with this one, staying very on-topic with the message of the song, while slipping in some Wayne-isms of his own. 
Jessica: Jim Carrey is the obvious show-stopper there. After seeing his name on the tracklist, I assumed he would be on the interludes, but I wasn't sure in what ways. Jim being the radio broadcast host was perfect—he's a vocal chameleon who can mold his voice to whatever character he is cast as—and it helped create a sense of fluidity throughout the album.
Waiss: Jim Carrey. The arc of the Weeknd and Carrey's friendship has been fun to hear about. Having learned they were neighbors and could see each other from their respective houses, the two became fast friends. Plus, Abel and Carrey are both from Scarborough, Toronto. Carrey narrating 103.5 Dawn FM makes for a real full-circle moment and results in a lot of cool moments on the project, most of all, the album's closer "Phantom Regret By Jim."
Eric: How clean it is. I know, I know, Abel has changed a lot since he first emerged as a shadowy, tortured figure in those early mixtapes, but it's still a little surprising to hear him make an album that's damn near family-friendly in 2022. Dawn FM's radio concept might have contributed to that, plus the reality that the Weeknd has become a massive, Super Bowl-level pop star. It'll always throw me off a little, though, considering how he first introduced himself to the world. That being said, I'm happy to see his evolution, and the fact that he seems to be in a much better place now.
Jessica: The rap collaborators. The Weeknd has been known to collaborate with hip-hop artists like Drake and Kanye West, but he doesn't usually feature rappers on his own projects. There are only two rappers on this project (Tyler, the Creator and Lil Wayne) but both choices are pretty unexpected. Their contributions, however, do make sense and flowed pretty well with the album.

Waiss: "Sacrifice" is an interesting choice for a single. There are other songs that, on first listen, sound more radio-ready, like "Don't Break My Heart" (which trended on Twitter this morning). However, a large part of any Weeknd album is telling a story through visuals. If "Sacrifice" is important to the narrative being built through the music videos, I get it.
Eric: Abel accomplished what he set out to do on Dawn FM. This is definitely an album that sounds "going outside," full of danceable songs that will stay in radio rotation all year and put up ungodly streaming numbers. It's fun. The Weeknd knows how to make a damn hit, and he does it again and again on Dawn FM. As a complete album, is it as good as After Hours? On first listen, no. The lows are lower, and it doesn't scale up his idiosyncrasies to the radio-friendly pop world as seamlessly as After Hours did. But that's fine. This is a different album with different goals and it's a very enjoyable listen throughout. The radio concept is cool, and the whole come-to-the-light theme is compelling. And, once again, it's full of hits. We're only one week into 2022, and we already have a soundtrack for nights out (whenever these damn variants go away).
Jessica: Dawn FM continues the Weeknd's hot streak. Though I can look back and appreciate Abel's Trilogy days, I think he's done a great job of transitioning into the pop lane while still bringing  his own interesting take to the genre. Dawn FM is unique and I appreciate his dedication to building a concept. It's a fun album that makes us want to dance, but still has a dark and twisted edge to it. One hell of a way to start off 2022. 
Waiss: Dawn FM is a master class in creating a concept album. If there's one thing the Weeknd is good at, it's commiting to the bit. Earlier in his career, he embraced the idea of cohesive eras, but now he's creating worlds that extend far beyond what you're going to find on your preferred streaming platform. It's no surprise that an artist so multifaceted is furthering what it means to deliver an album. That being said, it's that world-building that leaves Dawn FM a little lacking on a personal level. The Weeknd's music has become less and less confessional since My Dear Melancholy, but there are times during Dawn FM when the storytelling feels a bit stagnant. It feels unfair—selfish, even—to criticize a musician for not putting enough of his own life in a body of work, but the autobiographical nature of Abel's past projects is what drew in many people in the first place. Fronting a new character each era is commendable, but unless a careful balance is struck, the music risks lacking a connection long after the lights come up and the dance floors close. However, considering what he sought to accomplish with Dawn FM, Abel delivers a compelling product months after teasing this direction with a "Forgive me father for I have synthed" meme on Instagram. After surpassing every measurable milestone with After Hours, the Weeknd is on a victory lap. He's not beholden to anything—record sales, awards, or any sense that he needs to prove himself. The chips on his shoulder are long gone, if they were even there to begin with. It's liberating. It's freeing. It's the kind of euphoric release that Dawn FM's protagonist strives for, so long as he makes way towards the light.