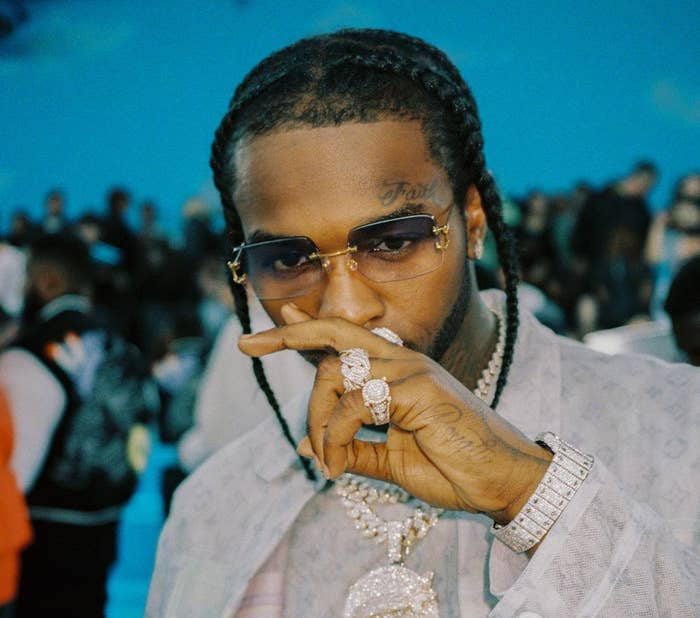 Four days before what would have been Pop Smoke's 22nd birthday, the late Brooklyn rapper's second posthumous album has been released.

Faith is a 20-song project with features from artists like Pusha-T, 21 Savage, Kanye West, Future, Rick Ross, 42 Dugg, Dua Lipa, Chris Brown, Pharrell, Kid Cudi, and more. It follows 2020's Shoot For the Stars Aim For the Moon as Pop Smoke's second posthumous album (you can read about the making of that project in our cover story here).

So, how does Faith compare to SFTSAMFM? What's the best song? Biggest surprise? Worst thing about the album? Best thing about the album? Members of the Complex Music team (Eric Skelton, Andre Gee, and Jessica McKinney) answered these questions and more after a couple of initial spins. Here are our first impressions of Pop Smoke's second posthumous album.
Eric: It's a tie for me between "Coupe" and "Tell the Vision." "Coupe" is classic Pop Smoke, with his signature growling vocals over a hard-hitting beat from Rico Beats and a sneaky use of melody. It sounds like a complete thought, unlike some of the other songs on here (although the lyrics are difficult to listen to in light of his death). I can already tell that "Tell the Vision" will divide fans, but Pop sounds great on it, the beat (co-produced by Kanye) is hard, and I always love hearing Pusha-T rap, so it's an early standout for me.
Andre: "Brush Em." This was the first track on the project that really gave me what I wanted from a "Pop Smoke project." Nothing after this one met the intensity of Pop and Rah Swish. I hope this one brings him some new fans because he's one of the first Brooklyn drill artists, but I don't see him mentioned as much as others. 

Jessica: "Brush Em." It's the type of record you'd expect to get from Pop Smoke if he were still alive and in charge of his own releases. There's no smoke and mirrors on this track. It's just Pop doing what he does best, rapping about his lethal tendencies over menacing, drill production. And instead of leaning on high-profile features, he taps Rah Swish, who delivers a haunting verse.
Eric: "Top Shotta." I get what they were going for with this one, but the beat ruined it for me, especially after hearing the OG version. And I'm a big fan of Pharrell, but I don't think I'll return to "Spoiled" either. When it comes to the slower songs, "8-Ball" works a little better in my opinion. 
Andre: "Top Shotta." This was the main track that sounded like what a lot of people feared the project would be. The beat just wasn't it. And there were so many features here that it felt like Pop's verse was just somewhere in the mix on his own album. 

Jessica: "Demeanor," "Spoiler," and "8-Ball." The second half of the album trails off, and these songs in particular sound the most forced. "Demeanor" with Dua Lipa takes a complete departure from Pop's comfort zone, trying to push him in a pop lane, but Dua Lipa's disco-pop sound is not compatible with Pop's gritty, lower register on this song. "Spoiled" attempts the same pop and funk sound. It's worth noting that Pop was Panamanian, so he very likely had an interest in island-inspired dance music, but the song's production, along with Pharrell' vocals, sounds rudimentary. "8-Ball" also sounds forced and disconnected. 
Eric: Getting to hear more Pop Smoke music. After Shoot For the Stars Aim For the Moon, I wasn't sure how much music they had left (Pop Smoke hadn't been recording songs for very long) so I wasn't counting on another project. In that sense, I'm thankful to hear a song like "Brush Em" with Rah Swish rather than having it sitting in a vault forever.
Andre: I guess the best thing is that it had enough of Pop's vocals for me. I was scared it was going to be a bunch of songs where like 80% of the work was done by guests and Pop just had 12 bars on every track. There's definitely a Biggie Duets aspect to it at points, and there are a lot of reused lines and verses that sound like the first take, but it doesn't feel like it was taken too far outside the realm of what we know him for sonically. 
Jessica: The album is at its best when Pop Smoke is rapping over drill beats. Tracks like "Brush Em," "30," and "Genius" are the reasons why so many of us were captivated by Pop in the first place. Yes, he showed interest in exploring other sounds outside of Brooklyn drill before his death, but the drill songs are the ones that sound the most natural and authentic to who he was while he was still alive. 
Eric: This isn't surprising, considering it's a second posthumous album, but it sounds unfinished. It feels like some of Pop's verses were sketches that he had already moved on from and mined for other songs that he formally released on his first two mixtapes (which is likely why we hear recycled bars on songs like "Genius" and "What's Crackin"). Some of these verses come across like drafts that he wasn't going to release. And on other songs, guests are brought in to flesh out half-finished ideas from Pop. I understand why they wanted to share more of Pop's unreleased music with fans, but the tracklist could have been tighter if they left off some of these half-finished ideas.
Andre: I think we all know the obvious worst thing about a posthumous album, so I'll say I wasn't feeling the Kenneka Jenkins line on "Beat The Speaker." It had me mad at someone who didn't actually release the song, which was a weird ass place to be in. I get the shock value aspect of rap, but I feel like rappers in general need to get past using victims of tragedies like that as a bar. It's almost always more callous than however clever they think the bar is. 

Jessica: There are a couple obvious problems with the album. First, it's too long. This is expected to be Pop's last full-length album, but it feels bogged down by too many throwaways that don't add to his legacy. The tracks towards the end feel especially unnecessary. Had this project been 15 tracks or less, it would have been more satisfying. The project is also too feature-heavy. Having Future, Kid Cudi, Kanye West, and 21 Savage sounds cool on paper, but a lot of the high-profile features come off as cosmetic add-ons simply for the look of things instead of adding any true value to the records. I wish they leaned more into guests like Rah Swish, Bizzy Banks, and Lil Tjay.
Eric: I get why people might be annoyed that he time-stamped it with the Tyler line (and I realize this might not be a popular pick) but I always like hearing Pusha-T rap on songs like this, and I enjoyed his verse on "Tell the Vision." He sounds great over the Kanye production, he still isn't afraid to stir shit up, and it's hard to argue with that Tyler AOTY pick (welcome to life as a rap critic, Push). 
Andre: I feel like I'm supposed to say Pusha-T for the most talked-about line on the project, but it's Rah Swish, because "Brush Em" is the one for me. This moment reminds me of a storyline in The Wire when (no spoilers) some people were searching for someone, and they were looking all over the city for them, but the person was right under their nose the whole time. For all the star features and ploys for hits on here, the dopest moment was with another Brooklyn drill artist, and not even a name that casual fans would assume. The album would've been better served keeping it home more. 
Jessica: Pusha-T on "Tell the Vision." There are a lot of A-list artists on this album, but many of them sound out of place. Push, however, sounds the most congruent with the song's overall vibe, delivering a menacing verse over haunting production. "Look, Tyler got the album of the year, for now/ But Pop about to drop, I see the platinum in the clouds/ Now Push about to drop, so real trappers stick around."
Eric: I was surprised to see 808 Melo say he "had no involvement" with this album. When we put together our 2020 cover story about the making of the first posthumous album, Melo talked about how closely involved he was with the whole process from start to finish, even helping to remake beats. He has a couple production credits on Faith, but it sounds he didn't have nearly as much of a say as he did last time (especially in post-production). And it looks like Pop Smoke's close friend Mike Dee has similar things to say about his lack of involvement. I'm curious what happened there.
Andre: I'm surprised Fivio isn't on here, but maybe he'll be on the deluxe. 

Jessica: I'm not sure I was surprised by anything on this album. But I guess I came into it not expecting as many drill records, especially after listening to Shoot for the Stars Aim for the Moon. So, that aspect was a nice surprise. 
Eric: As with any posthumous album, I have mixed feelings about Faith. I'm thankful to hear some of these songs instead of having them sit on hard drives forever, and there are some great moments that I'll definitely be coming back to (I've already added "Brush Em," "Coupe," and "Tell the Vision" to a few playlists). It has its problems, though. I understand that the Victor Victor team wanted to share as much of Pop Smoke's music with fans as possible, and it seems likely that this will be his final posthumous album, but trying to stack this with 20 songs (after already putting 34 on the SFTSAFTM deluxe) might have been a little too ambitious. 
You can tell Pop had already moved on from some of these verses and repurposed the best lines for songs he released while he was alive, so maybe those didn't need to be on here. They sound like demos he was workshopping more than fully-realized ideas. And I get why they brought in pop stars like Dua Lipa, because it seems like he was planning on doing more pop collaborations like that in the future, but songs like "Demeanor" don't sound natural with the repurposed vocals they used. They didn't need to force that one. After hearing OG versions of songs like "Top Shotta," some of the remade beats are disappointing, too. 
I'm not going to complain about the fact that a second posthumous album was released at all, because I know there was a lot of demand for it (and there are a handful of great songs on here that I'm happy we got to hear), but Faith would have been more effective if it was half the length and didn't need to rely on as many features to flesh it out. Still, Pop Smoke was an undeniably special artist, and the album's highlights remind us (once again) how much talent he really had. 
Andre: I wish they had kept the first album as the goodbye, because even with the weird moments, we could be assured that a lot of it was his own vision. Those were his songs that he didn't get to finish. With this one, it feels like there's a lot more manipulation going on, which always gets muddy. The more "resourceful" you get with what's on the cutting room floor in terms of putting verses on different beats, adding features with people outside the artist's orbit (I doubt he'd do a song with Kodak Black), the more of the artist's essence you lose. Once you lose that, all you have is a product that you want the artist's fans to consume just based on name value. 
Some of the verses sound like he put them down as demos or reference tracks and would've re-recorded them. And there are several reused lines that ended up on later songs, which indicates that he never planned to use some of these as a whole. I don't want to sound completely condemnatory, though. If this was just a parent label doing something with an artist, I'd be more overtly thumbs down about it. But I feel like in this case, from what I've gotten the chance to read about Pop and Victor Victor, he was in contact with some of them every day and they seemed to have had a lot of love for him. I think they, in part, had good intentions on trying to add to their friend's legacy, but I don't think it's anyone's place to release an album under another person's name who had no say in the conception. 
So, while I can't say it radiates purely as an exploitative money grab, the length of the project (given the amount of reused lyrics) and the amount of reaches for mass appeal make it evident that economics and recouping were a factor, which is unsettling. I guess in the grand scheme of the posthumous albums canon, this is somewhere in the middle of the spectrum. Posthumous albums are going to keep happening, so the best gauge for me, when it comes to quality, is whether I think an artist would have released the project on their own. Faith isn't completely Frankensteined, but it also has so many flaws that you can infer that Pop wouldn't have released this. 
Jessica: I'm at a crossroads with this album. When it sounds the most authentic, particularly on the drill songs, I really enjoyed listening to it. Isolating those tracks, along with a few of the mellow love songs, I think this album is better than his first posthumous album. But then, there are big issues on the rest of the album that are difficult to ignore. It's weighed down by some cringey production and lots of the features feel forced. With mistakes like that, it makes you wonder whether this is truly a project Pop would have co-signed if he were alive. Unfortunately, that's a question we won't ever get the answer to. That said, if Faith is the last of Pop Smoke's musical releases, I'm not sure that I am 100 percent satisfied.