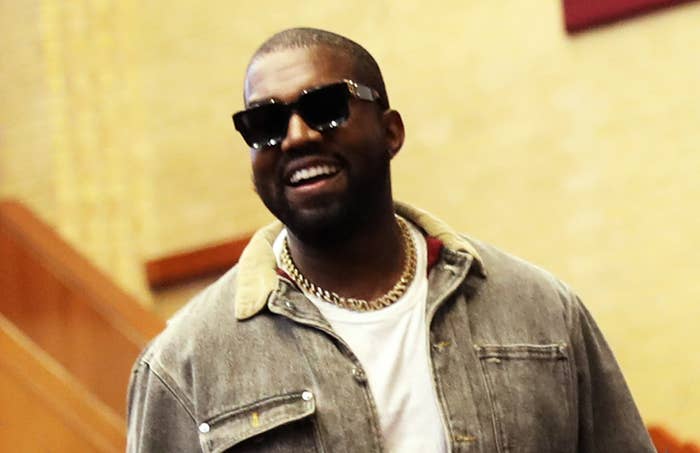 "New York is definitely one of my hometowns," Kanye West reminded everyone at United Palace in Washington Heights on Sunday night. "I used to live on Houston and Mercer."
A day after visiting his true hometown of Chicago, Kanye brought the traveling Jesus Is King listening experience to his old stomping grounds in New York City, on the night that many expected his ninth studio album to drop. Featuring an architecture-focused documentary, an IMAX film about Sunday Service, and an album full of lyrics about Jesus, the evening was a physical representation of Kanye's latest era—minus any mention of the president.
"Can I bring the gospel to New York real quick?" 
Inside the gaudy venue, a large crowd of fans filed in to hear Jesus Is King for the first time, after scoring free tickets that were made available online just hours before the event began. Forced to put their phones in locked cases upon entry, everyone found themselves in the rare position of sitting through an entire event without outside communication. "How am I going to tweet about this?" one young fan asked her friend. "How will people know I'm here?"
The evening kicked off with the screening of a short documentary about Kanye's recent architecture projects, focused on the domes he's been building in Calabasas (which were demolished in mid-September after public complaints about construction noise). In his own words, he's "designing things that maximize the human experience." The doc is anchored around dramatic cinematography, including one memorable shot of Kanye walking through a field of giraffes in Uganda as his daughter North rides on his shoulders. Throughout the short film, Kanye speaks about his goals of bringing the same design quality that rich people enjoy in their homes to places like orphanages, and he gets candid about what it was like coming up with ideas when he was "ramped up" and dealing with the effects of bipolar disorder.
An extended preview of Kanye's IMAX film followed. Centered around the Sunday Service sessions he's been leading this year, much of the film is displayed in the same circular format that was used during his Coachella 2019 live stream. Alternating between scenes of gospel singers inside dome structures and nature footage of butterflies and deer, the film has a very dramatic, artsy feel. Kanye doesn't actually appear in any of the scenes that were shown on Sunday night, but his fingerprints are all over the film's tone and overall aesthetic. It's an experimental film that feels like Planet Earth mixed with a high-resolution IMAX version of Sunday Service live streams.
As each of the films played, North and Saint West each ran around in front of the screen and danced, as Kim proudly took videos of her children. Saint attempted to keep up with his sister as North enthusiastically came up with her own choreography to the gospel music that blasted behind her. 
Finally turning his attention to Jesus Is King after the films finished, Kanye announced, "This album has been made as an expression of the gospel—and to share the gospel."
Kanye explained that his weekly Sunday Service sessions brought him closer to God as the year progressed, and he admitted that some of the sessions in the early days weren't guided by the same spirit that he feels now: "When I was at Coachella, I wasn't delivering it fully saved."
"This album has been made as an expression of the gospel." - Kanye West
Within the first few moments of Jesus Is King, it becomes clear just how religiously oriented the album is. Kanye says the names "Mary" and "Christ" within the opening moments of the first song, which sets the lyrical tone for the rest of the project. He doesn't hold back about his Christian perspective, directly giving advice like, "Follow Jesus, listen and obey." He also addresses skepticism from the Christian community about this new musical direction on a song called "Hold On," as he sings, "They'll be the first to judge me, make me feel like nobody love me."
Jesus Is King doesn't sound like a traditional gospel album, though. Sonically, it borrows bits and pieces from past albums like My Beautiful Dark Twisted Fantasy, The Life of Pablo, and Ye. Instead of going full gospel and anchoring the entire album around organs and choir vocals, he delivers what most fans have come to expect from a Kanye West album: healthy doses of bass, pretty chords, hip-hop sensibilities, and pop melodies. He handles most of the vocal duties himself, singing throughout the album with light assistance from vocoders—a departure from his habit of drowning himself in AutoTune on past releases. And on songs like "Selah," he raps more aggressively than we've heard from him in years. Overtly religious lyrics and clean subject matter aside, the album makes sense, sonically, within the context of the rest of his catalog.
Feeling enthusiastic energy from the crowd midway through playback of the album's second song, Kanye was emboldened enough to ask everyone to come forward and fill in the aisles. The audience, which had been prodded into being well-behaved by tight security until that point, happily followed. Hundreds of people stood on the seats at the historic venue and climbed onstage near the West family, until Kanye had to warn everyone that the front section of United Palace was about to collapse.
Kanye played every song that appeared on the latest tracklist shared by Kim on Twitter, including "No Body" (although Nicki Minaj's verse was noticeably absent). "Closed On Sunday" was also a clear standout. Making sure the simple hook ("Closed on Sunday, you're my Chick-Fil-A") was burned in everyone's brains before they left the theater, Kanye ran the song back and played it a second time.
All of the music played on Sunday night was well-received by the crowd of diehard fans, but several of the songs felt unfinished. It's clear he's still tinkering with the tracklist and making small changes, which is why it came as no surprise that Sunday ended without the album showing up on streaming services. The United Palace crowd served as a last-minute focus group of sorts.
Kanye never mentioned a new release date for Jesus Is King on Sunday, but he did display an image that many are speculating will be the cover artwork for the album.
The night finished with "Use This Gospel," which features a reunion from Clipse members Pusha-T and No Malice, as well as a solo from Kenny G (Kanye proudly told everyone, "That's Kenny G on the sax, by the way.") The song received one of Sunday night's most enthusiastic responses, as fans kept the night alive by continuing to sing after it had finished. As thousands of fans—many decked out in new Sunday Service merch—sang his melody inside a grand venue that is often reserved for religious gatherings, you got the sense that Kanye was pleased with the way his Jesus-centric experiment was turning out. Just a few hours earlier, a choir leader at Kanye's latest Sunday Service at the Greater Allen A.M.E. Cathedral in Queens looked at him and said, "I love what God is doing through this great man."
For the most part, the response was positive on Sunday night. But you have to wonder how this album will be received by a wider audience of secular listeners who might not be prepared for a Kanye West album that's as focused on religion as this one is. For fans who aren't used to hearing things like, "Follow Jesus, listen and obey," the lyrics will be difficult to stomach. It's hard to imagine any of this getting played in clubs or on the radio.
Waiting for an Uber two blocks away from the venue late Sunday night, one attendee gave a preview of what many non-Christian Kanye West fans will be saying when Jesus Is King is finally released.
"The album sounds really good, but I don't know if I can get down with what he's saying."