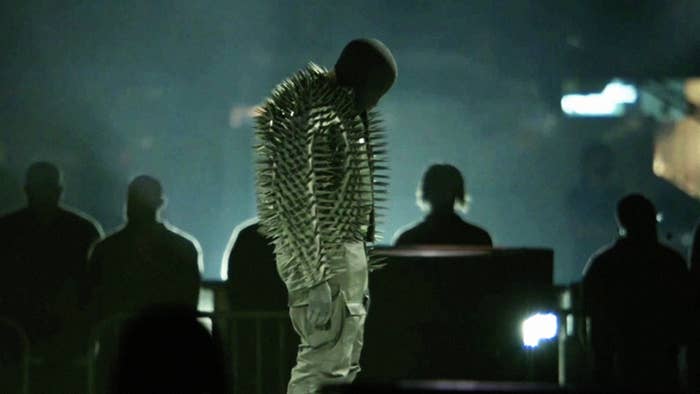 Kanye West had so much fun at his first Donda listening party, he decided to do it again.
On Thursday night, Kanye invited everyone to his new home (Mercedes-Benz Stadium) in Atlanta and played the latest version of his tenth studio album, Donda. This time, things were a little different, though. He finally ditched his red outfit in favor of a Balençiaga spiked jacket and a bullet proof vest. He wasn't alone this time, either. After wandering around an empty field by himself two weeks ago, he was joined by dozens of fans who danced around him in a large circle. It was a celebratory night.

The music was different, too. Kanye played lots of new songs (and new versions of songs we'd already heard). Donda is taking shape in front of our eyes. But, as you might have noticed, the album still hasn't officially arrived as of Friday afternoon (hopefully it will be out by the time you read this). There's a lot to unpack from last night, though. So we put together a list of our observations and takeaways from the 82-minute listening session.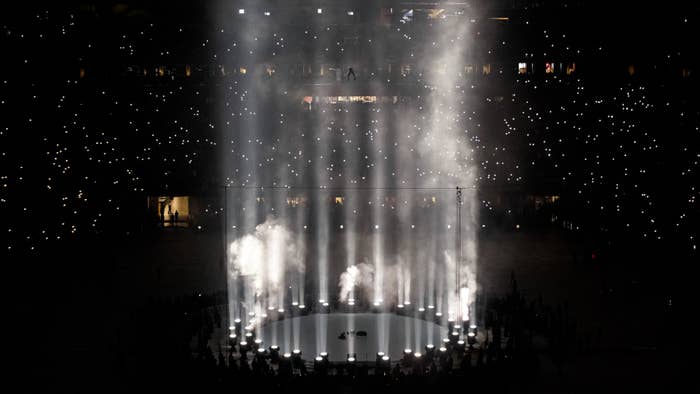 There's been a lot of talk over the past decade about how Kanye doesn't dedicate enough of his time to music anymore. And there's merit to the argument. With all of his work in fashion (and building new civilizations and shit) it's obvious he isn't focusing as much of his energy on making albums as he used to. But over the past two weeks, he's been holed up in the stadium studio with his attention solely focused on this album, and the results are impressive. Kanye (and all of his collaborators) have had a wildly productive two weeks, and Donda sounds much better than it did on July 22. Every song underwent improvements—new production, new guest verses, polished lyrics—and Kanye had time to make entirely new tracks, too. Everyone's been complaining about the delays, but it's obvious that the more time Kanye gets to focus on a project, the better it'll get. Albums like 2018's Ye were panned for sounding unfinished, but it looks like we might actually get a polished product with Donda. —Eric Skelton
Remember how Kanye kept making changes to The Life of Pablo even after he uploaded it to streaming services? Well, Donda might be remembered for the way he let us in on the actual creative process. Artists talk about going through dozens of versions of each song before they finally settle on the one that makes the album, but it's rare that we actually get to witness that process in real-time. With Donda, Kanye played a bunch of work-in-progress demos, paid attention to our reactions, and then made adjustments. We were able to hear the improvements as they happened. Of course, there are already comments online, like, "I liked the OG version of [insert song] better," but the consensus is that most of these tracks got a lot better. Kanye is clearly playing into this work-in-progress idea, too: The poster he made for the second Donda event is literally a loading symbol (which he's also using as his Instagram profile image). Kanye puts some kind of new twist in every album cycle, and this time, he's showing his work. —Eric Skelton
Kanye brought a completely different energy to his second Donda listening event. At the first show, he was isolated and spent most of his set standing still or kneeling on the ground. At the second listening, though, Kanye came alive. This time, he invited people onto the stage to dance around him, and throughout the night he played as though he was on the phone, making energetic hand gestures to emphasize certain points in the music. Kanye was charged up, and the night had much more upbeat energy. —Jessica McKinney
Many people wondered what Kanye would do to keep people engaged for a second listening session. His answer: reach out to Demna Gvasalia (his longtime friend and a renown Balenciaga designer) which made him a good choice as the Donda event's creative director. And he deserves kudos after last night. The audio sounded better on the stream, he switched out the last show's vast white expanse for a tight spotlight that focused on Kanye in a makeshift version of his now-infamous room. The rectangular area was inside a circle of beams that he later "levitated" out of. And the use of dancers also helped keep things compelling. People who attended the first show might feel a bit cheated that this one had the better set. —Andre Gee
As I was watching the livestream on Thursday night, I couldn't help but think: No other rapper in his mid-40s could make an album that sounds as current as Donda, and no one could do it in a way that feels so natural. And that's because he's following his own advice: Kanye is listening to the kids, bro. There were 29 guest vocalists on the version of Donda we heard Thursday night, and the vast majority of them represent the cutting-edge sounds of rap. Young artists like Baby Keem, Playboi Carti, Don Toliver, Lil Baby, Roddy Ricch, Vory, and KayCyy guide the direction of the album. And by the sounds of it, the production credits will likely be full of young beatmakers, too. Kanye has a long history of finding future rap stars (Kid Cudi, Travis Scott, etc.) and incorporating their sounds into his albums long before they become household names. It seems the strategy is still working for him, because Donda doesn't sound like an aging rap star struggling to keep up with new trends. It sounds more like he brought together a collection of rap's most forward-thinking artists and helped orchestrate an album that will inspire the next generation to keep innovating. I interviewed Kanye's new protege KayCyy a couple weeks ago, and he talked about this ultra-collaborative environment, telling me, "It's like the Yeezy School of Music. You're going to learn something there, and you're going to meet somebody important there. Everybody's there for a reason." It sounds like it worked. —Eric Skelton
There's a narrative in some circles that Kanye is humorless and unwilling to play into a joke, but Thursday night proved otherwise. After two weeks of memes about Kanye living inside a tiny room in the stadium, he started a round-the-clock livestream from that tiny room. He stopped to lift weights, he did some push-ups, he took a nap, and he invited famous friends to stop by. Obviously he didn't need to actually work out on-camera (if he needed to pump some iron, there are state-of-the-art facilities in the same damn building). He was smart enough to know that shit would go viral, though, and he kept the meme going by doing push-ups in the middle of the stadium on the livestream. He also ran around in a cape, and effectively reenacted the SpongeBob ascending meme at the end of the performance by floating towards the roof. —Eric Skelton
Kanye West referenced Larry Hoover, the incarcerated founder of the Gangster Disciples, on one of the songs at the first listening session, surmising, "I'm the only one who went to the White House and told 'em free the old man." This time around, the line was changed to, "For the guys who went to the White House and said free the old man." He then played an interlude after that track, where Larry Hoover Jr. gave a powerful monologue, commending Kanye for his efforts and delving into the pain he and his family is enduring with their patriarch incarcerated on a life sentence. It sounds like Hoover Jr. or someone else heard the original bar and gave Kanye a call to clarify some things. Hoover was just denied a sentencing break under the First Step act, which former president Trump enacted in 2018. Kanye probably went to the White House to advocate for the 70-year-old Hoover back then, but Trump is out of office now. After his recent denial, the presiding judge called Hoover "one of the most notorious criminals in Illinois history," who apparently doesn't deserve freedom in their eyes. But there are others, like Kanye, who feel like he deserves to be home with his family. —Andre Gee
Lil Yachty was one of the first features we heard during last night's listening session, appearing on a track that was added over the two week re-recording period. The Atlanta rapper was visibly enthusiastic about his verse blaring through the Mercedes Benz Stadium speakers in what had to have felt like a full-circle moment. In 2016, a then-unknown Yachty was one of the models at Kanye's Yeezy Season 3 fashion show, which doubled as a listening session for The Life Of Pablo. He released his Lil Boat mixtape a month later, which catapulted him to nationwide visibility. Five years later, he's now on the album of the same man who gave him his foot in the door. —Andre Gee
Although Kanye has remained silent during this album rollout and hid behind a mask in the media, he created some of the most vulnerable work we've heard from him in a long time. The newest version of Donda includes a lot of introspective tracks in which Kanye addresses his mental health. "Suicidal thought got you wonderin' what's up there," he rapped on one of the songs. In another song near the end of the stream, Kanye discusses his divorce from Kim Kardashian and their family. "Sixty million dollar home, never went home to it," he says. Later, a recording of his mother chants, "You never abandon your family." —Jessica McKinney
No one is having a better week than The Lox. Just two days after they killed their Verzuz battle against Dipset, they made a surprise appearance on Kanye's album. Ahead of the song's debut, The Lox also showed up on Kanye's pre-release stream. Judging by Jadakiss' hoarse voice on the track, Kanye seems to have called them to record shortly after concluding their Verzuz battle. The Lox were the clear winners of the Verzuz, but that begs you ask the question: If Dispet had won, would they have appeared on the album instead? —Jessica McKinney
It looks like Kanye is going to play this silent thing out at least through the album release. But the longer it goes on, hopefully he realizes that he doesn't have to jump on a soapbox to stir intrigue. He hasn't said a word all year, but over the past month, especially, his mere Instagram presence and living quarters sparked the kind of anticipation most attention-thirsty celebs dream of. This period still feels like a phase he's trying out before the inevitable tweetstorm, but at least it's been a peaceful one. —Andre Gee
It's safe to say that Kanye hasn't lost his mojo quite yet. Sure, there are some folks who are still tuned out due to Ye's political rants and triggering comments in the media, but the listening event showed that there are stadiums full of people (and millions at home) still interested in hearing whatever he has to say. No one can stop all of rap in its tracks and create spectacle quite like Kanye still can. He sold out the Mercedes-Benz Stadium twice in two weeks, with some attendees coming for both shows, and the crowd was energetic and loud—screaming his name and gasping in awe as he rose on a harness into the sky. And the ones who chose to stay at home were equally pumped up as they live-tweeted the whole event. A day after the event, Kanye is still one of the top trending topics on Twitter with more than 471K tweets. —Jessica McKinney
Are you really surprised? After all this? Kanye was still recording vocals on the livestream a few hours before the event started. It's clear he's tinkering until the very end, and the album isn't ready until it's ready. Maybe that's why all the graphics and merch he made were emblazoned with the date "8.05" and a loading symbol, instead of "8.06" and album artwork. Kanye put his attention on having things ready for the August 5 listening party, and the album will arrive when it arrives. Fuck it, if it got that much better after two weeks, I'll wait another two. —Eric Skelton