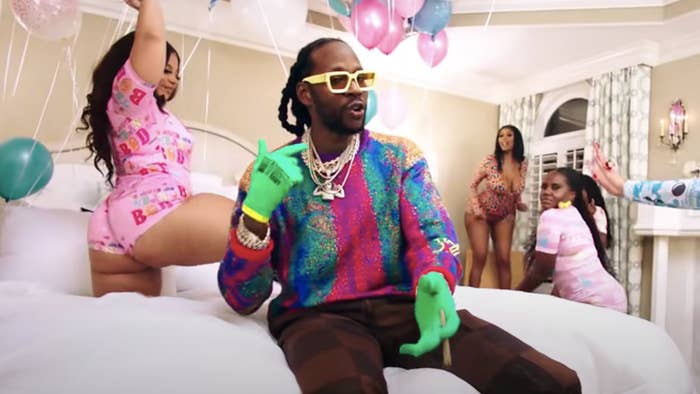 After a brief delay, 2 Chainz's new album, So Help Me God!, has arrived.
Speaking about the album title in an interview with Complex a few weeks ago, he explained, "So Help Me God! has a couple of meanings for me. Obviously, it's an oath that people take when they are in a high office. And so for me, one of the oaths that I would like to take this year—especially since we've been in such a fucking trashy year—is to come out of it being a better husband, father, friend, musician, and artist, all around the board. But at the same time, So Help Me God! could be like a threat. Like, I know I'm one of the illest to do this, 'so help me God.'" 
With confidence, he added, "When it comes to this music, and putting together these projects, and coming up with concepts, and marketing ideas, me and my team are some of the best ones to ever do it."
Now that the album is here, did it live up to the high standard 2 Chainz set for himself? Is it better than his last album, Rap Or Go to the League? How good is the guest verse from Kanye? Before heading into the weekend, the Complex team put together a list of first impressions and takeaways, which you can find below.
With a title like So Help Me God! and pre-release chatter that Kanye West might executive produced it, we were excited about the possibility of hearing 2 Chainz rap over a bunch of soulful beats on this album. Well, Kanye ended up not getting an EP credit (stay tuned for that), but the project still has a very soulful sound. Early in the tracklist, BJ the Chicago Kid's vocals from Problem's "I Love You" are sampled on "Save Me," setting up a trend that continues throughout the album. Other standout samples include Guy's "Piece of My Love," Alan Lomax's "Early in the Mornin," and Hall & Oates' "I Can't Go for That (No Can Do)." Settling into the vibe, 2 Chainz delivers soulful verses of his own, particularly on songs like "Vampire" and "Wait for You to Die." When you throw in buttery guest vocals from Brent Faiyaz and Ty Dolla $ign, this sounds a lot like a rap album you'll be able to play on Sunday mornings. —Eric Skelton
For a few years, 2 Chainz was comfortable presenting a caricature of himself. He astutely realized snippet culture was coming before the rest of us, so he embalmed his hits with memorable lines that defined his music for casual fans. Think "All I want for my birthday is a big booty ho," or "I am smoking on that gas, life should be on Cinemax/Movie, bought my boo bigger tits and a bigger ass." The songs were bigger than these moments, but for listeners of rap radio or the regular streamer, the outlandish bars defined his work. Even the pink trap house, to an extent, was a synecdoche for the 2 Chainz enterprise. While there are still plenty of memorable lines on So Help Me God!, he seems more comfortable as a contemplative stylist than a one-bar pony. The whole is bigger than the part, and while that's generally been the case with 2 Chainz, there's no room for other interpretations now. —Will Schube
It's true. 2 Chainz doesn't need to rely on outrageous one-liners, but he's still really fuckin' good at it. Let's run through some of the funniest lines on this album. On "Feel a Fly," he squeezes in a last-minute 2020 election reference with, "I feel fly, yes I'm fly, land on Mike Pence." Meanwhile, on "Gray Area," he gets wildly explicit as he raps, "Old enough to be your Daddy, young enough to fuck your Mama/ Young enough to fuck your sister, young enough to fuck your auntie/ I ain't messing with your Grannie, I just juuged her out them Xannies." And that's not to mention all the times he slips in subtly hilarious lines, like, "You always posting cars and never post your home décor." Yep, 2 Chainz is (still) one of the funniest rappers alive. —Eric Skelton
It should come as no surprise that 2 Chainz would incorporate Southern sounds on his album. He is from the South, after all. But from the carefully-selected samples to the guest features, So Help Me God oozes even more Southern vibes than usual. "Save Me" begins with a soulful sample of BJ the Chicago Kid, and while BJ isn't an Atlanta-based artist, his vocals give off a old-school Southern feel. It's also fitting that NBA YoungBoy, who is from Baton Rouge, is featured on the track, especially since the song features a bounce style, which is native to Louisiana culture. Those soulful "cookout" samples pop up again on "Can't Go for That," which borrows from Cameo's "Back and Forth" and Hall & Oates' "I Can't Go for That (No Can Do)." "Money Maker" is an ode to HBCUs, as 2 Chainz shouts out Southern universities like FAMU, Clark Atlanta. The band featured on the track is Southern University and A&M College's "The Human Jukebox." The album features an impressive lineup of Southern talent from top to bottom. 2 Chainz's frequent collaborator Lil Wayne is present, alongside YoungBoy, Kevin Gates, and Mulatto, who is from the same area as 2 Chainz in Clayton County. —Jessica McKinney
2 Chainz has lots of quotable lines on the album, but my personal favorite on the record comes from Lil Uzi Vert on "Free Lighter." He raps, "Stand on my money I"m taller than 2 Chainz/Three hundred thousand I spent that on two rings." Is there anyone better at rapping about their wealth than Uzi? Obviously, Thugger is grandfathered in because of "My money way longer than a NASCAR race," but Uzi has a history of quantifying his stacks in ways few others can. On "Sanguine Paradise" he raps, "I just made 100k, it was quicker than a Vine." Uzi thinks about money differently than the rest of us, which is also maybe why he has more than the rest of us. —Will Schube
In 2019, Kanye announced he was done making secular music and would turn his attention to making Christian albums like Jesus Is King. But it sounds like the old 'Ye came out of retirement on So Help Me God, if only for a few seconds. (Although, it seems likely this verse may have been recorded years ago). On "Feel A Way," Kanye revisits some of his controversial thoughts about slavery, rapping, "Could've freed more if they only knew that they was slaves." He also talks about not conforming to social norms, while dropping names like Frank Ocean and Dame Dash. While the verse doesn't include any explicitly religious lyrics, it is worth noting that Kanye keeps his promise to avoid cursing and using profane language. Although his early catalog included lots of swear words, Kanye has made a point to exclude expletives from his music in light of his renewed commitment to his faith. —Jessica McKinney
When 2 Chainz took to Instagram yesterday to shout out the producers on So Help Me God!, it suggested that the backbone of the album would be in the beat selection. He wrote, "None of this could happen without these guys, at midnight tonite enjoy this time capsule masterpiece we created together! So Help Me God." As Jessica pointed out up top, the album is a soulful, Southern trip. He's got Dallas, Texas native Lil Ju (you know him from Megan's "Big Ole Freak") on album opener "Lambo Wrist," and Jackson, Mississippi capital-L Legend David Banner handles the beat on "Wait For You To Die," one of the best songs on the album. There's a specificity throughout that allows a bit of variance from song to song. There's an overall aesthetic, but 2 Chainz is loose enough throughout to let his collaborators ball out. —Will Schube
Chief Keef is like the Dos Equis man. He doesn't always make beats, but when he does, they're fucking amazing. As friend of the website Andrew Barber wrote on Twitter, "I actually can't wait to hear this 2 Chainz song produced by Chief Keef... Turbo RARELY blesses people with this production, so this must be something special." Guess what, Barber? It is something special. It's arguably the best beat on the whole damn album, and this comes after Turbo stole the show on Lil Uzi Vert's "Chrome Heart Tags," the best beat on Eternal Atake and one of the best of the year. It begs the question, why don't more MCs hit up Keef for beats? It's gotta be something more than him being underrated. After his, um, thorny interview with Complex, my guess is that he simply views himself as a desirable commodity behind the boards. Much like Mach-Hommy charges hundreds of dollars for his records, maybe Keef thinks keeping his product scarce will drive up the value. Or maybe he just doesn't like making beats. With Keef, you never know. Regardless, "Free Lighter," which features both Keef and Uzi, is another hit from one of rap's most reclusive beatmakers. —Will Schube
Before the arrival of So Help Me God!, 2 Chainz told Complex, "I'm dealing with trying to get out of my contract with Def Jam. [Kanye West] has been someone that's been loudly voicing contracts and things of that nature." And on the Kanye-assisted "Feel a Way," he directly references his relationship with the label, rapping, "Last one with Def Jam but I'm still goin' off/ And it ain't about my masters, I'vе been ownin' mine." Elsewhere, on "Grey Area," he raps, "I got mils out of Def Jam, I got mils out Atlantic." Before Friday, it was widely expected that this would be 2 Chainz's final album on Def Jam, but he hinted that their relationship might not actually not be over during a round of interviews on release day. Speaking with Ebro Darden on Apple Music, he revealed that Def Jam recently countered with an "enticing" offer. "With this one [So Help me God], I thought it was gonna be an amicable split," he said. "And me knowing I still have more in the tank, I was just gonna leave and see what God had to offer. And they came back with a few things that was enticing, and you know, we're working on it." Looks like the 2 Chainz and Def Jam story isn't over quite yet. —Eric Skelton
On "Free Lighter," 2 Chainz raps, "No GMO/No canned food." Much like his 2012 hit "I'm Different," something here is… different. Advocating for voting rights? Investing in G League team College Park Skyhawks? This is not the same man that demanded being buried in the Gucci store. 2 Chainz has grown all the way up, but his ability to blend more heartwarming bars about family and friends with his trademark humor keeps So Help Me God! an enjoyable listen. On "Free Lighter" he raps, "Right now I'm on that dad shit/ 'Cause I'm at my daughter recital." It's hard to imagine Tity Boi rapping about videotaping his daughter's performance. Also, bad luck for whoever's behind him. 2 Chainz is 6'5." Something we don't talk about enough is that 2 Chainz is 43 years old. He was born in the '70s! But he hasn't aged the way some other veteran MCs have. There's still something fresh and intriguing about his style, and I think it all comes down to his willingness to evolve, instead of relying on old tricks. —Will Schube