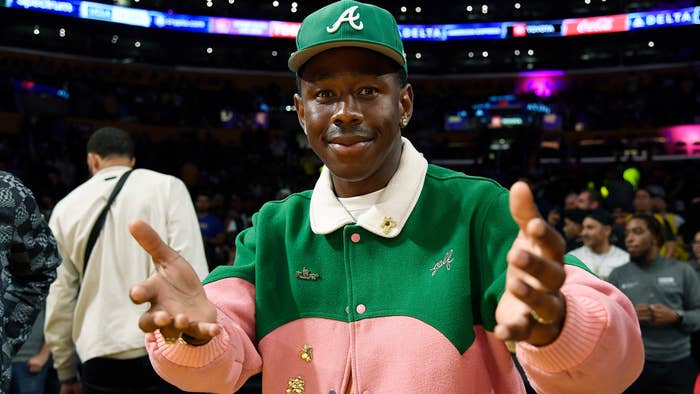 Tyler, the Creator is the upcoming guest for season 2 of Rap Radar, a podcast from Interval Presents, which is set to debut on June 8.
In a teaser for the interview with Tyler, host Elliott Wilson began by sharing that he attempted to bait Tyler into joining the best rapper in the game conversation and mentioning the "big three": Drake, Kendrick Lamar, and J. Cole.
Tyler wasn't having it, backing up his argument that he doesn't believe in top rappers or album lists by arguing that it's performative.
"Bro, who gives a fuck," Tyler said. "Hey... you know what annoys me, when people are like, 'This is my top five...' and people argue like... you got 17-year-olds like, 'Yeah, dude... Ready to Die and Enter the Wu-Tang is my top ten album ever.' I'm like, 'Bro, you just got hair on your dick, stop. It's performative.'"
"Tell me, what is your favorite shit?" he continued. "Because you learn so much from people, you get context."
He said that trying to make an objective list isn't something he's interested in.
"That's why I fucking hate Rap Twitter," he added. "Because everything's performative. Everyone is making these lists just to have people engage like, who gives a fuck who the top three is... Tell me your personal top five because y'all could just go in circles."
You can watch the clip below and stay tuned for the full episode.
Wilson said the Tyler interview happened on April 20, explaining it took him "10 years to interview this genius again and I damn near blew it."
The trailer for season 2 of the podcast, which features Wilson's co-host Brian "B. Dot" Miller, teases interviews with the culture's biggest names such as Conway the Machine, Joe Budden, and Steven Victor.