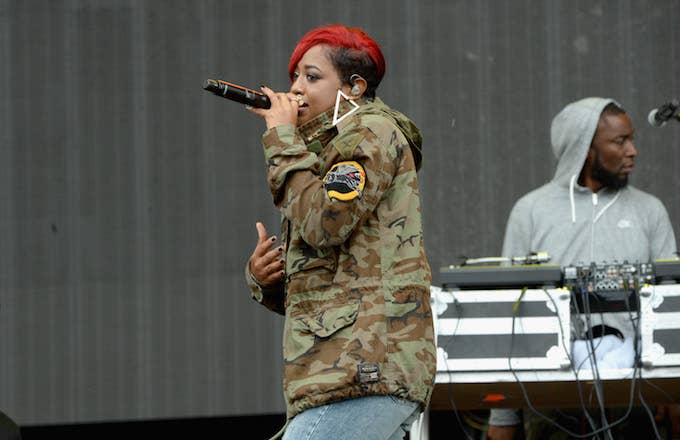 "Give me my flowers while I can still smell them" is a phrase Rapsody heard from her paternal grandmother, Laila, when she wanted express gratitude anytime her granddaughter came to visit her. It's taken on a new tone in music this year as more and more well-known musicians pass away, defining a sense of urgency for people to pay their respects to living legends and mentors while they're still here. Rapsody's Instagram page is filled with other messages from her grandmother, where she writes in another post: "Laila said to show people love while you still can. Older one's wisdom has never failed me."
Laila's Wisdom, Rapsody's second studio album and her first on Roc Nation, is about preserving knowledge that's passed down to you, exploring love, gaining confidence, and conquering self-doubt. For its 14 songs, Rapsody has recruited the likes of Kendrick Lamar, Black Thought, and Anderson. Paak for features, as well as executive producers 9th Wonder, Terrace Martin, and Young Guru to set the tone of the record. Rapsody's storytelling is a lot richer than it's been in the past; the album is aimed squarely at the hip-hop head who wants to break down lyrical meanings. Laila's Wisdom is her most focused project to date, delivering refreshing poetry in a rap game dominated by trap and Auto-Tune anthems.
Complex sat down with Rapsody to talk about the inspiration of Laila's Wisdom, her thoughts on Jay Z's 4:44, working with Kendrick, the female hip-hop landscape, and much more. You can stream/purchase Laila's Wisdomhere.
You talked about putting out another album last year, but out of nowhere you just announced Laila's Wisdom.
I think people knew I was working on something, but when it was coming I don't think they knew. I think one thing coming from indie to having a bigger major label backing, you don't think about the paperwork that's associated with it and things take a little longer to get done but we didn't want to make people wait too long for it. 
So it's you, Terrance, 9th, and Young Guru as the executive producers. Terrance is coming off The Pollyseeds project and Kendrick Lamar'sTo Pimp a Butterfly. Guru is coming off 4:44. What did they do to push you creatively?
Me and 9th have worked together for ever so we have a process, but even we tried to push that to another level, just experimenting with things, trying to sing a little bit and just going any and everywhere with it. Really no rules.
The album for the most part was pretty much done by the time Jay and Guru started working on 4:44. I think during the time Jay was working on 4:44, Guru would be working with Jay all day and then trying to mix my album at night. Gu was sleepy. [Laughs] He was tired. He worked mad hard. Gu, always, too brings another side, just being with Roc-A-Fella for all of those years being in all of those Baseline sessions and all of those albums, he brings a lot of experience and his ideas. So it just really created a circle of a bunch of talented, creative people, bringing all their ideas together. It's like Voltron man, it just really made it fun.
You said Jay is really like one of your biggest influences, you said Lauryn and Jay is too. When you heard 4:44 what did you take away from it?
Man, I'm just always wowed and floored by how he can continue to reinvent himself. It's a great album and a different side of Jay, a more personal side of Jay, though he's always been personal in his own right, but it'll be a song here and a lyric here. To have a whole album that's personal and in the way that he did it.
And to hear why he did it the way he did it in the Rap Radar interview, it's like, 'I know how to rap. I wanted it to feel personal. I wanted it to feel like I'm talking to you in a conversation.' That was dope to even take that aspect, like it doesn't have to be perfect rap, the greater thing is I'm trying to get an idea and an emotion and bring you into my world. That's the dope thing. He's always reinventing himself in that way. And how he proves that is you can't put an age on hip-hop.
Has he heard your album yet?
I don't know, I'm not sure. But I did get to see him after Made In America and I was telling him how good he did on the show and he grabbed me by the shoulder and said 'Man you're doing a great job, you're rapping your ass off.' I know he's always watching so I can't wait to get his feedback when the time is right.
You've been sharing the message behind your album on Instagram. There are a bunch of quotes from different people and one was from your grandmother who said "give me my flowers while I can still smell them." Can you talk about that significance? Why is that important knowing that we lost greats like Chuck Berry and Prodigy this year.
That was one of the reasons I titled the album, Laila's Wisdom. Laila was my grandmother, and I would always go to the house and that would be the running thing. Every time that you heard 'Oh, you came to see me. Oh, called me. You gave me my flowers while I'm here.' It could be something as small as a phone call, send a card or buy food, that's a flower. It's just about spending time and energy and just showing people that you appreciate them, however you choose to do that.
You see people that pass away, like your Prodigys, and you see people come out of the woodwork from the top of the top to the bottom of the bottom, showing their appreciation and love and sometimes you think, 'I wonder if these people knew how much they were loved before they were gone?' We are doing it now, but the ones that need to receive it, they're gone. They can't receive it; why don't we do that while they are here?
Is this album based on love or anything like that? When I listened to it I heard a few songs about love.
There is a love section.
So is it broken up into sections?
I just think it touches on different topics, there is a love section in there, about three or four songs, that's dedicated to all the stages of love you go through: the happy, the good times, the not-so-good times, the I don't really want to be with you no more, the 'Yo I just met this new dude and I'm really feeling him,' you know, you have that story. You have a song about depression. You have one about confidence--a few about confidence like "Black & Ugly." There's "Power." I think it just touches on different emotions.
I also noticed on the album that you have TDE features. You've worked with Ab-Soul before. Who haven't you worked with?
The three artists on TDE that I haven't worked with yet are Jay Rock, ScHoolboy Q, and SZA. I also haven't worked with Isaiah Rashad.
It's known that your camps have a mutual respect for each other. Where do you see the similarities? Because you guys have really good musical chemistry.
I think we are just like-minded. We both really love the music and the culture and we respect each other. We just make music cause we all like making music together and we don't let the business get in the way of it. We don't ever trip about money or who getting credit for what. It was like, 'Let's just make something dope.' It's just really easy, and we all kind of grew together in our own right. Around the times that TDE was just getting started, Jamla was kind of just getting started too at the same time. Every time they come through North Carolina, they would come to the studio and hang. 9th, Soul Council always sending beats back and forth. And TDE has had an incredible rise since then.
"Power" is your third collaboration with Kendrick. How do you approach the subject matter because Kendrick is really going there when he wants to address something. Can you explain how this song came together?
I was working on this album for like two years, the first year I had like five songs and I knew I wanted to work with him again. It's just some songs where I hear his voice on and I hear his presence. He's so versatile in what he can do. I hear him on this, and I hear him doing something. So we sent him a folder of like four or five songs and I was like, 'I'm sending you this folder. Listen to it. If you like anything and you want to get on it, just let me know which one.'
What did Lance Skiiiwalker add to it?
Lance is definitely his own man. He does his own thing; he's his own person for real. Super talented and big heart, though. We were trying to figure out what we wanted to do with the hook. I can try to do a hook. I'm not the best hook writer, but when I catch one, I catch one. I wasn't hearing me on it. At the time, Lance had just officially signed to TDE but they hadn't made the announcement yet. So Dave Free was like, 'Yo, we got this new artist, let's give him a try on it.' So we sent it to him. And he killed it right out the gate, he brings this whole new element and energy to it that was missing.
So the second song that Kendrick was supposed to be on, it is still on the album?
Yes. "You Should Know." Before Busta got on it, that was one of the ones that Kendrick liked a lot.
Well speaking of "You Should Know," there is a line where you say, "Young Gu yelling I should rippity rap more/I'm known to black out y'all resemble the Oscars." Can you dissect that line for me? Are you going at anybody in particular?
Nah, I'm not going at anybody at that one. I think at the time Gu told me out of the 80 songs, I went through this space of making songs that were a little bit more dumbed down. It was still me, but it was easier on the ear. At the time, we were having a pow-wow just talking about the songs and which ones were going to pick. 9th and Gu were having a conversation of like, 'She just needs to bust. People want to hear her rap. People want to hear her go. Like rap. So I threw that line, 'Young Gu yelling I should rippity rap more.' Like do you, don't overthink about radio or what is user friendly. Just do what you're known to do.
You have worked with Anderson. Paak a couple of times as well. How did you find out about him?
I came across Anderson before Compton came out. It was right when they announced the features on it. So I went and digged and listened to his music. I was like, "Wow, this dude is dope." So I think I tweeted him or DM'ed him like, "Man, I love your stuff." And we talked a little bit in DM and I sent him his number. He was on tour with Earl Sweatshirt at the time and they had a stop in Raleigh. So we went to the show. The first time I saw him perform, I was like, "This guy is crazy. It was nuts." So to see where he is is not surprising. That first night, I already heard the music, then I saw him perform. I was like, "I already know where this is going. He's amazing." I was like, "Man, I would love to work with him. His voice, the way he writes, his pen game is crazy."
You said you listen to new music all the time, is there any new female rapper that you like?
Leikeli47, she's dope man. I got to meet her for the first time a couple of weeks ago. Of course, me and Ill Camille, I have always supported Ill Camille. Get her new project, it's really dope. Noname is dope. I ran across this new artist yesterday, Princess Nokia. I was listening to "Tom Boy," I was like, "Yo! That 'Tom Boy' record is dope. If she ever did the remix, I would love to be on that one."I loved the video for that one. I like Dreezy in Chicago. She's dope. I like hear. Like I say, I always try to keep an ear to the street and all of them are dope. I know I'm missing people. I know I am.
Cardi B?
I like Cardi, man. That's what I mean. When we are talking about female artists, there's a lane and there's room for everybody and everybody is going to be different and bring something different to the table. You're not going to play music that makes you think necessarily 24/7. But you are not going to turn up 24/7 either. Everybody has a purpose. And what I love about Cardi is she is fun and she is funny. She something that you can really let loose to and wild out with your girls on. I think that's a dope purpose to have. It seems genuine and it seems honest.
Why do you think women are pitted against each other? Like whenever Nicki spits a couple of lines, people think she's going at Cardi.
I don't know, it's weird. After '98, after Lauryn's last album, we saw this drop in labels pushing females. It felt like there was none around. Though it always existed, just not in your face on a mainstream level. And then you had Nicki who was the face for the longest by herself. I think it came to a time where people, especially if you didn't grow up in the time in the '90s, where you had all these women that coexisted. Like it happens, women can rap and rap together just as well as the men. People had this idea that there can only be one.