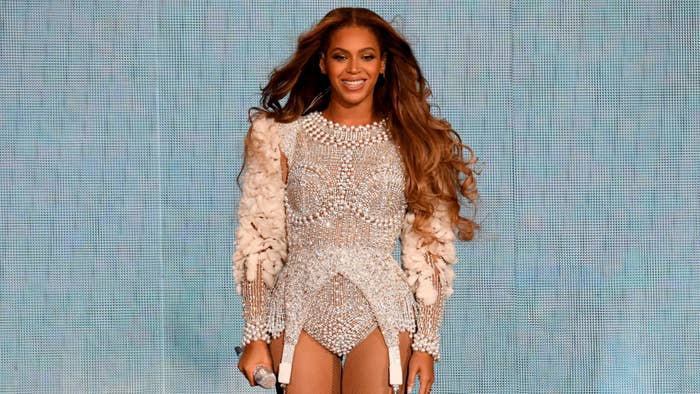 Beyoncé has revealed the title and release date for her follow-up to 2016's Lemonade, with the celebrated artist set to drop Renaissance on July 29. The title for the 16-song project also includes "act i," which could mean plans to share more "acts" after this initial release. Alternatively, "act i" may also refer to the project's 16 songs being released in multiple parts rather than it all coming out on July 29.
Four box sets are available to pre-order on Beyoncé's official website here with a different T-shirt included in each. It also comes with a CD, a 28-page photo booklet, and a mini poster. The product "begins shipping July 29th upon album release," which may be an indication the full project is released on July 29.
Beyoncé tipped off fans that something was potentially on the horizon after she removed her profile photos across all her social media platforms last week. 
Then this week, eagle-eyed fans caught an Easter egg when her BeyGOOD Foundation Twitter account shared a collage of album covers to celebrate Black History Month, with an image of a hand pointing to the cover of Brandy's 2020 album B7. Renaissance would count as Beyoncé's seventh studio album, hence "B7."
In a cover story last August with Harper's Bazaar, Beyoncé talked about working on new music, which also included a "renaissance" mention. "With all the isolation and injustice over the past year, I think we are all ready to escape, travel, love, and laugh again. I feel a renaissance emerging, and I want to be part of nurturing that escape in any way possible," she explained. "I've been in the studio for a year and a half. Sometimes it takes a year for me to personally search through thousands of sounds to find just the right kick or snare. One chorus can have up to 200 stacked harmonies. Still, there's nothing like the amount of love, passion, and healing that I feel in the recording studio. After 31 years, it feels just as exciting as it did when I was nine years old. Yes, the music is coming!"
Since the release of Lemonade—which Complex ranked as the No. 1 album of 2016—Beyoncé has shared a handful of projects: the collaborative album Everything Is Love with rapper and husband Jay-Z, as well as the curated soundtrack for Lion King. She also earned a 2022 Oscars nomination for Best Original Song for "Be Alive," which was featured in King Richard.