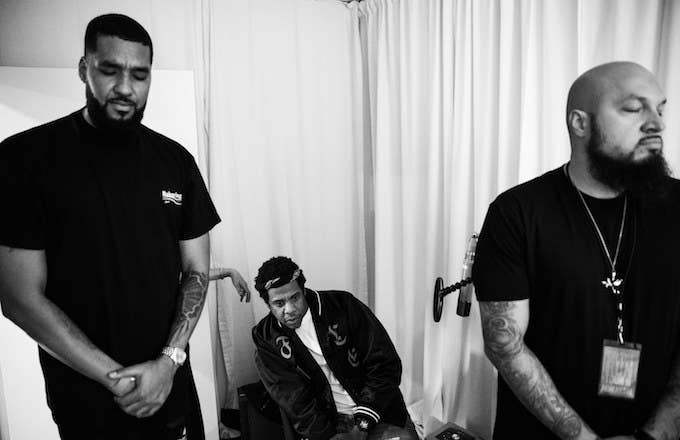 The names Cool & Dre ring out across the hip-hop landscape for more reasons than one. If you're feeling nostalgic, their work on the Game's "Hate It or Love It" and Ja Rule's "New York" will get your blood flowing. If you're feeling contemporary, look no further than Fat Joe and Remy Ma's anthemic "All the Way Up," which dominated airwaves and peaked at No. 7 on the Billboard Hot 100.
They've been locked into the music game for more than a decade—but it still came as a surprise when credits on JAY-Z and Beyoncé's joint album Everything Is Love revealed the veteran production duo produced three out of nine tracks: "Summer," "713," and "Black Effect." They couldn't sound any more different: "Summer," with its deceptively lazy but thoroughly soulful pace, "713," with driving keys just south of in tune but hard enough that it doesn't matter, and "Black Effect," with its comparatively sparse beat and haunting background vocals. The Carters also released a bonus track, "Salud!" which Cool & Dre produced, and Dre laid down vocals for. As its name suggests, it sounds like a toast to victory.
As expected, Cool & Dre are floating on Cloud Nine now that their contributions to Everything Is Love have officially reached our ears. In an interview with Complex, the pair talked about their favorite moments creating with JAY and Bey, how easy it was to keep the collaboration a secret, and their status after producing for two of the most revered artists on the planet.
What have the past 48 hours been like for y'all?
Dre: That's a great question. The last 48 hours have been pretty cool. Cool and me, we've been at this for a long time. This is our 15th season, like LeBron James and Dwyane Wade. As much as we have experienced throughout our career, this has been a life-changing experience for us. The last 48 hours have been one of reflection, thinking about the many times Cool and I have had reasons to say, "Man, fuck this shit." But we refuse to fold. God is great, man. The last 48 hours have definitely been reflective. We're just really excited that everyone is receiving the music the way they are receiving it.
Cool: To add on, it's definitely been surreal. We been involved with some heavy projects before and we've seen how the first couple of days are. And this one right here is on a whole 'nother level. When we were actually working on some records, the experience was like, I'm gonna wake up tomorrow like, "Damn, Dre! I had a dream." [Laughs.] 
Dre: It's like a dream. Definitely like a dream.
So when did you initially get the call to work on this?
Dre: Well, this one is a little drawn out, but it's good to hear and it's fun to tell. Cool and I have had a relationship with JAY-Z for a long time. OG Juan [Perez] introduced me to Jigga 15 years ago.
Yeah, I saw your Instagram post.
Dre: So you know the story. JAY wanted to meet us and I happened to be in New York, so OG Juan introduced me to JAY. I will never forget the night at Baseline Studios, when he was like, "'Hate It or Love It,' I'ma let that one pass. But that 'New York' record, you're supposed to hand deliver me that. You're supposed to bring that directly to me, Dre." And I was like, "I just met you. I'm just seeing you for the first time," and he was like, "It don't matter—you find a way." Cool and I look up to JAY-Z on another level.
Since then, we maintained a cordial relationship. It kind of got re-ignited again after "All the Way Up," the record we did for Fat Joe. He jumped on the remix. We just started really talking again. So, over the past couple of months, Cool and I have been fucking around with some new sounds and creating some new music. I started emailing it to JAY. Like, "Yo, I'll never forget what you told me: always deliver you the heat first. Now I have no excuse." I started sending him the music and he's really feeling it and loving the direction. After I sent him one record in particular, he was like, "Yo, are you in L.A.?" And I was like, "No, but I could be there in two seconds." And he was like, "Me and Beyoncé are working on a joint album, and I'm really loving the stuff that you guys are doing. Come up with some shit for me and her."
A lot the stuff I was sending was just for him. And it's not like I knew he was working on anything—it's just we have the relationship. I want him to hear it first before I let anyone else hear it. I went to his house—and that's a disrespect. I went to his palace, his estate, him and his wife, their compound. We worked for like 12 hours that day and we cut like five or six records and toward the end of the night, he played me three or four of the records him and Beyoncé had cut at that time. We had this one record called "Salud!" that Cool had told me, he said: "Dre, do not leave that place without playing them 'Salud!'" So I was like, "Yo, I got one more song to play for you, can I play it?" He said, "Go ahead," and I played the beat. And it was just the beat and he was like, "Are you kidding me? You tryna tell me you waited till the very end to play me this? This shit is crazy!" And I was like, "Man, I had an idea for a chorus," and he was like, "Go cut that, man."
So right when I went to the mic to record it, Bey poked her head into the room where we were recording, and she was like, "Oh, excuse me." And Hov was like, "Nah, get in here. Dre is cutting an idea and I want you to hear it." So the pressure was on like crazy. Beyoncé is sitting in the room, and there was no vocal booth, so I was sitting in the room looking at JAY and Bey. I sing a melody with some words and Beyoncé played it like four or five times and she was like, "I love this, I love this." I was like, "Alright great, I'm out of here." Two weeks later, I'm still communicating with JAY. He was like, "Send me some more." Then two weeks later, he called me and was like "Bey cut 'Salud!'—congrats. You on here." I called Cool like, "Yo, we got one on there, we got one on there!" And then Guru had hit me like a day later and was like, "We're going to Paris. I am letting you know, if y'all want to come out, you should come out." So Cool and I had a trip planned to go to London. We had a bunch of sessions lined up so we were like, you know what? We'll go to Paris for like two days and then we'll break out to London. Well those first two days were so legendary that we stopped—
Cool: Two days turned into two, three weeks in Paris.
Dre: We were like, "Fuck everything, we're gonna stay right here and do what we do." That's how this whole shit came about.
Damn. So what's been the hardest part of keeping this a secret?
Dre: I'll be real with you. Cool and I have been in this game for a long time and we've had opportunities come our way and we've been excited about it and happy to share these opportunities with people close to us—and then things don't happen. Just being paranoid, you start questioning people and their motives. With this one, first of all: it's JAY-Z and Beyoncé, it's nobody's business. But usually, I would probably tell my mom. I didn't tell nobody. I was like, "I don't want nobody to know nothing until this shit drop."
Cool: It wasn't hard at all. And while no one knew and we knew everything, it was an amazing feeling because it was like, "Yo, this is really going to catch everyone by surprise."
Dre: Another thing is, we were just so grateful to be in the same room with these people. They actually opened the door for me and Cool to create with them and be in their creative space. We didn't want to fuck nothing up. This is the greatest opportunity, ever. We were afraid to talk to each other on the phone. I'd be like, "Yo Cool, come to the suite. Let me tell you something." It was like that.
So, to get into the actual music, when I first heard this, the production credits weren't listed yet, but I was like, "Oh shit, this is Cool and Dre." It's so clear that you're all over this. Were you given free reign to just do you, or was there constant collaboration between you and JAY and Bey?
Cool: They definitely dug what we brought to the table sonically and lyrically. They definitely gave us guidance on every step of the way, but they kind of gave us free reign to do what we felt was needed for the project. The way they had everything set up, it was in the owner's box in the stadium. Imagine being in the stadium in the owner's box and they converted owner's boxes into studios. So our studio was literally right where you look out the window, you would see all the production parts of the stage and the huge stage setup. So we could look down and see JAY-Z and Beyoncé down there, doing what they do, putting the magic together for the show. Dre figured out the timing of right when they would get up and they would walk into the the tunnel to go backstage. And Dre would be like, "Cool, press play!" So I would press play on my computer and then he would open the door, and JAY would give us like a thumbs up like, "Yo, we coming up, we gotta hear that!"
So anytime we had some new shit, we would press play and Dre was like, "They're coming out right now, they're coming out right now." So we had a little routine for getting their attention. But once we got the record to a certain level, then JAY-Z would go in and he'd add his magic to it, then Beyoncé would come in. They're really, to the highest form, they are masters of their craft. On another level. What they're doing is just... JAY-Z is literally a genius level talent, Beyoncé, genius level talent. And we witnessed that first-hand. Because once we got into the songs—we heard them when they were even at the 80 percent level vocally, it was just like, the best things we've ever heard. So they were definitely there every step of the way, with every song.
Dre: We've never worked with the queen before, but we have a rapport with JAY. When we came to the table with what we were doing, "Salud!" kinda hinted to JAY like, "OK, you guys are coming up with melodies and words too, aight." 
They would constantly give us words of encouragement and when you're getting words of encouragement from arguably the greatest in both fields, JAY and Bey, the confidence is like, supreme confidence it gives you as a producer, as a songwriter. Just as a person, period. So part of the collaboration, of course, was them giving us the direction, an idea: "Hey, do this here." Like on "Black Effect," the original record, the beat was completely different and JAY was like, "Yo, I love this idea, I love the direction but I need this shit to bounce. I love it, but make the beat bounce." And "Summer," all those beautiful strings, that was JAY and Beyoncé's idea like, "Hey, let's put some live strings on here and once we do it, you guys do what you do and make it sound right." It was a lot of collaboration from sonically to lyrically to melodically and to just, words of encouragement, which is priceless.
Absolutely. So did you approach working with them any differently than you would another artist?
Dre: You know what? After they made us feel like we could just completely be ourselves… I'll be honest with you. We came to Paris with one mission: we wanted to produce the whole fucking album. I would joke with JAY like, "Yo Hov, we want this whole shit." He's like, "Go 'head, nigga. Go hard." So we came into this whole process with our A-game, 'cause we knew this was the opportunity of a lifetime.
Throughout our career, only a few artists truly know what Cool and I are capable of. Cool and I have not been the guys who do a bunch of interviews. We really don't go out there touting what we do on a record, because at the end of the day, we believe that the artist is supposed to shine. And us as producers, we're supposed to do what we do to help make the artists shine bright. If that means come with melody line or come with a lyric or a hook—whatever, we really don't speak on that, so people really don't know. Only people that work closely with us, that's a few: that's Lil Wayne, that's Fat Joe, the Game. These guys know what we're capable of doing. So once Bey and JAY really received our ideas and what we're doing and we seen that they really, really was fucking with it, it just made us so comfortable and it made me and Cool be like, "Yo, let's fucking be the greatest we can be, because they like what we're doing." They really gave us the confidence to be the best. We pulled every tool out the toolbox in this album.
We came to Paris with one mission: we wanted to produce the whole fucking album.
What song brings back the best memories of working on this album?
Dre: The one that really got me was when JAY invited us in the room to hear "713." When we originally played him the record, him and Bey loved it and it was just something hard. And we brought back the "representing for the hustlers all across the world." I knew ahead of time that JAY wrote that for Dr. Dre. So I was like, "This is fucking dope." Beyoncé says it, like a twist on a classic. What happened was, a couple days later, apparently Bey told JAY, "We need a hardcore love song." So it was JAY's idea, he told Guru, "Yo, pull up that '713,' let me listen to that." So he did a verse and then he called me and Cool in to hear it. And the first verse, me and Cool were like, "Oh my God, this is amazing."
So he played us the first verse, the hook comes on, Bey hadn't done her part yet and then the second verse starts, but there's no second verse—it's just an empty beat. And then JAY immediately just starts freestyling, "I never knew a lo-lo-love like this." He's like, "Oh shit! I gotta cut that." So he goes to the mic, he starts cutting that verse, he comes up with, "The way I network makes it hard for me to connect." That line came to him the very second he had to spit it out on time, so that was unbelievable to watch, like a genius at work.
And then like an hour later, Beyoncé walks in. Before she walks in, he's like, "I've never told the story about how me and Beyoncé met. No one knows this story. This gon' be classic." So she walks in an hour later and Guru presses play. I want to see Beyoncé's reaction, but at the same time, I'm being so respectful 'cause I'm not trying to stare at her. But I'm trying to like, sneak a look and she's listening to his first verse and he's rhyming about when they first met and she looks at him and she starts smiling. She's like, "Oh my God, you remember!" Then they hug each other, and I'm just like, "Oh, God." It was just that unbelievable moment. The hairs on my arms stood up. I called my girl, you know what I'm saying? So I took that away. I was like, man. I'm so thankful that me and Cool fucking are a part of this shit. So that was the moment that really got me.
Do you think this placement cements your status as some of the best producers in the game?
Dre: Oh wow: let me tell you something. You know this music game, if you quiet for a month, they say you're finished. Cool and I first experienced that feeling in our career I would say around 2011. We started our own record company and was really trying to break our own artists—thankfully, we finally did with Kent Jones—but it took a good four, five years. And during that period, we were really putting all of our energy into our own shit and not putting a lot of hits out on the charts. So we felt that.
But then when we did "All the Way Up" with Fat Joe, it was like a rebirth for Joe and for Cool and Dre. Like, "Boom—you motherfuckers slept on us? What the fuck?" But then, the music game was like, "Yo, you gotta get give Cool and Dre their props. They been in this game for a long time, they gave us moments."
This project—at least personally for me and Cool, we're like, you know what? Can't tell us nothing. Whether people say we them dudes or not, our music has been received and embraced by Beyoncé and JAY-Z. It's like them accepting what we bring to the table—as producers, as songwriters, as human beings allowing us to even share their creative space and allowing us in the room—they opened up the door for us to be in the same room with them. We feel like this shit was worth it. We always feel like it's worth it, but now we're like, "What they gonna say now?"
I was talking to Ebro or somebody. I was like, "Let me ask you a question: 15 years in the game. You think now we could get an honorable mention?" As a producer, it's hard to be popping for two years. You hear about guys and they hot for a year and you never hear from them again. So for us to be doing this 15 years and for this moment to happen to us now, I feel is definitely God's way of saying, "They can't sleep on y'all no more." They gotta give it up.
Cool and I have not been the greatest at marketing our career and our success. We just not into that. I feel like that has played in our favor and put us in the position to work with a Beyoncé and JAY-Z. Because you really can't look back at Cool and Dre and see no type of fuckery, you know what I'm saying? We keep our head low and we're very humble and we move quiet. We just chase the music.
Quincy Jones told us a long time ago, "Just keep chasing the music and the money's gonna come. Don't pay attention to nothing else but the music." So, I feel like yeah, man: let's get a little honorable mention. Me and Cool came into the game to fuck the chart up and that was what we had to deal with coming into the game. So, 15 years later, we still here. And we still making our mark, so hopefully it counts for something. I mean shit, we on the phone with you now, so I feel like we getting shit done.