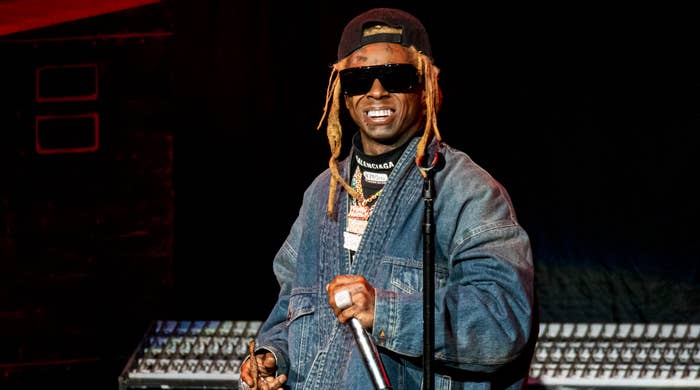 Last week, Lil Wayne released his fifth Dedication mixtape. 
Although it has received mixed reviews online, it is already one of the most-downloaded tapes of 2013—a year which has already seen the release of a full Lil Wayne album (I Am Not a Human Being II), the charting success of his singles "Love Me" and "Rich As Fuck," and assorted smash guest spots with rappers like Nicki Minaj, Future, DJ Khaled, and Big Sean.
A few storylines emerge. 1) Wayne is over, done. His punchlines don't punch and his flows are familiar. He might have hits, but it's all goodwill earned during one of the most prolific and creative runs rap music has ever seen—a run that ended long ago. 2) Wayne is still on fire. He's still funny when he wants to be. Most of the haters were hating back when he was on top, too. He's charting, his cosign means the most, and hip-hop's two biggest stars both owe him their careers.
Both of these seemingly-contradictory narratives feel somewhat true, simultaneously. And Dedication 5 captures the ambiguities of where Wayne now stands, much as the other Dedication tapes have done the same throughout his career. When he was reaching for the crown, he sounded hungry, invulnerable. When he was resting on his laurels—or relying on autotune—it sounded like it.
But of course, this is true of any of his releases. What differentiated the Dedication series from his other tapes is something he addresses directly in the intro. It's about freeing himself from making hits, removing that limitation from the equation, focusing purely on his raw enthusiasm for the art and expression of rapping.
"Nowadays, Dedication mean to me... the same thing it always meant. Get on the mixtape, have fun, enjoy myself. Say things I wouldn't say on my album, on anyone's album. Just get on the shit and go crazy. Talk what I talk, say what I say. And all the people that's featured on the mixtape—shout out to them anyway. I tell them the same thing. Do what you want, say what you want. Let's just have fun, enjoy ourselves, and show people that we can rap, we can make words rhyme. And it's still dedicated to you fuck niggas."
Absolutely fair enough. But where does 5 stand in relation to the ones came before it? Well, we'll tell you.
Written by David Drake (@somanyshrimp), Alex Gleckman (@andfeedingyou), Insanul Ahmed (@Incilin), Dave Bry (@davebry9), and Rob Kenner (@Boomshots). 
RELATED: The 100 Best Lil Wayne Songs

RELATED: 40 Things You Didn't Know About Lil Wayne

RELATED: Producer Nate Fox Explains How Chance The Rapper and "You Song" Made It On "Dedication 5"

RELATED: Pigeons & Planes - The 30 Best Lil Wayne Mixtape Tracks
5. Dedication 3 (2008)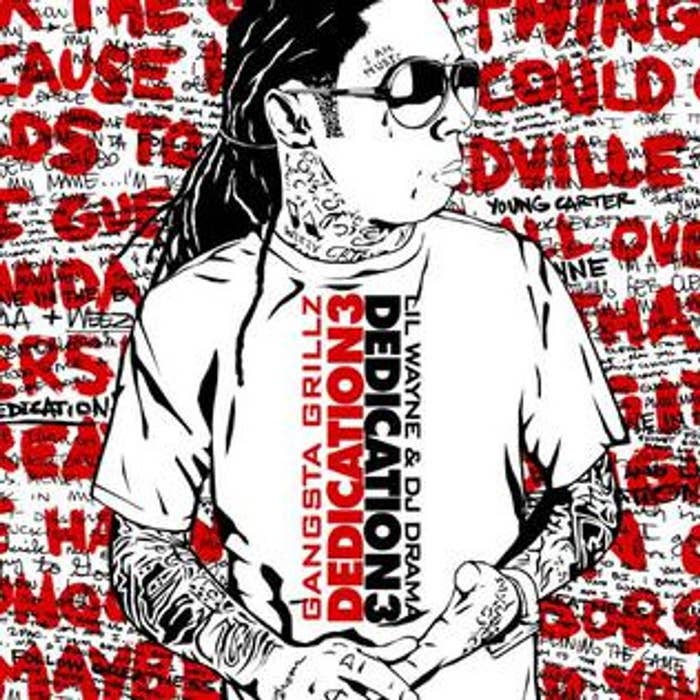 Features: Nicki Minaj, Drake, Tyga, Gudda Gudda, Mack Maine, Jae Millz, La the Darkman, Shanell, Lil Twist, Willie the Kid
You can't blame Lil Wayne for losing his edge in 2008. He used the first two Dedication mixtapes and the first three Carter albums to prove that he was, in fact, the Best Rapper Alive. By 2008, after selling a million copies his first week with Tha Carter III, he had proven his point. Everyone had to bow to the Billboard behemoth Wayne had become. By the time Dedication 3 rolled along, he had little to prove and he knew it. The tape was loaded with weed carrier verses from the likes of Jae Millz and Mack Maine (though Nicki Minaj and Drake both make appearances), making the release more of a showcase for Young Money than anything that might have hinted at any remaining hunger from Wayne himself.
Worse yet, nearly every Wayne verse was delivered using warbled Auto-tune, a gimicky device that only served to make Wayne sound burned out. Maybe it was a defense mechanism. Maybe Wayne was eager to mask his flow because he was simply out of gas after releasing such an enormous amount of material over the previous few years. No one would have blamed him if he had taken a step back and chilled for a while. But the skit (which was actually the best part of the entire tape) "You Love Me You Hate Me" revealed why he couldn't. "The club, that's my job," he said. "The mall, that's my job. Your neighborhood, that's my job. This studio, this is my life." —Insanul Ahmed
4. Dedication 5 (2013)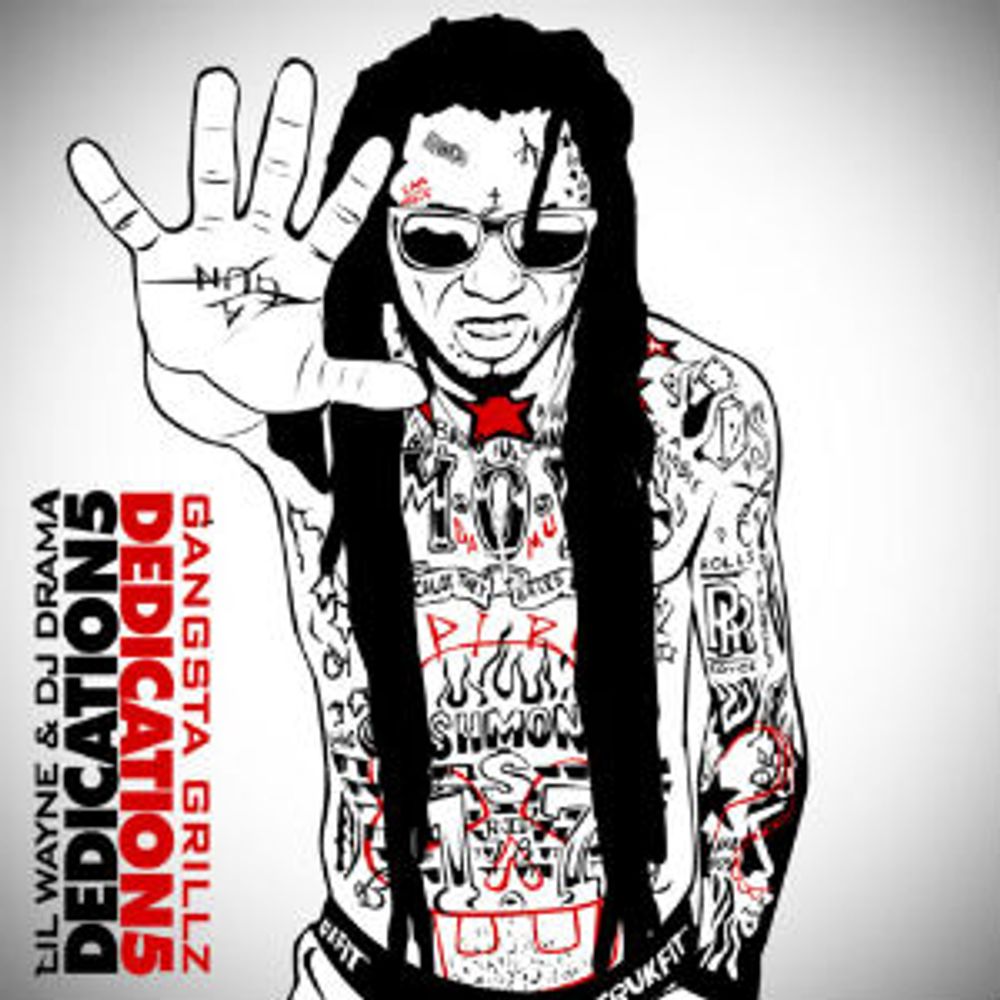 Features: The Weeknd, Chance The Rapper, 2 Chainz, T.I., Eruo, Jae Millz, Lil Chuckee, Mack Maine, Birdman, Gudda Gudda, Kidd Kidd

There's a telling interlude part of the way through Dedication 5 that explains the real difference between Wayne this year, and Wayne in 2005, or '06, or '07. "Competition is different these days," he says. "That competition is competing for my awesome fanbase... For them to still say that they love me... competing for them to still fuck with me. That's my competition these days." Wayne has nothing left to prove and no new land to conquer. He just has to maintain.
By the time Dedication 5 arrived last week, Lil Wayne's career was deep into a levelling-off period. Despite spawning successful singles ("Love Me," "Rich As Fuck") and a handful of great songs, I Am Not a Human Being II was hardly greeted with universal acclaim. The sensation of forward momentum his career once had has long since passed. Everyone knows what to expect from Wayne now, and in a slightly degraded form. He is no longer the lyrical animal who transformed a narrow range of subjects into a cornucopia of wordplay, musical experimentalism, creativity, and variety.
In the context of current rap, though, Wayne is still one of the only artists who can artfully blend the clever, the profound, the base, and the visceral, into a compelling product that appeals to a wide cross-section of American hip-hop fans. While most artists no longer release tapes of freestyles over industry beats, for Wayne, it remains an art form.
All the same, Dedication 5 is one of the more inconsistent offerings in the catalog. The metaphorical laziness that sometimes sinks Wayne is rampant here. Stuff like "It's curtains for these niggas, I feel like some drapes" or "Open her mind like a watermelon" barely deserves the word "punchline." But such phoned-in effort alternates with lyrics like "Smokin' on the gas, pass it like 'excuse you,'" which are, obviously, fire, in all their low-brow glory.
Wayne's take on "Started From the Bottom" and "Colombia" are hard, although a great David Banner beat is wasted on an average hook. "Bugatti" should have been an easy swipe for Wayne. The hook is one of the year's best, and Ace Hood's workmanlike verses are an underhand pitch that lands on a tee-ball stand. Wayne's version, though, ends up overwhelmed by another flat punchline. (What rhymes with "Bugatti," and relates directly to Wayne's interests?) 
The biggest highlight is Chance The Rapper's "You Song," over which Wayne drops one of his best verses in years—no doubt summoned to the sublime by Chance's star-making performance. Other guests perform well (Jae Millz) or not so well (Lil Chuckee) or transcendentally well (T.I. on "FuckWitMeYouKnowIGotIt," who surprisingly steals the song out from under his host's nose).
There are flashes of Wayne's old brilliance throughout. And in current hip-hop, he still has few real competitors. Even at sunset, he has a more powerful grip on all the contradictory tensions that make rap music worth listening to. And there is a brief moment of true urgency on "Levels" with Vado. One that references some of the news Wayne made this past year outisde of music. Whether he's being serious or flippant, it carries a chillingly profound weight: "This that motherfuckin' Dedication 5," he raps. "I just hope I be alive to see a Dedication 6."
Yikes! We do to. —David Drake
3. Dedication 4 (2012)
Features: Nicki Minaj, J. Cole, Young Jeezy, Jae Millz, Gudda Gudda, Birdman, Detail, Lil Mouse, Boo, Flow
Nearly seven years after Lil Wayne's first DJ Drama tape, Dedication 4 finally dropped in September 2012, a full year after Tha Carter IV. At the outset of the first song, Drama runs through the Dedication discography to date. "One made you realize," he said. "Two, that's when the game became ours. Three, that's when we showed you the future," he added, referring to all the Young Money features on that forward-facing collection. As for the fourth installment, one whose cover depicted Wayne as a cartoonish Trukfit-style figure holding a skateboard, Drama said it was "for the sport." Clearly the sport in question would be skateboarding. And for all those who might doubt, "That gives us four wheels to roll over you niggas."
"I'm skating and rapping at the same damn time," Wayne crows on the tape's second song. "I said I might retire, but y'all know I be high."
That's for sure. He'd maybe lost a step since his prime, but even 85 percent of Wayne's potential makes for an exciting ride. Nonsequiturs notwithstanding, you can't be mad at a verse like: "Her clit look like a jelly bean/I'm on that promethazine/ low your ass to smithereens/Kush strong like Mr. Clean/I'm the King, I have a dream/Money flipping trampoline."
Still, the standout verses on the tape belong to Nicki Minaj, who destroys G.O.O.D. Music's "Mercy" beat with her Trini swag on 1000, and J. Cole, who blacks out on a song called "Green Ranger," while Wayne spends half of his time complaining about not liking the beat.
That's kind of symobolic of the whole affair. There's plenty of greatness, but Wayne's sounds distracted. Like he'd rather be skating. —Rob Kenner
2. The Dedication (2005
Features: Young Money, B.G.
Lil Wayne's 2004 album Tha Carter had a slow burn. It debuted at a lowly no. 5 on Billboard's album chart. But it was the album that turned rap heads' heads back in Wayne's direction. Since the late-'90s peak of the Cash Money Millionaires, Wayne had been something of an afterthought. The novelty of his Lil-ness had worn off as he grew out of his teens, and, after his partners Juvenile and BG split for independence, it was label founder Bryan "Baby" Williams who had taken up the mantle and become the flagship star.
But a funny thing happened on the way to a million in sales: Everyone realized that Wayne's rapping had gotten very, very good. Like, as good as any rapping that was being done by anyone in the world. So while he was working on the follow up, Tha Carter II, he hooked up with DJ Drama, who'd been having success with his Gangsta Grillz mixtapes series, to make something out of the extra material, you know, just the throw-away stuff, they'd lay it over a bunch of beats jacked from wherever.
Dedication, they called it, something for the fans. And as it soon as it arrived in December 2005, it was clear that it something that no rap fan in his or her right would ever throw away. Rhyming alongside his Young Money cronies like Hot Spitta (who would later change his name and find greater fame as a solo artist called Curren$y) Wayne sounded looser and wittier and gloriously goofier than he ever had before.
"I ain't got a nose for you buggers, I'm sugar," he said over the the beat Kanye West had made for Cam'ron's "Down and Out." That mean I'm good/If you is, I'm gooder/Shoulda woulda coulda but you dudn't, cock sucker…"
Lots of funny things like that happened in the studio. Lots of spontaneous, carefree, extremely confident and free-flowing rap music. Wayne's rise to the very top of the hip-hop world was on well on its way. —Dave Bry
1. Dedication 2 (2006)
Features: DJ Drama, Freeway, Willie the Kid, Detroit Red, Juice, Juelz Santana, Curren$y, Mack Maine, T.I., Remy Ma, Pharrell
"I kilt that shit, that right there, that was easy man."
When you rap on someone else's beat, it's an unspoken flex. You better improve on the original, otherwise there's no net gain for the listener. Such statements put the first artist on trial, and if they were banking on the quality of the beat to begin with, it was easy for Weezy to push them off their pedestals.
At this point in Wayne's career, he was snatching the beats from under everyone's feet, hungrily, and there was no mercy, even for his friends. His aim was to prove that he was the best rapper alive, or to at least leave no evidence to the contrary.
What made D2 a classic has to do with: 
1. Instead of blatantly assuming the flows of whoever'd owned the beat previously, Wayne toyed creatively with what had come before. Perhaps he'd rhyme different words with the original hook, but ultimately bring just enough Wayne-ness to the table to transform it to his own song.
2. The very apparent hunger in his approach was put in stark relief by how effortless he made it seem. He had a million rhymes about smoking weed and having sex ready to burst out of his head. It sounded as though he was just casually spilling the overflow onto the rest of us, as well as every other rapper. Each song blends into the next because he just raps non-stop, as though hooks are just a formality.
3. We were still getting used to his ability to rap hilariously imaginative circles around his core subjects of study. So lines like "Then she get straight to the head like a fucking Excedrin" still inspired in us the right reaction—some combination of a groan and a credit-where-it's-due smile. (At some point since, that balance was tipped, which is why people are already panning D5 for lines like "Had a phone in jail, that's a cell phone.") In the wake of D2,  his flows started to be structured for the sake of the punchlines. In the D2 era, he was making the same kinds of jokes, but it was within this frame of Wayne rapping his ass off. It was so fluid. He never paused long enough in between rhymes to let you consider the joke he had just made. The next sneaky stoner double entendre, the next never-before-heard-of-even-thought-of vaginal description was already upon you. There was no need to build in time for a laugh. He was killing everything in sight. —Alexander Gleckman