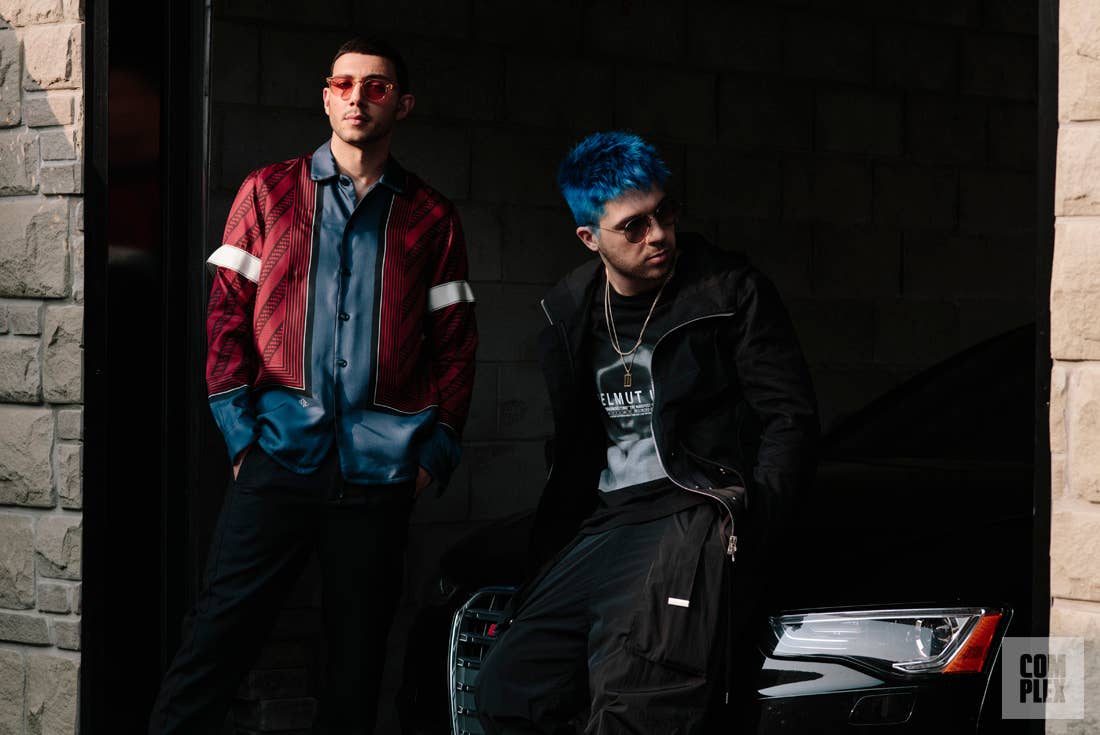 Jordan Ullman is trying to cover his black eye. He's sinking in a chair in the middle of the kitchen in his new bungalow in Harwood, a working class neighborhood in Toronto. He just got the keys yesterday, so the room is still bare. There's only a roll of tissue paper on the counter top. The chairs were borrowed from a neighbor.
"I haven't been punched in a long time," he says on an unseasonably warm September afternoon. He chuckles as a makeup artist slowly and gently dabs concealer on the purple bruise around his right eye. He won't go into too much detail about the incident, but the gist: About a week ago, he got into an argument with a motorcyclist. Before he knew it, the guy dismounted from his bike and threw a jab right at his face. "I was like, 'I have a shoot in a few days. What am I going to do?'" says Ullman. I guess the biker had no idea who he was.
Sporting new, striking cobalt blue spiky hair—a far cry from the near-bowl cuts the pair is known for—Ullman isn't exactly a total stranger. Together, the producer and singer Majid Al Maskati make up the Canadian dance-pop duo Majid Jordan. In 2013, they signed to Drake's OVO Sound label and were introduced to the world through "Hold On, We're Going Home," one of Drake's most recognizable hits, which they co-wrote, demoed, and are featured on. Within a year, they released an EP, A Place Like This, and co-wrote "Mine," from Beyoncé's surprise self-titled record, with Drake and producer Noah "40" Shebib. In 2016, they dropped their self-titled debut album.
Despite the meteoric rise (and world tours), Ullman, 24, and Al Maskati, 27, aren't superstars yet. They're famous in the way that, as Al Maskati describes it, people in their hometown might do a double take if they walk past them or give them a nod from a distance. Or the way street vendors in faraway countries like Singapore sell iPhone cases with the cover art for A Place Like This printed on them, but have no clue who Majid Jordan is. They're public figures, but not well known enough that, say, a random biker would think twice about giving one of them a black eye.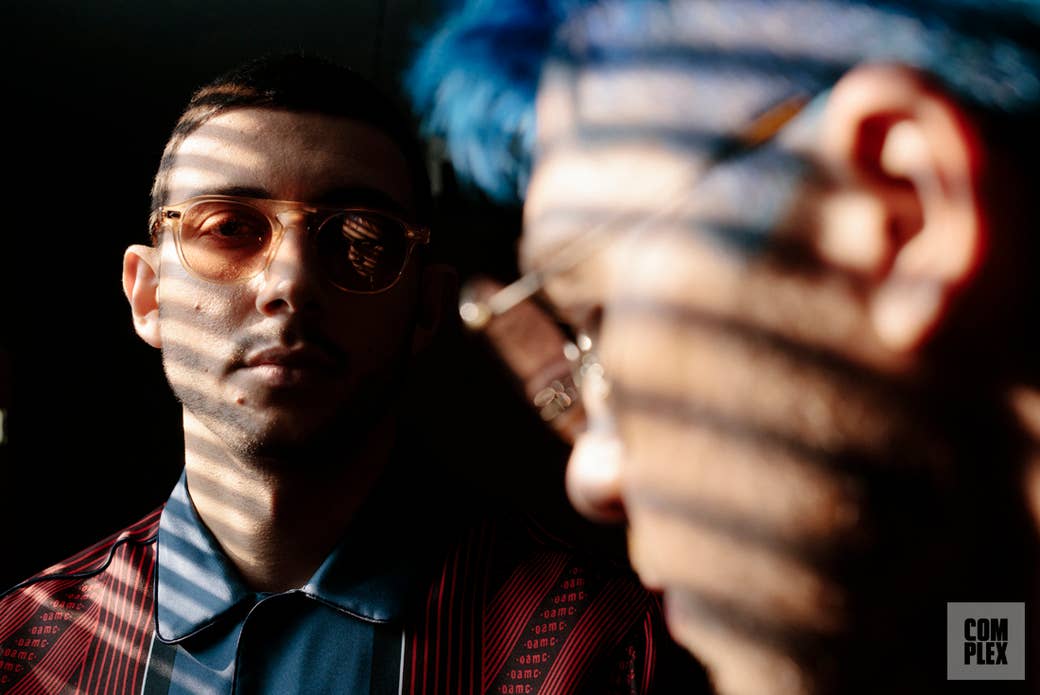 The pair seem content staying under the radar, and say they aren't chasing mainstream success. "We just want to make music forever," says Al Maskati. "Whatever that label entails is what other people perceive it as."
The reason their pop ambitions are brought up at all is because their work with Drake, and the rest of his camp, has proven that they have what it takes to climb the charts. Majid Jordan fell in with OVO just as Drake began working on Nothing Was The Same. For months, the group spent much of their time in the studio, sometimes sleeping in tents—though they insist it wasn't the "factory-style writing camp" the media had reported. "We never said it was a factory," Al Maskati says, visibly annoyed. He leans back and crosses his arms. "It was honestly one of the best times of our lives. If you love what you do, wouldn't you stay as close to it as possible? It wasn't a camp, factory, or whatever the fuck they said. People have too much cynicism to label it like that. We could've walked away at any moment. Our hands weren't tied. But the environment and the way people were treating each other—going in and trading ideas so naturally—was beautiful to see. We didn't want to leave."
Now, the band eschews the easy hits, opting instead to muddy the waters with more personal, experimental sounds. Take "Phases," for example, one of the lead singles from The Space Between—which was released late last night. On the one hand, it's got the one thing a pop smash needs: a chorus. Al Maskati's voice is plaintive, and infuriatingly catchy on the song's hook. But the rest of the song gives way to the duo's more eclectic influences, opting to become an '80s-indebted uptempo synth-pop jam rather than a surefire 2017 radio single.
"It's easy to shape a song into something that sounds like it should be on the radio," says Ullman. "It's a talent to be able to make something that original and universal. We want to be involved with the radio. That's how you reach people. But when we make music, we don't think about that. We might have that one aha moment where we're like, 'A lot of people are going to fuck with this.' But other than that, we just make our own music."
Roughly a year and a half ago, Al Maskati and Ullman started working on The Space Between, an album shaped by a transitional phase in their lives. The Space Between, they say, is about personal and musical growth. "It's us coming closer to our future goal of being able to make music forever," explains Al Maskati. "It's that shift in our lives, us getting closer to becoming the musical version of ourselves."
Over 13 tracks, they talk about relationships, personal journeys, and their experiences navigating life. On "Phases," Al Maskati sings: "I came to this country, didn't know a damn thing. 18 years old and in need of planning. Thought I was ready, I wasn't ready. Guess it's me and myself again. Time to go make some friends. Find me somebody to keep me safe."
Despite often drawing from multiple influences—'70s soul, '80s pop, funk, and electronic—The Space Between is also their most "experimental" project to date. Throwback grooves perfect for late-night drives ("Gave Your Love Away," which was previewed at the Louis Vuitton Spring 2018 menswear fashion show) are mixed in with melodic and atmospheric tracks ("My Imagination," featuring labelmate dvsn). By design, there isn't just one sound.
Their compatriots at OVO think that's the group's key to success. "In a few years people will look back at what Majid Jordan are doing right now as the blueprint to a whole generation of new artists," Nineteen85, producer and dvsn member, told Complex in an email. "They've figured out a way to mix dance and house with r&b and hip-hop in ways I've never heard before."
"We wanted to make a body of work that was eccentric and timeless," Ullman explains. "We wanted it to be like your playlist is on shuffle but you're listening to the same artist within the span of decades. You don't know when these songs were recorded, but it's still rooted in what we've been doing."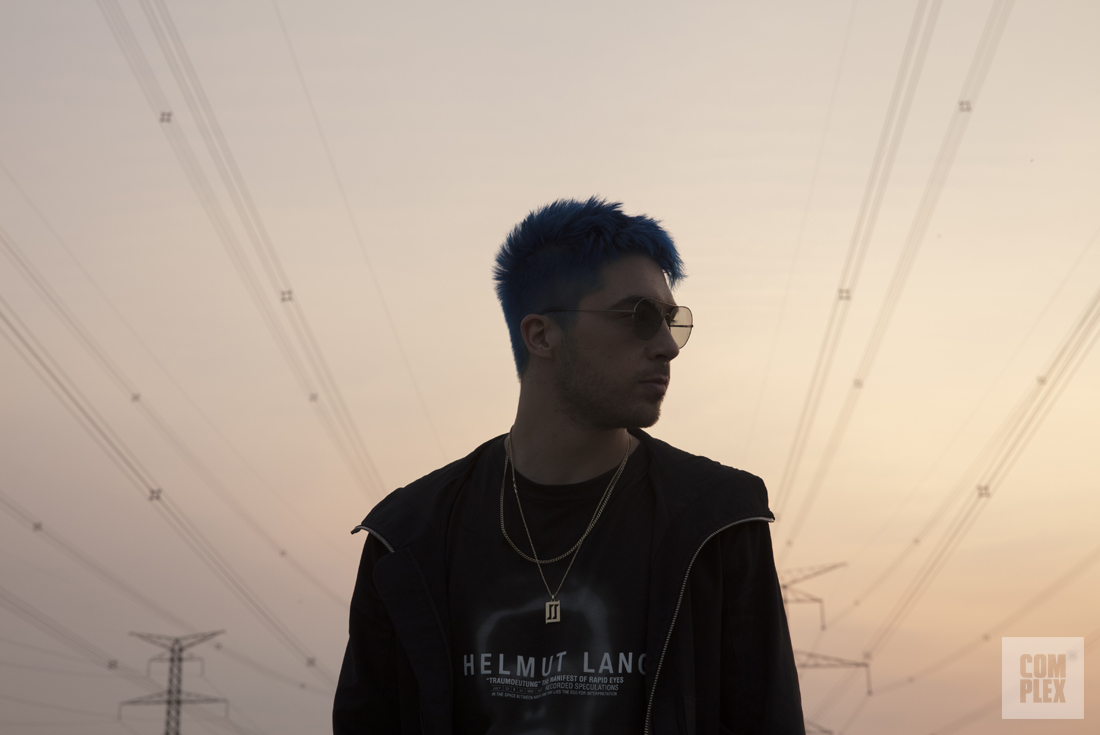 There's an open field with high voltage lines that stretches several blocks in the city of Markham, roughly a 30-minute drive from Ullman's house. Ullman, in head-to-toe black, and Al Maskati, who's wearing black pants and a red and blue color blocked silk button-up shirt, are standing on a sloped surface. They wanted to come here because this is where Ullman was raised, and where Al Maskati spent quite a bit of time visiting him.
Growing up, both of them were always interested in music. As a kid in Bahrain, a small Arab constitutional monarchy, Al Maskati loved to perform. "I used to do funny sketches and skits for class," he recalls. "I also used to hum all the time. I always tried to imitate instruments I heard on songs. My voice always felt like an instrument to me."
Ullman was raised in a musical family—his two sisters were pianists and his dad taught him how to play the guitar. His mother often listened to Michael Jackson and Prince at home. "I was always around music," he says. In high school, he wrote for an alt-rock band called Where the Kids Meet and studied piano at the Royal Conservatory of Music before taking up producing and learning to DJ. "I would make bands in high school and I'd write the really bad lyrics because nobody else was," he says, with a laugh. "I made electronic music and brought in vocalists and gave them what to sing."
Ullman and Al Maskati met in 2011, somewhat serendipitously: Al Maskati snuck Ullman, who had tagged along with a cousin and was underage at the time, into his 21st birthday party at a bar in downtown Toronto. They clicked instantly. They bonded over shared musical tastes, including electronica, house, UK garage, dub, and artists like Quincy Jones, Michael Jackson, and Marvin Gaye. The day after Al Maskati's party, they made their first song, the smooth "Hold Tight," in Ullman's dorm at the University of Toronto. "When I met Maj, it was like, this is why I've been preparing," says Ullman. "It felt right."
Later that year, before Al Maskati returned to Bahrain for the summer, they completed their debut EP afterhours, released under the alias Good People. "Because our time was limited, and I didn't know if I was going to see Maj again, I really wanted to have something that we could share forever," says Ullman. Just before Al Maskati left for the airport, Ullman gave him a copy of afterhours on a CD. They both signed it, and hoped he would return to Toronto. "We felt like we made something cool and we wanted to show people," Ullman recalls.
"I was going through a lot at that time," Al Maskati adds. "I didn't know where I was going to end up in life. But making that album eased my mind. After that, music was the only thing I was interested in doing." The CD is now in his mom's car, and she listens to it all the time.
The day after afterhours hit Soundcloud in 2013, the group received an email that changed their lives. 40 was a fan, and wanted to meet. After a few Google searches—neither Ullman nor Al Maskati initially knew who he was—and exchanges over BBM, they met with Drake and 40 at Noble Street Studios in downtown Toronto. "Meeting Drake and 40 showed us that their dynamic was something we wanted to strive for," says Ullman. "The way they worked, how open they were with each other, how much they trusted each other… We saw that and we were like, 'We're with the right people.'"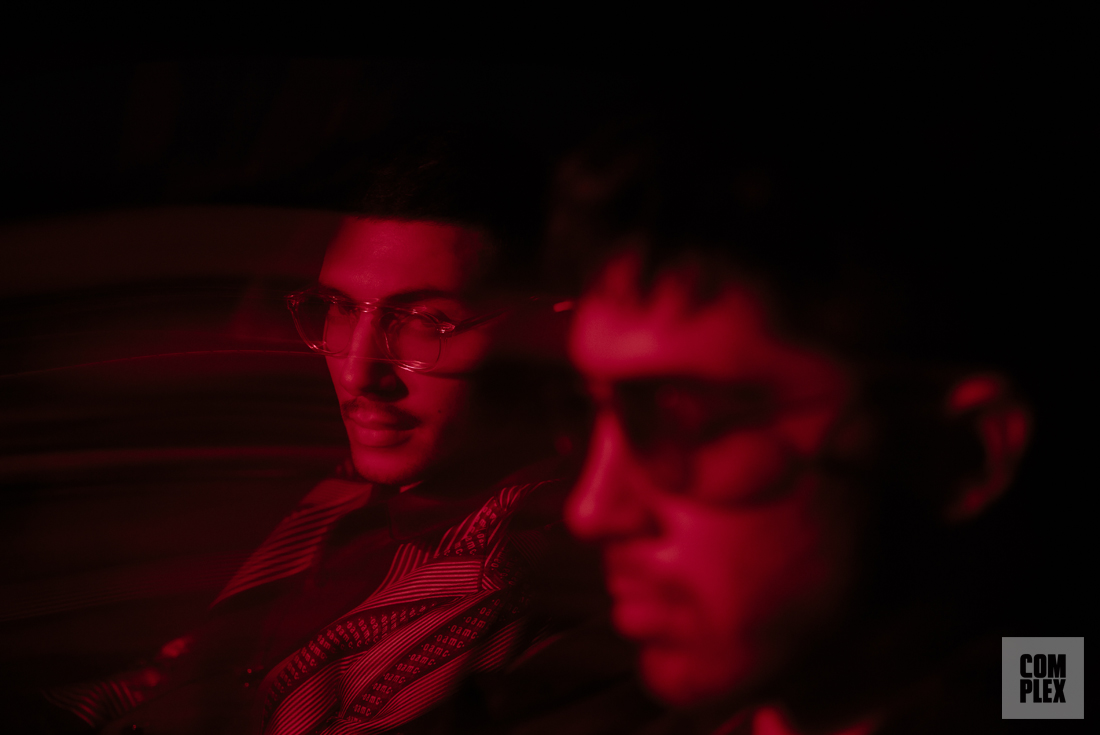 Back at Ullman's house, the group is sitting on top of the kitchen counter in the basement. Soon, the modern space will be turned into a recording studio with state-of-the-art equipment—an upgrade from the makeshift studio they built in Ullman's college dorm years ago. "This is going to be the first studio we really have," Ullman says. They're thrilled to finally be able to make music in their own space, whenever they want to. They say they'll probably never leave this house once the studio's built. "That's the plan," they both say, almost in sync, as their eyes beam with excitement.
With their own studio, Ullman and Al Maskati will be closer to their goal of being able to make music for the rest of their lives, regardless of the level of success they attain. They'll also have the opportunity and, more importantly, the ability to create songs that could turn them into bigger stars. But the question is, do they want that kind of fame?
There isn't a single thing about Majid Jordan that screams "big pop stars." They drive modest cars; Ullman owns a black Audi V6T and Al Maskati has a black Jeep Patriot—not exactly the Rolls-Royce Phantom or Bugatti Veyron Drake has been seen driving. Up until this point, Ullman and Al Maskati have been renting apartments and condos. When Markham comes up in conversation, Al Maskati is mostly stoked about a local dim sum restaurant that he and Ullman used to frequent. They don't seem concerned with the trappings of success.
Al Maskati is currently house hunting, and Ullman now lives in a three-bedroom bungalow in a working class neighborhood—the kind of area where artists are just starting to move in, alongside primarily Italian and Portuguese residents who've lived there for decades and who have no clue who Majid Jordan is. At one point, Al Maskati stands at the bottom of Ullman's front porch, playing with a neighbor's dog. The neighbor—who Majid Jordan's team has described to me as the "pet lady" (she has at least a dog, cat, and parrot in her home)—was friendly, but didn't blink twice or ask for a photo.
In everything I've read and heard about Majid Jordan, they've always been described as extremely courteous. Throughout our time together, they're intensely polite and friendly to everyone. When we break for a late lunch, Al Maskati offers his mac and cheese to our crew and double, triple checks that we didn't decline only out of shyness. They seem surprised at their success. When I ask what's been the best part of their journey, Ullman smiles and says: "That it's still going."
But their mood quickly changes when I ask whether or not they want The Space Between, a project they hold so dear, to be a pop success. Do they care how many copies they sell? Ullman leans back, crosses his leg, and offers a curt, one-word answer: "No."
Al Maskati agrees. "If we're being very honest, I don't give a fuck," he says. He chuckles; the question seems laughable.