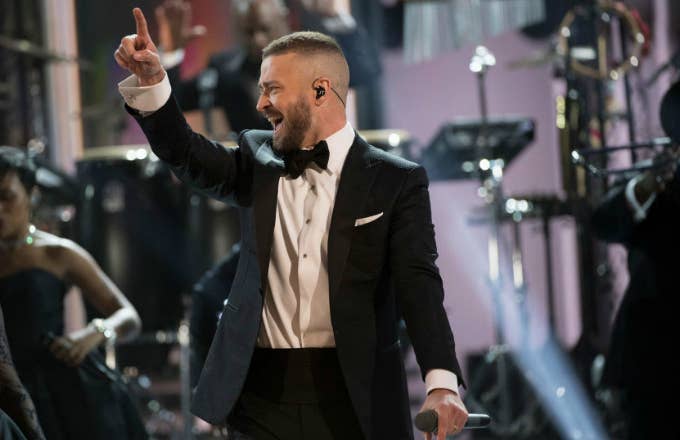 Last night, Justin Timberlake shared an Instagram photo of him, Pharrell, and Timbaland lounging on a couch at an undisclosed location, effectively teasing what will be his fifth solo album.
It's a long time coming from Timberlake, who released his last album, The 20/20 Experience – 2 of 2, back in 2013. And what better way to return with two legendary producers integral to his solo career. Timbaland and the Neptunes—​Pharrell and Chad Hugo—​produced the majority of his 2002 debut ​Justified​. Timbaland has played a much bigger role in projects since, but you can't deny what he and Pharrell can do in the studio alongside the veteran singer.
While Timberlake will more than likely achieve massive commercial success with his next project, the question remains: can he create great R&B music at this phase in his career? Several of our staff members weighed in on the question below. Let us know your opinion in the comments section.
JT is super talented, of course, and he, Pharrell and Timbo have a long history of making magic. But there's just one problem: Bruno Mars. Last year's 24K Magic was an amazing blend of late-20th century R&B and 21st-century pop, and I can't help but think it made Justin cringe with jealousy. It felt a hell of a lot cooler and more vital than that treacly Trolls single. Simply put, Bruno is owning Justin's old lane. To excel Justin is going to have either find a new one or bumper-car the Hawaiian guy out of the way. 
Like Pharrell, Justin Timberlake made a cartoon-inspired pop smash that did little for his R&B fanbase. I like the Trolls song as much as I like "Happy." (I will not call the Trolls song by its name.) But I have no problem keeping my candle burning for JT in 2017. Have you listened to The 20/20 Experience[Disc 1] lately? The back half of "Strawberry Bubblegum" works on me like drugs—I hear those keys and something just comes out of me. And "Blue Ocean Floor" is the kind of mournful ballad the likes of which many of Timberlake's competitors can't pull off.
It's a testament to the talent of Timberlake's collaborators that his music lives up to its promise of sounding like the future, as opposed to the nostalgic, DeVante Swing-indebted past heard on Bruno Mars' wonderful last album. 24K Magic is a beautiful vision of middle school dances past. The elongated, multipart song structures that JT and co. have played with since his second solo outing remain forward-thinking and surprising years and so many listens later. If the gang is riding again for one last score, I'm ready. A guy once said that "whatever time you get is luck," and I feel lucky that these aging men still want to be great together.
One cash-grab, Whole Foods ass soundtrack single and how quickly you motherfuckers forget. This headline is heinous, unless we're in the business of publishing rhetorical questions now. Justin Timberlake stared down the uncertainty of a comeback and answered with The 20/20 Experience, nine shape-shifting wormholes of gorgeous R&B and one admittedly corny single with Jay Z. And that was just with Timbo. Now Pharrell's back; one can only hope that his mystical wisdom will serve as the constructive criticism JT needs to say, not dilute a grand return with a sequel album of diminishing results. JT is back with the two wizards who bring the best out in him and he's got you guys handing Bruno Mars (of all people) his crown as motivation. I implore you to listen to "Don't Hold the Wall" thru "That Girl" in the meantime, those who have forgotten.
Of course he can. There's no evidence to suggest he can't, especially with Pharrell and Timbaland back in the mix. While it remains to be seen exactly what angle JT takes with his new music, I think the answer is obviously can, but the real question is will he? That remains to be seen. 
I'll give JT the benefit of the doubt here off the strength of The 20/20 Experience. What could potentially change the landscape, though, is how many features he decides to include on the album. Big time producers usually bring big time names to the table. Even without Pharrell and Timbaland on board, Timberlake could basically get any guest he wants. Hopefully he keeps the features to a minimum and utilizes them appropriately. Less "Murder," more "My Love."