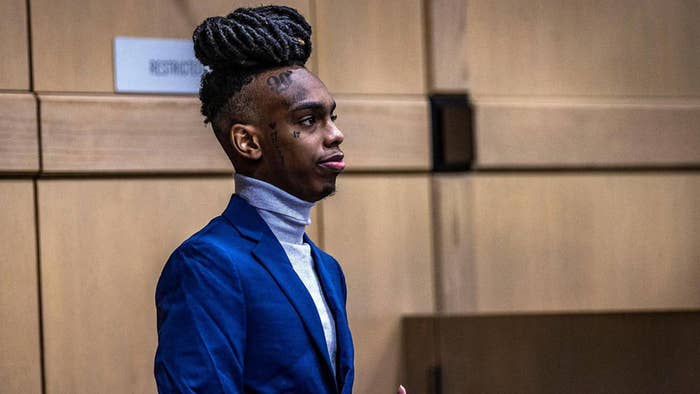 See original story below.
The jury deliberating YNW Melly's case has been sent home after being deadlocked in a final decision.
Cathy Russon, the executive producer of the Law & Crime Network, reported from the courthouse on Friday that the jury was being sent home for the day, and that the trial will resume on Saturday.
"That's it for today. Jury is going back to the hotel. Verdict clock stopped at 9 hours 4 mins. They will resume between 8:30-9am tomorrow morning," she wrote.
Earlier in the day, Russon shared that the jury sent a note to the judge, implying a deadlock. "'What if we can't come to a decision? Everyone is stuck on which side they've chosen,'" the judge read.
The judge then read the "Allen charge" instruction, which urges jurors to come to a unanimous agreement to avoid a mistrial. According to the South Florida Sun Sentinel, jurors indicated around 2 p.m. that, while they had made up their minds, they couldn't settle on whether, back in October 2018, Melly killed his friends YNW Sakchaser and YNW Juvy in a double murder for which Melly is on trial.
In order to prevent a mistrial, the jury has to land on a unanimous verdict that either finds the defendant guilty or lets him go free. If the jury is indeed in a deadlock, the judge will have to declare a mistrial and the trial process starts over again. A new jury would have to be selected and shown the same evidence in hopes that they would agree. Prosecutors would also be able to reassess the death penalty against Melly.