Fans Are Trying to Decipher Who Taylor Swift Is Addressing on "I Forgot That You Existed"
The song is the first cut from her new album 'Lover.'
Getty
Image via Getty/JEAN-BAPTISTE LACROIX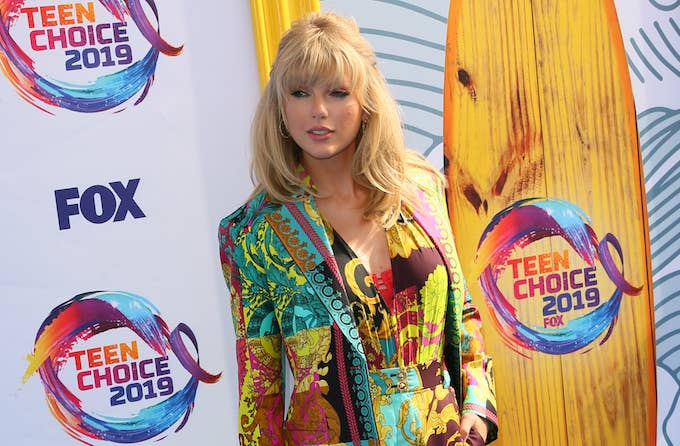 The jury's still out on who Taylor Swift is dragging in the first cut off her Lover album "I Forgot That You Existed," with most believing it addresses her breakup with Calvin Harris, and some thinking it focuses on her beef with Kanye West.
Swift and Harris dated for 15 months before splitting in 2016, and while their parting of the ways seemed to be civil at first, things between them soon soured.
From the beginning, "I Forgot That You Existed" references the song's subject "throwing shade" at Swift, something Harris did a number of times after the split.
After their breakup, Harris unfollowed Swift on Instagram and deleted all the photos of her from his page, according to BuzzFeed News. In the following weeks, he left nasty comments on Instagram about her—saying she had "controlled the media"—and shared Snapchats of himself on a yacht with several other women, while playing Kanye's music in the background.
Many believe the lines from Swift's new song, "Got out some popcorn/As soon as my rep started going down, down, down," reference that week in 2016.
During that time, Swift had also confirmed she'd written Harris' Rihanna-starring hit "This Is What You Came For" under a pseudonym, which Harris subsequently reamed her for on Twitter. In a since-deleted thread of tweets, he said that while Swift wrote the song, he'd written "the music, produced the song, arranged it and cut the vocals." He also made explicit references to Taylor and Katy Perry's feud; the singers have since made amends.
Days later, Kim Kardashian leaked the audio from a phone call between Swift and Kanye, where it sounded like she consented to some—but not all—of his lyrics on "Famous," upholding the idea that Kanye still could be Swift's subject. The fall out from that time period was so harsh for Swift that she took a break from being in the public eye.
While Harris seems to be the heavy contender, it could go either way. The chorus for "I Forgot That You Existed" is one of the most savage moments in the song, leading some fans to think she's alluding to her beef with Kanye, one of her most famous public feuds.
After the release of Lover, manager Scooter Braun extended what looked to be an olive branch to Swift, writing on Twitter, "Regardless of what has been said the truth is you don't make big bets unless you are a believer and always have been. Brilliant album with #Lover. Congrats @taylorswift13." The message comes after Swift was openly upset that Braun had recently acquired her former label, Big Machine Label Group, which included the rights to her first six albums. 
Read some of the best reactions to Taylor Swift's song "I Forgot That You Existed" below.