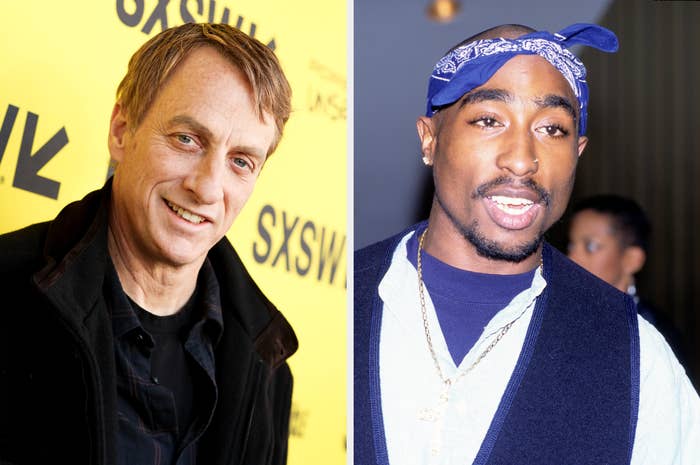 UPDATED 8/15, 6 p.m. ET: Tony Hawk's use of "the image has materialized" was a little noncommittal, and for good reason: it's photoshopped.
Hawk thanked "modern technology and maestro digital artist @_vemix_" in his post. The creator refers to himself as a "fauxtographer" on his page, and across a number of Instagram Stories posts he seemed thrilled with the amount of coverage his doctored image received.
See the original image and the photoshop here:
See original story below.
Tony Hawk unearthed a never-before-seen photograph of him and 2Pac.
On Sunday, the iconic skateboarder took to Instagram to share the image, which shows a young Hawk and the rapper posing together. Hawk, 55, revealed that the photo was recovered from a roll of film.
"My missing photo with Tupac," Hawk wrote in the caption. "I attended the American Music Awards in 1991 because my sister was there performing with Michael Bolton. While backstage, I saw Tupac standing alone and I recognized him from Digital Underground (go listen to 'Same Song' for context). His first album had not dropped yet, and nobody else seemed to notice him. I took a picture of him and [Riley's mom] Cindy, and I thought she took one of him and me."
He continued, "This was in the era of point-and-shoot film cameras so results were unreliable. Unfortunately, I never found the photo once the roll was developed. But thanks to modern technology and maestro digital artist @_vemix_ , the image has materialized. And for the record: he was effusive and gracious during our brief encounter, more so than anyone else we met or bothered for pictures that night."
Hawk later added that the photo was actually likely taken in 1994 at the AMAs.
"Edit: this might have been 1994 based on the AMA nominees that year," he added. "I'm so old that specific years get fuzzy. But the story remains the same."
2Pac has been making headlines recently after Las Vegas police issued and executed a search warrant at a home in connection with the rapper's 1996 murder. Authorities seized multiple items in the home, including hard drives, pictures of potential suspects in 2Pac's death, and bullets. The house reportedly belongs to Paula Clemons, who's married to Duane "Keefe D" Davis, who has confessed to being present when his nephew Orlando Anderson allegedly shot and killed 2Pac one block from the Las Vegas Strip on Sept. 7, 1996, after a Mike Tyson fight.