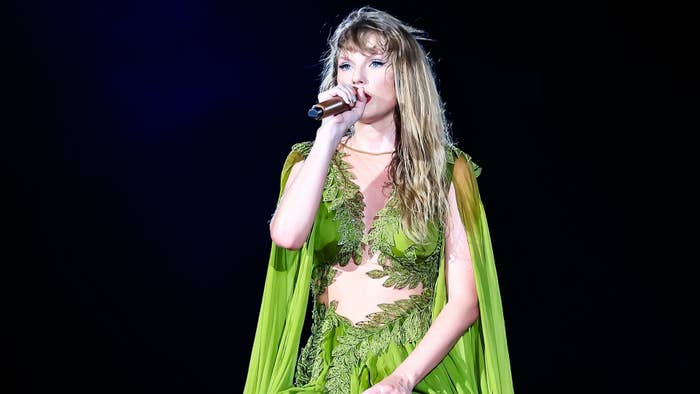 Taylor Swift honored her fan who recently passed away.
On Nov. 19, the singer took to the stage in Rio de Janeiro, Brazil once again, where she performed the Midnights track "Bigger Than the Whole Sky." While she didn't directly name the fan, it did seem like a tribute to 23-year-old Ana Clara Benevides who died on Nov. 17.
"You were bigger than the whole sky / You were more than just a short time / And I've got a lot to pine about / I've got a lot to live without / I'm never gonna meet / What could've been, would've been / What should've been you," Swift sings.
Benevides reportedly suffered from cardiorespiratory arrest on Nov. 17 at the venue due to an extreme week-long heat wave in Brazil. She fell ill and was initially taken to the stadium's medical center before being rushed to a local hospital where she died.
Swift issued a statement about the tragic loss on her Instagram Story, writing that she was "overwhelmed by grief."
"I can't believe I'm writing these words but it is with a shattered heart that I say we lost a fan earlier tonight before my show," she wrote. "I can't even tell you how devastated I am by this. There's very little information I have other than the fact that she was so incredibly beautiful and far too young."
She added, "I want to say now I feel this loss deeply and my broken heart goes out to her family and friends. This is the last thing I ever thought would happen when we decided to bring this tour to Brazil."
Temperatures in Brazil saw a record high, climbing to 137 degrees last week. When fans complained that security wouldn't let them bring water into the show, Swift gave out water bottles. By Saturday, a petition had been started to "make water in events mandatory" under the "Benevides Law" on Change.org. At the time of this writing, the petition has received over 322,000 signatures.