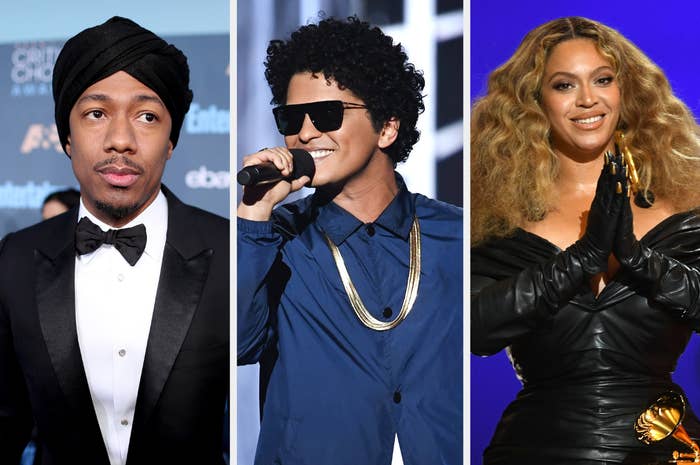 Nick Cannon likes to rock the boat.
In a new clip from his Amazon Amp show, the Daily Cannon, the host tried to prove that Bruno Mars has more hits than Beyoncé.
"Have you ever seen Bruno perform live?" Cannon said to his co-hosts. "Fire! 'Cause he got his whole crew on stage with him and they be doing the little dances. It feels very Morris Day and the Time-ish."
"I could probably afford those tickets," Mason Moussette said before mentioning the high prices for Bey and Taylor Swift's tours.
"See, no offense, but I would rather go to a Bruno Mars show than a Beyoncé or a Taylor Swift [show]," Cannon replied, which prompted Courtney Bee Bledsoe to say, "You out your mind."
"Who got more hits?" Cannon asked.
"N***a, Beyoncé! What you talkin' 'bout?" Bledsoe replied while naming some of the singer's solo classics like "Single Ladies," "Drunk In Love" and "Crazy In Love," as well as Destiny's Child hits like "Bills, Bills, Bills" and "Say My Name."
Cannon wouldn't budge from his position though. "I still believe Bruno Mars actually has more hit records," he retorted. When asked to name some of Mars' hit songs, Cannon had some trouble. "You're putting me on the spot," he said. "It's Monday."
Bey's fans came for Cannon too, with one person tweeting, "Because Nick Cannon saying Bruno Mars has more hits than Beyoncé proves to me that the only thing he has going for himself is a sperm that don't miss."
"Alright we the people would like to release Nick Cannon from the culture," another person wrote. "First all these kids and now you saying Bruno Mars has more hits than BEYONCÉ!! MAN WHAT?!"
Someone else brought up stats stats, writing, "Nick cannon just said Bruno mars got more hits than Beyoncé like let's be fucking serious right now," alongside screenshots of the two artists' respective chart history.
The stats reveal that Beyoncé has more hits than Mars, with eight No. 1 songs, 21 top 10 hits, and 81 total Hot 100 singles. Mars also has eight No. 1 songs, 18 top 10 hits, and 32 Hot 100 singles.