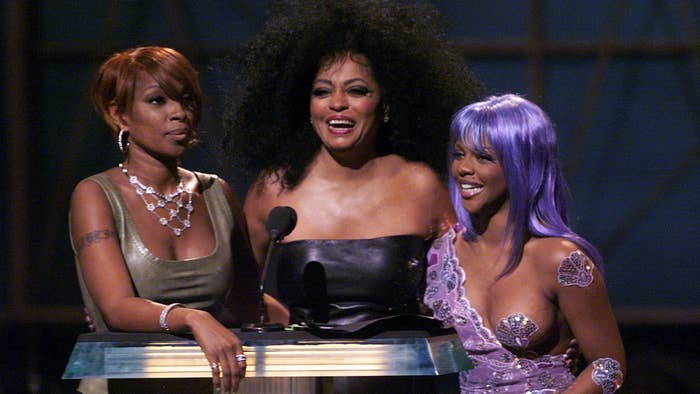 Lil' Kim's infamous purple jumpsuit and matching nipple pastie became an even more memorable moment when Diana Ross touched the rapper's breast.
Kim briefly recalled the 1999 MTV Video Music Awards interaction for the latest XXL cover, when asked about her career highlights. "I think when Diana Ross touched my boob. That was everything," she said.
Everyone went into a frenzy over Kim's MTV VMAs look in 1999. The single-sleeved purple jumpsuit was made from an iridescent lilac Indian bridal fabric, adorned with silver and purple seashells. Kim's left breast was left bare, save for a pastie made from an extra seashell.
When Lil' Kim and Mary J. Blige were joined on stage by ]Ross to present the VMA for best hip-hop video, Ross first greeted Blige. She then turned to Kim, sees what the rapper was wearing, and cupped her breast, before coming in for a hug. Kim can be seen throwing her head back in laughter.
Blige wasn't happy about the interaction. Back in 2020, the singer commented on the incident in an episode of Bravo's ​​Watch What Happens Live With Andy Cohen.
"I was embarrassed for Kim and I was really pissed when that happened 'cause that's my little sister and my friend," Blige said. "Kim is courageous. She gon' do what Kim does so I think we should all respect it."