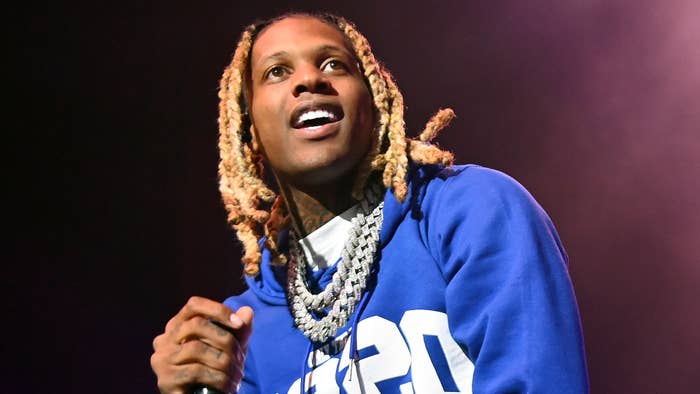 Lil Durk has seemingly addressed 6ix9ine ambushing the Chicago native's lookalike Perkioo on the deluxe version of 7220.
On the song "Huuuh," Durkio raps, "Man, I'm Durk, and you got my lo', why you play with Perk? / Fuck the feds, who walk around with you, them n***as gon' get hurt."
Back in late April, Tekashi posted an Instagram video of him and his posse crowding around Perkioo as 6ix9ine gave him a jacket emblazoned with an image of King Von. "@lildurk I had a gift for the bro ❤️ @kingvonfrmdao your n***as ain't never gon slide but they definitely rep you all day on tshirts," 6ix9ine captioned the IG clip.
Perkioo looked uncomfortable in the video and later commented on the situation in an IG Live session: "This was never supposed to happen," Perkioo explained. "Like, never. I was literally supposed to collab with SteveWillDoIt. Like I literally wanted to collab with SteveWillDoIt because he hit me up first." Apparently, the whole thing was a setup for 6ix9ine to meet Perkioo and mess with Durk.
He continued, "6ix9ine, you need to man up bro. You need to man up…You can't be doing that lame ass shit. You're using my face 'cause I look like Durk. You're using my face to disrespect [Durk's] crew. That's really lame."
In early May, SteveWillDoIt attempted to make it right by apologizing to Perkioo and giving him money and gifts.
Durk dropped off his 7220 deluxe on Friday, which saw the addition of 14 songs and appearances from Moneybagg Yo, Ella Mai, A Boogie Wit Da Hoodie, EST Gee, and more.
When reached for comment, a rep for Lil Durk said the rapper will not be discussing the lyrics.