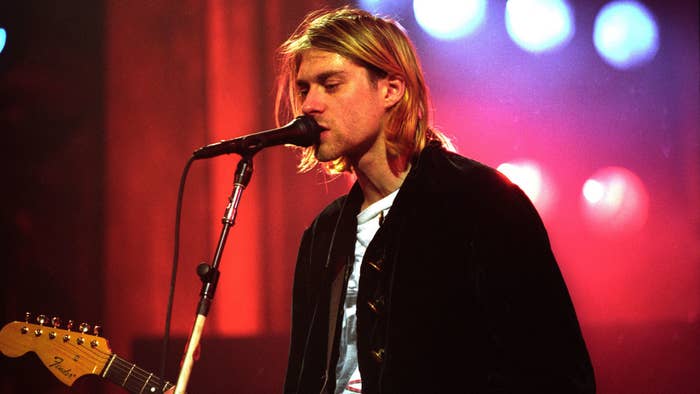 An electric guitar that Kurt Cobain smashed in the early 1990s has sold for hundreds of thousands of dollars.
The Washington Post reports that the black Fender Stratocaster that the Nirvana frontman wrecked during the band's Nevermind era sold for $596,900, well above Julien's Auctions' initial $60,000 to $80,000 evaluation. The bidding started at $15,000.
It's said that after destroying the guitar, Cobain later reassembled it, though it was unplayable. All the Nirvana members—Cobain, Krist Novoselic, and Dave Grohl—signed it, and the instrument was emblazoned with various messages from Cobain. "Hell-o Mark! Love, Your Pal, Kurdt Kobain / Washed up rockstar," one note reads, to friend and musician Mark Lanegan. The guitar is also inscribed with "Boddah Lives," a nod to Cobain's childhood imaginary friend. Cobain reportedly gifted it to Lanegan in 1992.
It's unknown who purchased the item. Darren Julien, the president and CEO of Julien's Auctions, told the publication that the buyer is a fan of Nirvana who lives in the U.S. and works in finance.
"Since this guitar has Cobain's modifications for live performance and signs of wear that would indicate prolonged use, it is likely he did not simply smash and discard this particular instrument, but smashed and repaired it to use again," Julien's website said about the instrument.
According to the auction house's website, the guitar has a few unique markings like "a white pickguard, Gotoh tuners," "a Hot Rails pickup in the bridge position," and "many marks and signs of use and abuse including chunks of wood missing from the bottom rear of the body."
Julien's Auctions was also offering up another Nirvana collectible. A setlist thought to be handwritten by Grohl from the band's April 17, 1991 show at OK Hotel in Seattle Washington. The auction house estimated it would sell for $4,000, but it went for $50,800.
The set list included the band's first-ever performance of their hit "Smells Like Teen Spirit," as well as the songs "Big Cheese," "D-7," "Love Buzz," "About a Girl," and "Imodium" from their second album, Nevermind, which later arrived on Sept. 24, 1991.
The auction was filled with items from famed musicians, including Whitney Houston, Michael Jackson, Elvis Presley, and Bob Dylan. The event happened over the weekend at the Hard Rock Cafe in New York.