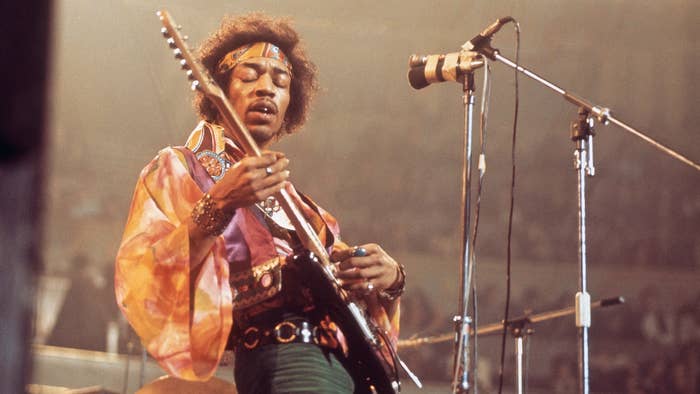 Rock and roll fans should prepare their bank accounts for a new auction featuring guitars previously owned or played by Jimi Hendrix, Elvis Presley, and Kurt Cobain.
TMZ reports that Kruse GWS Auctions is launching its online Legends of Rock and Roll auction next month, where pieces like Hendrix's Japanese sunburst electric guitar will be for sale—and is expected to sell at around $250,000. The instrument was gifted to Hendrix by his father.
Elvis' guitar will also be up for grabs: a 1975 Martin D-28, complete with the case—and Cobain's acoustic guitar will be available with an estate receipt. Included in the auction block are more modest instruments, like guitars from Paul Stanley of Kiss, Tom DeLonge of Blink-182, and Robert Smith of The Cure.
Assorted collector items will also be available like James Brown's monogrammed dressing room robe and slippers, Johnny Cash's 14K bracelet and ring set, and Rick James' snake jumpsuit, which was made just for him. The Legends of Rock and Roll auction is currently accepting bids, with live bidding launching at 10 a.m. PT on Oct. 15.
Back in 2020, Hendrix's Japanese sunburst electric guitar was sold for $216,000. The instrument was played by Hendrix after he returned home from the U.S. Army in 1962 and toured the Chitlin' Circuit. A couple of years later, he move to Harlem, New York where he continued to play, eventually leaving the guitar in NYC with his friend Mike Quashi before heading to the U.K. It's unclear if it's the same one as the guitar that Kruse GWS Auctions will sell.