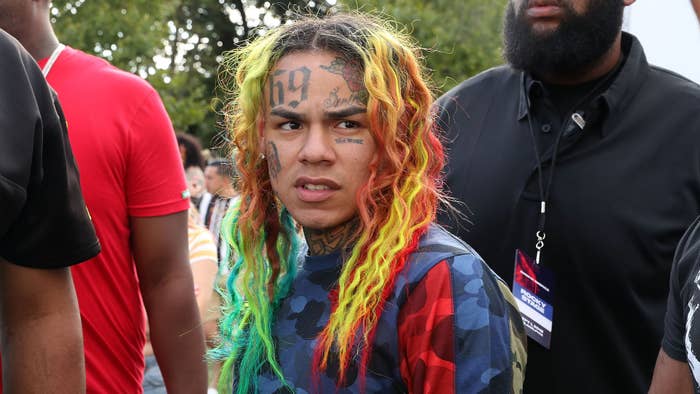 UPDATED 3:45 p.m. ET: Kintea "Kooda B" McKenzie's request for temporary release has been granted. 
In court documents obtained by Complex, Judge Engelmayer said at least four inmates at the jail where Kooda is incarcerated have contracted coronavirus. Because Kooda has asthma, "the MCC (Metropolitan Correctional Center) has identified him as 'high risk' with respect to COVID-19."
See original story below.
Kintea "Kooda B" McKenzie has requested to be released from jail on bond due to the coronavirus pandemic.
Last summer, Kooda B pleaded guilty to assault with a dangerous weapon in aid of racketeering in the 6ix9ine case, in connection with the shooting of Keef outside the W Hotel in Times Square.
On March 27, Kooda's attorney Lisa Scolari asked the judge for her client to be released on the same $300,000 bond he was originally released on last year, reasoning that Kooda is more susceptible to COVID-19 due to his asthma.
In court documents obtained by Complex, Scolari then explained that Kooda has been identified as "high risk," and that when he entered the prison, he was given an albuterol inhaler "to address incidents of shortness of breath," she writes. "He has needed to use the inhaler at least once in the last month."
She also explained how jail conditions are "inherently unsafe during this time." She continued, "They are overcrowded, making it impossible to enforce the social distancing necessary to prevent spread of the virus. Inmates live in close quarters, share facilities such as sinks and showers. The MCC also has shortages of soap and disinfectants."
On Monday, the government opposed Scolari's bail inquiry, writing that Kooda's "reliance on the current health crisis to secure his release—post-conviction and less than three months from sentencing—is unfounded and should be denied." According to court docs, the government cites, among other reasons, that bail is unjustifiable because the 22-year-old defendant "has a minor form of asthma."
In February 2019, Kooda was released on a $300,000 bail. A few months later, in June, he pleaded guilty and was incarcerated in the New York Metropolitan Correction Center, where he remains. Although he did enter a guilty plea, it also became clear Kooda wasn't the one who actually pulled the trigger. The identity of the person who fired the shot wasn't revealed.
Earlier this month, 6ix9ine's lawyer also requested that the court let the rapper serve the rest of his sentence at home due to asthma and diagnoses of sinusitis and bronchitis from late 2019. However, the judge denied the appeal and explained that he doesn't have the authority to make such a decision. He ultimately left it up to the Bureau of Prisons.