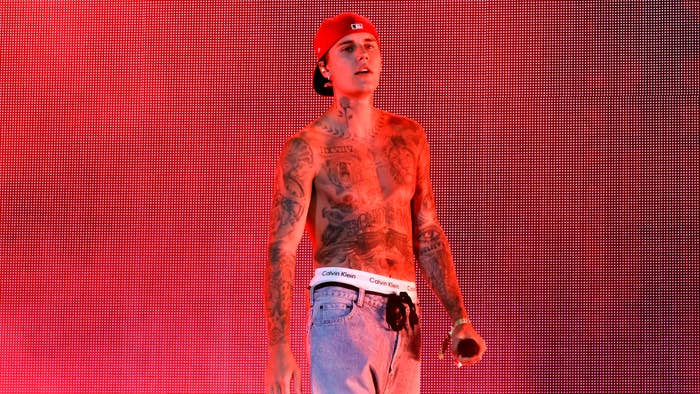 Justin Bieber has resumed touring after revealing in June that he had been diagnosed with Ramsay Hunt syndrome.
On July 31, the singer took the stage at the Lucca Summer Festival in Italy, his first performance since disclosing his health condition. Bieber later shared photos of his show on Instagram, captioning the set, "Luv u guys and I missed you."
In another IG post, Bieber, 28, shared a clip of him talking to fans.
"Guys, I want to say thank you so much for having me back. This is my first day back," he told the crowd. "It's so good to be here. As some of you guys know, the Justice Tour is about equality. It's about justice for all. No matter what you look like, no matter your shape, your size, your ethnicity. We're all the same, we're all one. We know that racism is evil. We know that division is evil. It is wrong. But we are here to be the difference-makers, and I want to say thank you to each and every one of you guys for being a part of this tour tonight."
Hailey Bieber was also there to support her husband, capturing his performance on her IG Stories and writing, "Back!!!!! healthy and his biggest supporter."
Ramsay Hunt syndrome is a rare neurological disorder that causes facial paralysis. Bieber shared the news in June when he was in the middle of the North American leg of his tour, which he subsequently had to postpone in order to recuperate. In a video posted to IG, he showed fans he was unable to move the right side of his face. 
"So for those who are frustrated by my cancelations of the next shows, I'm just physically, obviously, not capable of doing them," he continued. "This is pretty serious, as you can see. I wish this wasn't the case, but, obviously, my body is telling me I gotta slow down."
According toRolling Stone, Bieber will play shows in Europe, South America, South Africa, the Middle East, Asia, Australia, and New Zealand in the coming months, and has more dates scheduled for Europe in early 2023. His postponed North American dates haven't been rescheduled yet.