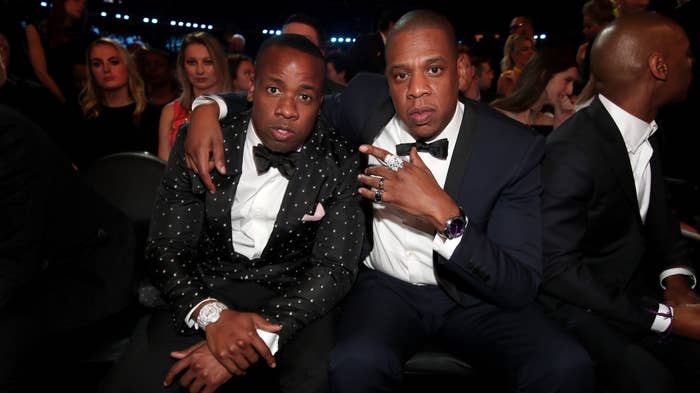 UPDATED 2/27, 10:40 a.m. ET: JAY-Z, Yo Gotti, and Team ROC took out full pages in today's New York Times and Mississippi's Clarion-Ledger, where they wrote a letter to Tate Reeves, Governor of Mississippi. In it, they slam the conditions of the state's Parchman Prison, and urge Reeves to shut it down until the conditions are improved. Read it below. 
We need to be blunt: the alarming humanitarian crisis currently overwhelming Parchman Prison is spiraling out of control. We've heard you talk about bold and immediate action; now we need to see results before more lives are destroyed. The situation is critical.

There have been nearly two-dozen senseless deaths since December 29th, along with countless injuries and untold cases of mental and physical terrorism inflicted upon the inmates. Given those tragedies, if you don't act decisively, Parchman will soon be the site of a human catastrophe the likes of which the United States hasn't seen in a generation.

And so we call on you again, even more loudly and urgently: shut down this facility—which has become a shameful symbol of society's moral decay—until it is safe for the inmates and the prison staff.
See original story below. 

JAY-Z, Yo Gotti, and Team ROC—Roc Nation's philanthropic arm—have hit the Mississippi Department of Corrections with a second civil lawsuit.
Team ROC has filed the suit on behalf of 152 more prisoners who are enduring cruel conditions at the Mississippi State Penitentiary at Parchman, a prison in Sunflower County. Eighteen inmates have died throughout the Mississippi correctional system, with most of those deaths happening at Parchman.
Inmates have said that "the food is adulterated with rat feces, cockroaches, rocks, bird droppings, and other foreign matter" and many inmates are "in dire need of medical care for cancer, lupus, serious heart defects," according to a press release from Team ROC.
Parchman's conditions are inhumane and lack clean water, acceptable food, electricity, heat, clothing, healthcare, and basic needs—and have led to internal riots, which first began on Dec. 29, 2019. At least nine inmate deaths from suicides, homicides, and other incidents that have been categorized as "natural deaths."
JAY-Z, Gotti, Team ROC, and the inmates are asking the court to maintain jurisdiction of Parchman until the Department of Corrections can establish a safe, stable environment.
In January, Team ROC filed its first lawsuit on behalf of 29 inmates against the Mississippi Department of Corrections for similar grievances. The suit came after five prisoners were killed in the prison riots over the New Year. The suit alleged persistent underfunding and understaffing, which led to violence and deaths. The January lawsuit initiated the Department of Justice's investigation into Parchman.
A PSA video highlighting some of the inhumane conditions is available below via Roc Nation's YouTube. Warning: some of the images shown contain graphic content.