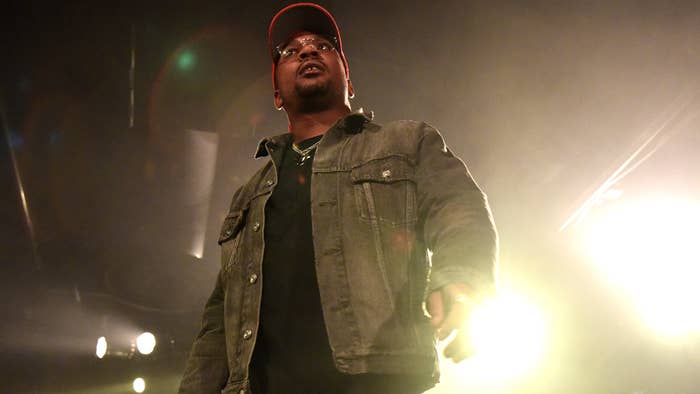 CyHi had some words for Joe Budden in a new freestyle for Sway's Universe.
A video clip of CyHi rapping made the rounds on Twitter. "Joe Budden, why you got so much hate in your heart / They gon let you fuck around make hating an art," the Georgia native spits.
Budden caught wind of CyHi's remarks and responded on the social media platform, tweeting, "Why is Cyhi doing that to my name while I'm on vacation? That's not nice."
Apparently, CyHi's freestyle was later deleted—and not because of the lyrical content, but because there was a technical issue.
CyHi noted the issue in his response, firing back, "You're lucky they fucked my vocals up lol up but you are a hater!!! Cause One day you champion a nigga then you turn around and say some weird shit. So you use my name for views so I just returned the favor!!"
It doesn't appear that Budden replied to CyHi's tweet.
Sway also mentioned the technical issues in a tweet: "Peace.  To those asking. I decided to take down the @CyhiOfficial Freestyle down because of tech issues that interferes with his performance. It's rare when  it happens & I continue to learn from it when it does. He's a DOPE MC! We aim to preserve the integrity @SwaysUniverse."
CyHi and Budden have beefed before. Back in 2019, the two were having an on-again moment, with Budden saying during the Joe Budden Podcast, "CyHi don't want no fucking Joe Budden smoke. When Joe get some time and if he put a record out, that would be the end of him." He continued, "This podcast will take a two-month break and I will put CyHi's ass in the ground off of retirement."