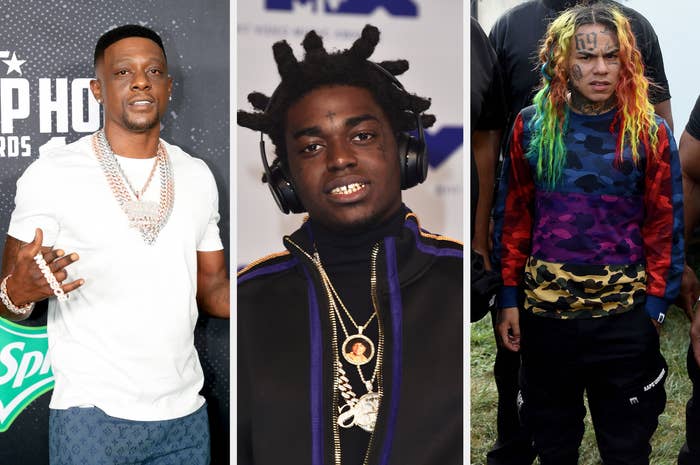 Boosie Badazz isn't a fan of Kodak Black working with 6ix9ine.
Boosie took to Instagram Live on Thursday to share his thoughts on the matter, putting Kodak on blast.
"That n***a Yak f**ked me up," Boosie said. "I wonder how all them Zoes feel, dawg. I know them Zoes fucked up right now. I know the state of Florida fucked up right now. This n***a ain't got no morals, don't got no principles. Damn, I thought that little n***a was like that. N***a ain't no street n***a at all. Damn."
"I blame the streets, bro. Streets still fuck with that n***a? Come on, man. I thought that n***a stood up for the streets, man. … I wish I could take that n***a ass off 'Rocketman' now, shit," Boosie said, referencing his April track featuring Yak and Jeezy. "No loyalty to no principles over money, man. Money can make you do anything, bro. The biggest rat in the world."
Boosie is vehemently against snitching. He's previously denounced 69 for being a rat, even saying back in 2019 that the Brooklyn native "will be murdered" for snitching when he ratted out his associates in his federal case. More recently, Boosie has taken aim at Gunna for allegedly snitching in the YSL RICO case, saying that he wouldn't even work for the Atlanta rapper for $1 billion.
Though Boosie is anti-6ix9ine, in June he revealed he was impressed by how the "Gummo" rapper handled himself during a gym room assault that left him hospitalized. "I like how 6ix9ine took it, bro," Boosie told VladTV. "I ain't lying. I like how he manned it out."
Tekashi took to IG to tease his upcoming collaboration with Kodak, which is set to drop tomorrow.