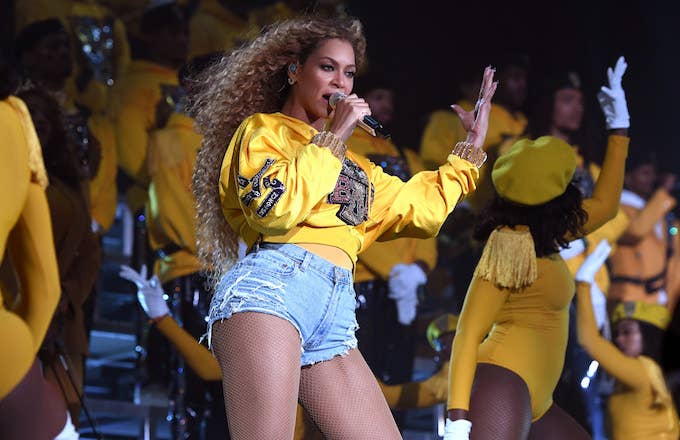 Beyoncé's dad Mathew Knowles is creating a musical based on his daughter and Destiny's Child's stories.
Knowles made the announcement on Instagram on Tuesday, writing that he has plans to bring Survivor: The Destiny's Child Musical to Broadway, London's West End, and on a world tour. Knowles plans on premiering the musical in Houston next year, per TMZ.
The musical will be told from Knowles' perspective. "I want to pull back the curtain," Knowles wrote in a statement on his website. "I feel it's time to give the world an opportunity to hear, see and feel the victories and failures that I've had as a husband, father, and manager who risked everything in pursuit of fulfilling dreams—those of mine and others." Knowles was Destiny's Child co-creator and manager.
The show will begin from the group's inception and recount its climb to superstardom. It'll also tell the story of the 67-year-old's own rise through the music industry. "Ultimately, the story shares the message that building a dream takes sacrifice, even at the cost of everything and everyone you love," Knowles' statement reads.
Knowles is collaborating with writer, producer, director, and Houston native Je'Caryous Johnson, who's had a fruitful career of his own in the theater industry. His recent stage productions include Redemption of a Dogg, a musical based on the life and music of Snoop Dogg, and Set It Off Live, a stage adaptation of the 1996 Warner Brothers cult film that featured Queen Latifah, Jada Pinkett-Smith, and Vivica A. Fox.
Beyoncé has had a stellar week. In addition to her #BeforeILetGoChallenge going viral, the Grammy-winning singer dropped her visual album Lemonade on streaming platforms, and released her Netflix doc Homecoming and accompanying 40-track live album.