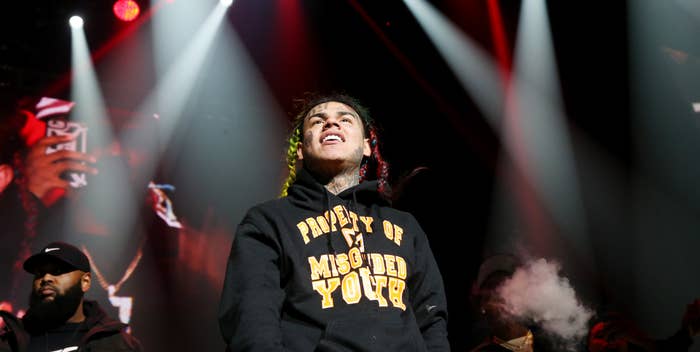 6ix9ine has responded to 50 Cent admitting that he wouldn't work with the "Gummo" rapper now that he's been released into home incarceration.
6ix9ine fired his shot in the comments section of an Instagram post by The Shade Room, writing, "Won't be the first time 50 abandons his son....... lemme just mind my business."
Fif's latest remarks arrived on Thursday during a new interview with Big Boy. "I wouldn't work with him. What it is, is it's just against the way I grew up," 50 said, also explaining that he understands why 6ix9ine snitched.
During the interview, Fif also discussed how 6ix9ine's target market—kids in middle America—would ensure that the rapper remains successful and that new artists are going to "adjust to him," despite the fact that 6ix9ine is a snitch. Fif made similar comments to Angie Martinez in February, saying that "street opinions" wouldn't squash 6ix9ine's career.
6ix9ine cited 50's beef with his biological son Marquise Jackson. During an Instagram Live session earlier this month, Fif touched on his contentious relationships with both his son and 6ix9ine, saying, "Nah, I ain't heard from 6ix9ine. He's his mother's child now. He told on everybody. He better than Marquise, though. I'll take him before I take my actual biological son. Fuck that n***a."
Marquise later responded to 50, saying in an Instagram Story that he wanted no part in his father "claiming a rat." 50 Cent disowned Marquise several years ago.