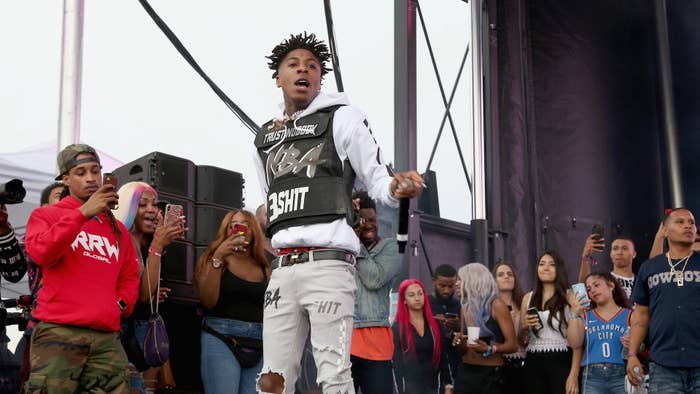 Youngboy Never Broke Again will remain behind bars until further notice.
According to legal documents viewed by Complex, a Louisiana judge has revoked the 21-year-old rapper's $540,000 bond that was granted in the Central District of California last month. YoungBoy—legal name Kentrell DeSean Gaulden—was placed in federal custody on March 22 following an on-foot pursuit in California. He was wanted on an outstanding warrant stemming from 2020 drugs- and weapons-related charges. A California magistrate judge ultimately granted YoungBoy pretrial release that was contingent on Louisiana's approval.
On April 1, U.S. District Judge Shelly D. Dick ordered YoungBoy to remain detained pending trial, citing his history of probation violations and his "characteristics." The Louisiana State Attorney also pointed to YoungBoy's wealth as a major factor, stating the rapper's assets made it possible for him to post bond and be released back into the public, "despite the recommendation of the United States Probation and Pre-Trial Services Department that the defendant presents a risk of danger."
"Two factors—Gaulden's history and characteristics and the nature and seriousness of the danger posed by Gaulden's release—are closely related," the document read. "U.S. Probation and Pre-Trial Services provided the Court with sealed, relevant information germane to Gaulden's characteristics and history, which reflect a pattern of violent behavior stretching back several years. The Court also notes that based on their investigation into Gaulden's history and background, U.S. Probation and Pre-Trial Services recommended detention. The exhibits offered by the Government, particularly the testimony from Gaulden's June 2019 state probation revocation proceeding and the U.S. Probation and Pre-Trial Services report, convincingly satisfy the Court that there is a serious risk of danger to the public if Gaulden is released."
YoungBoy is charged with knowing possession of a firearm as a felon and possession of a firearm that was not registered to him.
The story was first reported by XXL magazine. You can check out a breakdown of YoungBoy's legal troubles in the video below.