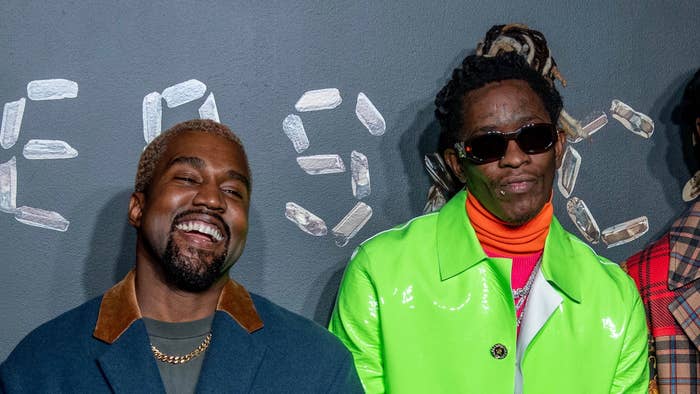 Young Thug just made a generous offer to Kanye West.
On Thursday night, the incarcerated rapper took to Instagram to tell Ye that he has more than 100 acres of land in Georgia and is willing to give them all up for the Yeezy retail expansion.
"@KanyeWest I got over 100 acres," Thugger wrote on his Instagram Stories. "However many you need they're yours free of charge. On GOD."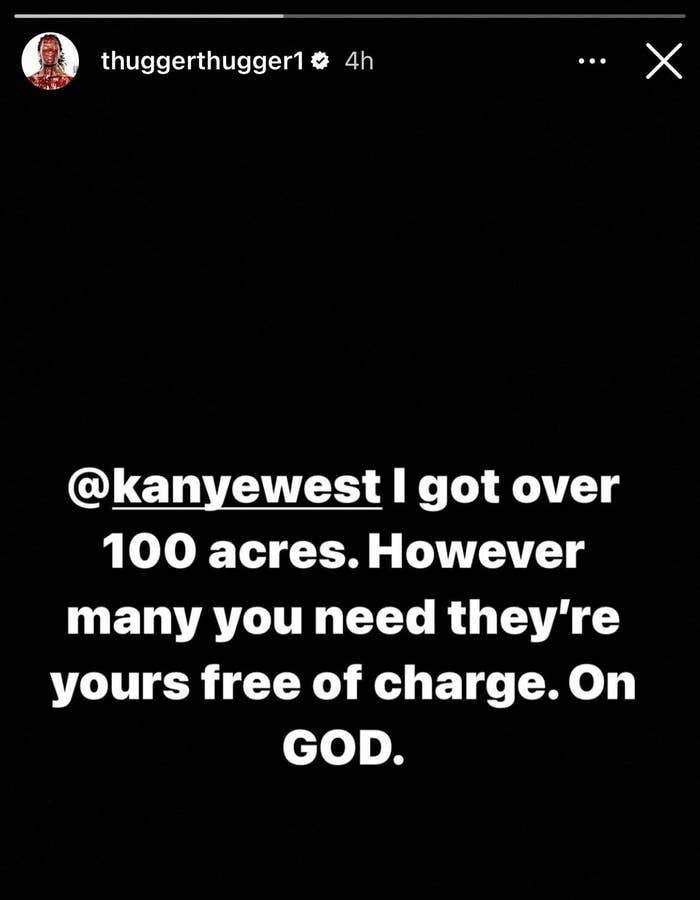 The post came just a day after Kanye accused Gap and Adidas of failing to uphold their contractual obligations to build permanent Yeezy stores. The multi-hyphenate said the brands have to yet to fulfill those promises "even though I save both of those companies at the same time."
But rather than wait on the Gap and Adidas to make the first moves, Kanye told his followers he would take matters into his own hands and open Yeezy brick-and-mortars in every state, starting with one in Atlanta.
"Who would be the best to open it? I'll buy the land and/or building," Ye wrote. "Then we gonna open up in every state and then internationally. Anyone who has over 10 years retail experience and is ready to change the world post your Instagram handle or store location in the comments and we'll find you."
Thug received 100 acres of land as a birthday gift from his manager Geoff Ogunlesi. The rapper later told Complex he would use the ATL property to build "Slime City," which would include new homes, a waterpark, and other attractions for the youth.
"Most of the city is going to be something that has something to do with kids," he told Eric Skelton in a cover story. "Summer camps, school. A private school for Black kids."
Thug is currently behind bars awaiting trial on RICO charges. The 31-year-old was arrested back in May along with dozens of YSL associates who are accused of racketeering and other gang-related crimes.
On Thursday night, Kanye shared an ASAP Bari text about getting Thugger out of jail. West then told Bari he forwarded the message to his estranged wife Kim Kardashian, who has been a key figure in securing clemency for former inmates.