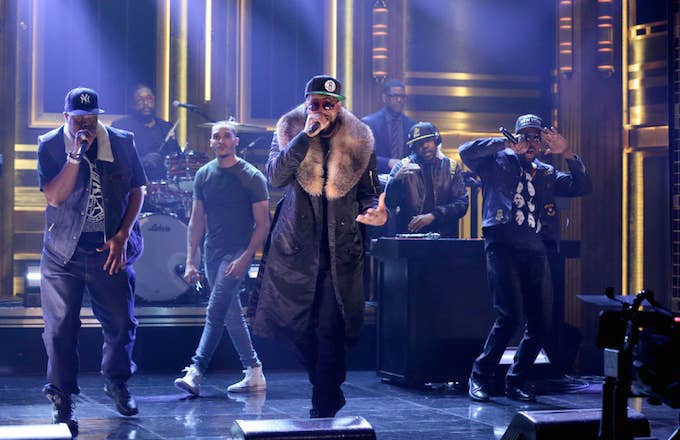 Wu-Tang Clan has been accused of ripping off a 1960s singing group.
On Friday, members of The Diplomats filed a copyright infringement lawsuit against the legendary hip-hop collective over their 2017 track "People Say." According to legal documents obtained by The Wrap, the soul trio claims Wu-Tang's producer Mathematics lifted the "People Say" melody from their 1969 record "I've Got the Kind of Love." The plaintiffs also point out that the title of the Wu-Tang cut is taken from lyrics featured in their song.
"Throughout its duration, 'People Say' contains and embodies multiple recognizable and protectable elements of Plaintiffs' 'I've Got the Kind of Love,'" the lawsuit reads. "These original, protectable elements include but are not limited to the melody, chords, lyrics, instrumentation, and rhythmic elements of 'I've Got the Kind of Love.' (Even the title 'People Say' is a lyric from 'I've Got the Kind of Love.')"
"People Say" is the lead single off Mathematic's 2017 studio album Wu-Tang: The Saga Continues. According to The Wrap, members of The Diplomats became aware of the similarities in recent months, after fans kept bringing it up online. The trio claims that they did not give Wu-Tang or Mathematics proper authorization to use their material, which is why they're asking a judge to stop all future performances and sales of "People Say." The Diplomats are also seeking for unspecified damages.
You can compare both tracks below.