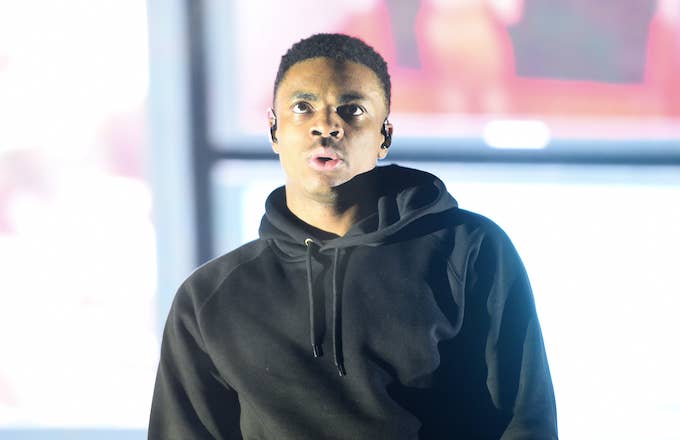 Back in 2015, Vince Staples received some backlash for his comments about '90s hip-hop. The outspoken rapper told Time magazine he didn't understand why the decade was so glorified, and went on to suggest 2Pac and Biggie were the only MCs worth noting.
"The '90s get a lot of credit," he said in the interview headlined "Meet the Rapper Who Thinks the '90s Were Totally Overrated." "I don't really know why. Biggie and 2Pac, those are the staples of the '90s. That's why they get the golden era credit. There's not a 50 Cent in the '90s. They don't even have a Kanye."
Well, more three years later, Vince clarified his polarizing comments during a brief phone interview on The Joe Budden Podcast. The 25-year-old artist claimed his words were taken out of context and that he was simply highlighting Pac and Biggie's place within the mainstream culture.
"I'm gonna tell you how that went down, because they did me dirty. I'm lowkey still mad about it," he told Budden. He went on to explain: "They said, 'You wanna talk about '90's hip-hop?' I said, 'I'm not talking about hip-hop to Time magazine; that's exactly what I said. Then they said, 'Alright, you can talk about '90s pop culture.' I'm on a Def Jam press run; y'all know what a Def Jam press run is. ... They was talking about sports, and then go to pop culture; and then they go to hip-hop being bigger now than it was then."
Vince said he then pointed out that many '90s rappers failed to achieve mainstream success; and that the only artists who were able to do so were Pac and Biggie. "That's why I said their two names, because they were for everybody, and there were more [rappers] for everybody after the fact," he recalled, essentially crediting Pac and Biggie for bringing hip-hop to the masses.
Later in the interview, Vince spoke about Wale's rumored beef with Budden and how they need to stop acting so tough. He then segued into the now-viral feud between Cardi B and Nicki Minaj, joking that they were the only rappers who were willing to take their drama to the next level.
"Everybody needs to stop fighting. None of you n***as is really with the business," he said. "My n***a Cardi B, my n***a Nicki, they ready to catch a body 'round this mothafucka. Stop pretending you n***as is out like that. Shoutout Cardi, shoutout Nicki. Let's keep this shit gangsta. Hip-hop too nice."
You can listen to Vince's call-in to The Joe Budden Podcast below. 
Vince is also gearing up to release a "special project" specifically for his longtime fans. The Big Fish Theory rapper announced the Thursday release via Instagram this week.