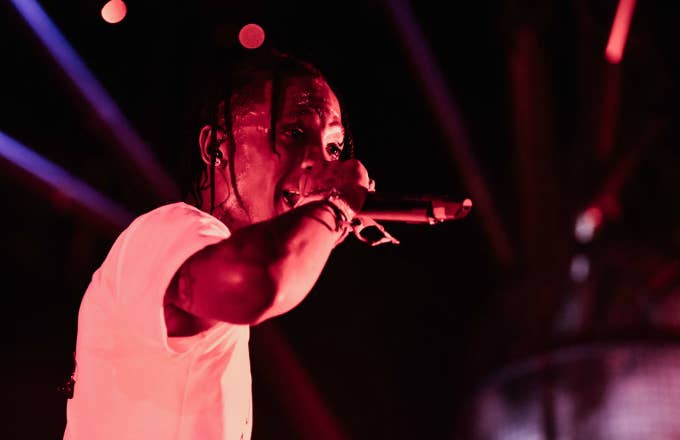 Travis Scott has two major projects on deck: his third studio album, Astroworld, as well as his collaborative album with Quavo. Though we're still holding out for more details on each release, the 25-year-old Houston rapper reassured fans that one of them is coming soon.
Travis dropped the news with a freestyle during performance earlier this month at The Rave/Eagles Club in Wisconsin. Video from that night recently surfaced on a Travis Instagram fanpage. You can hear him tell the crowd that one of the projects was right around the corner, but he didn't reveal which one it would be.
"Which one? I don't know. Which one? I don't know. Album coming soon," he rapped. "I've been up late working on some tunes. Album coming soon."
The freestyle comes more than a year after Travis announced Astroworld, which is rumored to be finished—or at least near completion. Last month, producer Mike Dean posted an Instagram photo of him, his dog Meeboob, and Travis in the studio. The caption read: "I know The world hates when @therealmeeboob heard astroworld before them."
So was La Flame prepping us for Astroworld's release? During an interview with GQ several weeks ago, the rapper also claimed his project with frequent collaborator Quavo was also close to dropping. But we all know he's been saying this since late 2016.
"The Quavo album is coming soon. I'm dropping new music soon. You know how I do it though: I like surprises," Travis said, before getting asked about the album's title. "We're all about surprises."
We'll just have to continue speculating until Travis reveals more information. Stay tuned.