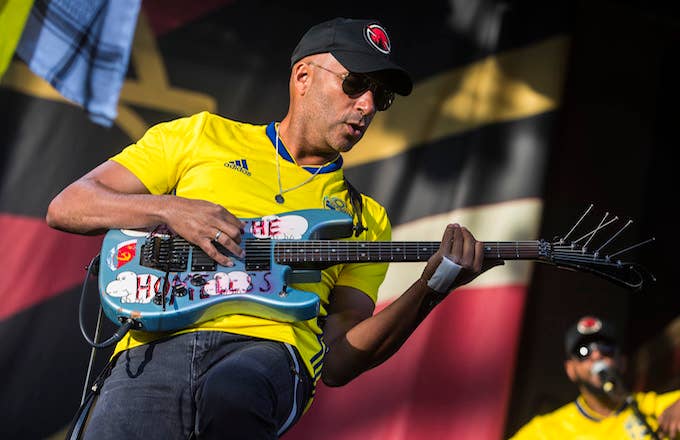 Tom Morello is gearing up to release a solo project called The Atlas Underground. And he's recruited a diverse mix of artists to assist the ambitious effort.
Morello announced the album Thursday, during an appearance on Lars Ulrich's Beats 1 show It's Electric. It was confirmed that The Atlas Underground would include guest features by everyone from Vic Mensa and Big Boi to Killer Mike and RZA to Bassnectar and Pretty Lights. The 54-year-old guitarist/vocalist told Ulrich that he approached the album with three main goals: present extraordinary guitar playing, deliver radio-friendly hits, and craft a "new genre of music."
"The riffs and the beats led the way, but the extraordinary talents of the collaborators set my creativity into uncharted territory. I've been devoted both musically and as an activist to fighting injustice at every turn," Morello said in a press release. "Amid this heightened sense of impending doom, it's now time to rally the troops in a last-ditch effort to save the planet, and our artistic souls. By challenging the boundaries of what music is and has sounded like before, you can open peoples' eyes to changing the status quo in society."
In conjunction with the album's announcement, Morello released its first two singles: "We Don't Need You" featuring Mensa as well as "Battle Sirens" with Knife Party.
You can check out both new tracks below. The Atlas Underground is available now for pre-order, and is slated to drop Oct. 12.
The Atlas Underground tracklist
"Battle Sirens" – Tom Morello ft. Knife Party
"Rabbit's Revenge"- Tom Morello ft. Bassnectar, Big Boi, and Killer Mike
"Every Step That I Take"- Tom Morello ft. Portugal. The Man and Whethan
"We Don't Need You"- Tom Morello ft. Vic Mensa
"Find Another Way"- Tom Morello ft. Marcus Mumford
"How Long"- Tom Morello ft. Steve Aoki and Tim McIlrath (Rise Against)
"Lucky One"- Tom Morello ft. K.Flay
"One Nation"- Tom Morello ft. Pretty Lights
"Vigilante Nocturno"- Tom Morello ft. Carl Restivo
"Where It's At Ain't What It Is"- Tom Morello ft. Gary Clark Jr. and Nico Stadi
"Roadrunner"- Tom Morello ft. Leikeli47
"Lead Poisoning"- Tom Morello ft. GZA, RZA, and Herobust