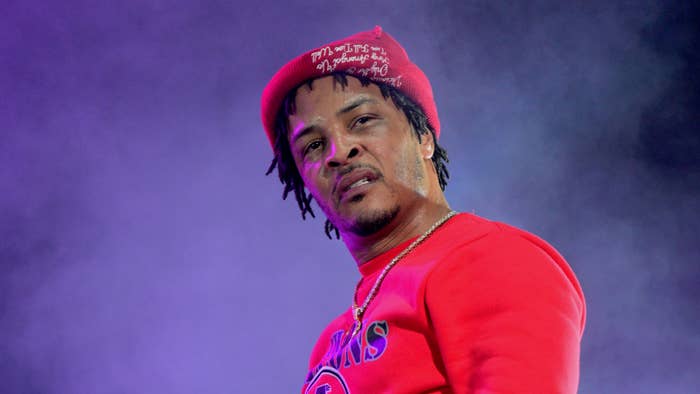 T.I. wasn't laughing.
As pointed out by Baller Alert, the Grammy-winning rapper got into a heated exchange Monday night during an open mic comedy event at Our Bar ATL. Video shows T.I. standing next to the stage confronting host Lauren Knight after she seemingly mentioned the sexual assault allegations against Tip and his wife, Tameka "Tiny" Harris.
The clip begins with T.I. denying the accusations and reminding the audience that the assault case was ultimately dismissed in Los Angeles court.
"There was no fucking crime. There is nothing to charge me for, or my wife," he says into the mic, before Knight attempts to interject. "Shut the fuck up for a second! Hey, listen. No, no, no. As many times as you joke on that shit, n***a, I'm gonna check your motherfuckin' ass as long as it takes. N***a, when you stop talking about it, when you stop playing with me and mine, I'ma stop saying something."
He continued, "Ain't no motherfucking case, ain't never been no motherfucking case. 'Cause I ain't did nothing wrong and my wife ain't did nothing wrong. And if you keep on playing with me, n***a, I'm gon' motherfuckin' continue to confront you publicly, verbally."
Though it's unclear exactly what Knight said to ignite the response, she later told the audience she didn't believe the assault allegations leveled against T.I. and Tiny.
"T.I. is innocent. I truly believe it," she said. "Give it up for him. There are no charges."
Immediately after Knight attempted to squash the issue, T.I. began shouting, once again, and told Knight to "stop playing with" him. Knight reassured Tip that wasn't the case, and reminded him she was just doing her job as a comedian.
"This is not a rap battle. This is a motherfuckin' comedy show," she said, as T.I. walked on the stage and gave her a hug. "And be clear, if I want to make jokes about something, I'll make jokes about something. Absolutely. You're not going to tell me to shut the fuck up in my shit. This is my shit. Let's be very clear."
T.I. then snatched the mic from Knight's hands and said, "No, it's not," before his sound was cut.
Several minutes later, Knight and T.I. exchanged some kinder words on the stage and seemingly buried the hatchet.
On Tuesday evening, Knight took to Instagram to address the heated incident. She said T.I. showed up toward the end of the event, and delivered a 30-minute stand-up routine. Knight says after T.I. completed his set, she returned to the stage to continue her hosting duties, but kept getting interrupted by T.I.'s heckling.
"I'm talking about marriage and shit [and] he keeps cutting me off, telling me to 'shut the fuck,' calling me all kinds of bitches—heckling me," she claimed. "So, I'm like, 'Alright, c'mon. Stop playing with me. It's crazy, like you keep going and I can't say nothing to you."
Knight says T.I. then began telling her to take off her wig, and refused to stop—so much so, she described his behavior as harassment. It was at that time, Knight decided to fire back at T.I. by bringing up the sexual abuse allegations.
"I said, 'Alright, I'll take my wig off when you speak on the allegations. Nobody was tight, except for him. Nobody called him a rapist. I responded to him telling me—in a room full of people—to rip my wig off, and made a joke just like he did. So if you gotta a problem with it, not mine."
On Tuesday, Knight posted a video of T.I. offering her a million dollars if she can produce a video in which he calls her a "bitch." The second slide of the post features a video taken from the show in which T.I. appears to do exactly that.
"See it went from something simple that should've got squashed and settled to this man using his platform to lie on me to justify some bullshit. Everybody is tripping. I just wanna do comedy. @troubleman31 run me my million," she captioned the post. "We ended on a positive note now you lying and saying shit to weaponize your fan base and THAT I'm not here for. Idgaf about how y'all feel I'm here for the truth. I'm getting death threats and harassed cause a n***a wanna lie. That's lame as hell. This shit is aggy and most importantly I have no reason to lie."
T.I. went on to share his own post on Wednesday, promoting Lauren Knight's work.
"I've said from my entrance into the world of comedy that I intend to use my light to shine on others," he wrote in his caption. "To bring awareness to those who also have love and respect for the art form. In the spirit of that…Everyone I'd like to introduce you to @sheslaurenk she's a young up & coming comic on the scene in Atlanta check her out. She's a young black women fighting to use her voice for laughter & I understand that may take us down dark roads at times but there's always an opportunity to find a beacon of light & produce a positive outcome. As i say all the time…all ships rise with the high tide."
"May she use whatever fame & notoriety she receives for good," he concluded. "I wish you the best & hope you bring the world more joy & laughter with the light you receive. I've done my part here…moving on. Love & Respect."