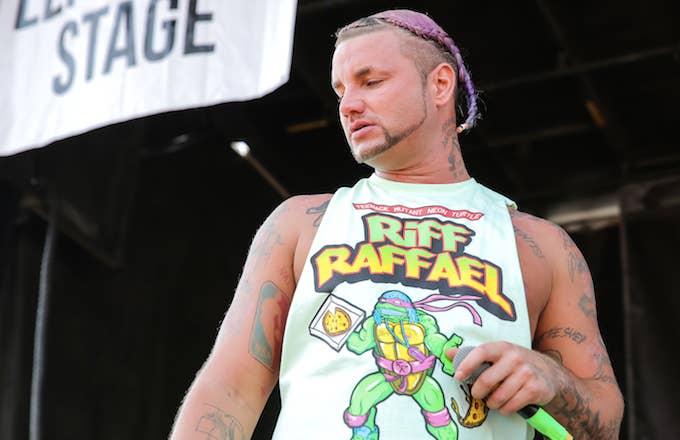 Riff Raff is headed to trial.
According to legal documents obtained by Pitchfork, the 36-year-old rapper will appear in court to face sexual assault allegations stemming from four years ago. Riff Raff—legal name Horst Christian Simco—has been accused of sexual assaulting two women at a Nevada brothel and using intimidation tactics to keep them quiet.
An alleged victim—identified as Jane Doe—filed a civil case against the rapper in Oct. 23, 2014, claiming the assault occurred several weeks prior when she and her friend "Sara" met Riff Raff at the Bunny Ranch Bar & Cigar. The women reportedly went to the venue with the intention of meeting Riff Raff, who was there for a concert. Jane Doe said Riff Raff and his associate Eric Lasaan Bing, aka DollaBillGates, invited her and Sara to a room inside the brothel. She claims the men then began using cocaine after the women declined to participate; however, according to court documents, DollaBillGates told authorities that all four of them had consumed the drug that night. Pitchfork notes Riff Raff has not admitted to the alleged cocaine use. 
During a November 2014 interview with Det. Marty Dues of the Lyon County Sheriff's Office, Jane Doe said she and Sara were carrying a bag full of money they had earned while performing at bachelor parties earlier that evening; she claims Riff Raff than took the money out of the bag and told them, "If you want this money back, you are both going to fuck me [...] If you don't, you're not going to like what's going to happen and you are not getting your precious money back."
Jane Doe alleged DollaBillGates was blocking the door as Riff Raff made his threats. She told authorities that she and Sara agreed to have sex in order to get back their money. 
Per Pitchfork:
She alleged that both women performed oral sex on RiFF RAFF and had vaginal intercourse with him. Jane Doe also claimed that RiFF RAFF forced her to perform oral sex on DollaBillGates, saying, "B***h, do you want your money or not?" and, "then do what you're f**king told." She said that after both rappers finished, they gave them their money back.
On the night of the alleged assault, Jane Doe filed a police report with the South Lake Tahoe Police Department in California, where she resides. Her report was later given to Nevada authorities. In the following day, she had a sexual assault examination.
Riff Raff denied the story in a 2016 court declaration, insisting he did not rape the women nor did he have any sexual contact with them. Riff Raff's legal team argued he was "being targeted because [Jane Doe] believes him to be a wealthy public figure."
Det. Dues eventually closed the criminal case after interviewing Jane Doe, Sara, and DollaBillGates—everyone except Riff Raff. The detective cited lack of physical evidence, forensic evidence, and conflicting testimonies. According to legal documents, Sara claimed she never felt "fearful" during the night nor was she "forced" to do anything. Sara also told the detective Jane Doe was "just trying to make up stories."
Though the criminal case was tossed, the civil case remained open. Jane Doe is seeking $12 million in damages, claiming the alleged assault left her with PTSD, manic depression, social anxiety, and insomnia. She also said Riff Raff has bullied and intimidated her in an effort to keep her silent.
The trial will begin May 28, 2019.
The news arrives just months after two other women accused Riff Raff of sexual assault: an Australian woman claimed he drugged and raped her in 2013; another woman accused the rapper of sexual misconduct in 2015, when she was 17 years old. Riff Raff  has also denied these allegations.
If you have been a victim of sexual assault or you know someone who has, you can contact the Crisis Text Line via Facebook or by texting "HERE" to 741-741.