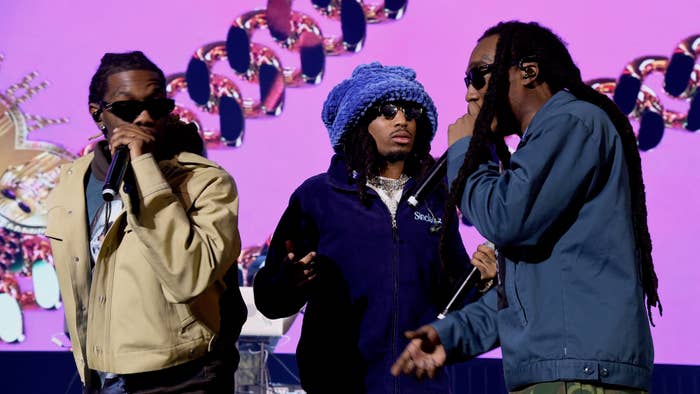 We now have an answer on the years-long mystery surrounding "Bad and Boujee."
During a recent episode of the Rap Radar podcast, co-host Elliott Wilson asked Takeoff why he didn't appear on the 2016 hit alongside fellow Migos members Quavo and Offset.
"Was there something about 'Bad and Boujee' why you didn't wanna rap on that beat?" Elliot asks in a teaser clip. "Like, why wasn't you on the song when it came out?"
Though the question was directed at Takeoff, Quavo immediately jumped in with an explanation. 
"I just think it was just timing," Quavo said, with Takeoff signaling his agreement. "We was just trying to get something out. We was actually pissed off because we ain't have no music out. I think like a couple months before that whole little wave and we was going through the litigation with 300 [Entertainment], so we ended up leaking 'Bad and Boujee' on SoundCloud first."
Quavo went on to say the group was under such a serious time crunch, and even he wasn't supposed to appear on the track. "Shit, I wasn't even finna be on it," he continued. "I had to do my verse on some quick, fast, in-a-rush shit. So it was just like everybody running to the song and trying to get it done."
You can check out the clip below. The Rap Radar interview, which doesn't include Offset, is scheduled to premiere Thursday.
Produced by Metro Boomin, "Bad and Boujee" marked the first No. 1 song for the ATL trio and featured Lil Uzi Vert. The song earned the rappers a nod for Best Rap Performance at the 60th Grammy Awards, inspired countless memes, and went quadruple platinum. 
One of the most-talked about moments involving the track went down on the 2017 BET Awards red carpet. While speaking to Migos, DJ Akademiks plainly asked Takeoff about his absence. "I feel like that's a running joke, with you being left off 'Bad and Boujee,'" Akademiks said.
"I ain't left off 'Bad and Boujee,'" Takeoff responded. "You think I'm left off 'Bad and Boujee'?"
Akademiks' co-host Joe Budden attempted to wrap up the interview; Ak continued for a moment before Joe dropped his mic and walked out of frame. Quavo, Takeoff, and Offset got out of their seats and stepped toward Budden before others intervened.