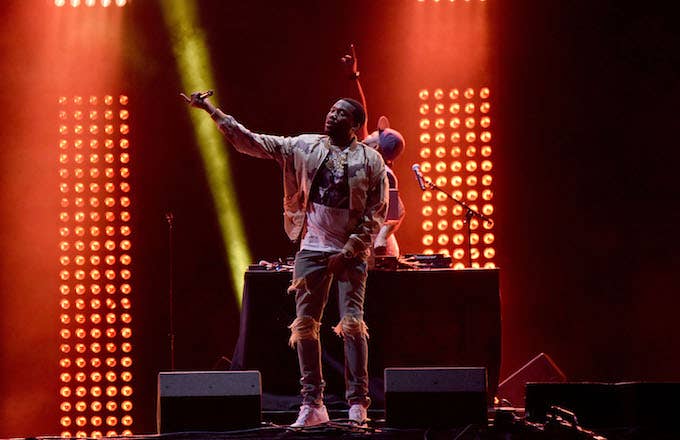 Meek Mill is doing everything he can to regain his freedom.
While serving his two- to four-year prison sentence, the Philadelphia rapper filed documents Wednesday demanding his release as well as the termination of his 10-year probation.TMZ reports the documents reiterate his legal team's claims against Judge Genece Brinkley, who is accused of having a personal vendetta against Meek.
The judge is reportedly under federal investigation for potentially using her authority to influence Meek's business decisions. Brinkely allegedly asked the rapper to give her a shoutout on a record. When Meek laughed it off as a joke, the judge reportedly replied: "OK, suit yourself."
Meek's attorney Joe Tacopina also claims the judge asked his client to drop his current management and sign with Charlie Mack. Tacopina has reportedly filed a motion to have Brinkley remove herself from the case.
According to TMZ, the documents also argue Meek's probation violation was for two charges that were later dismissed. The documents also point to testimony by Meek's PO, who said the rapper responded well to probation. Meek also said he should be released, granted time serve, and taken off probation, as he's matured, become a better father, and has "generally been rehabilitated."
Many people, including celebrities, have spoken out in support of Meek. Jay Z called the sentence "unjust and heavy-handed," while Colin Kaepernick called Meek a victim "of systemic oppression."