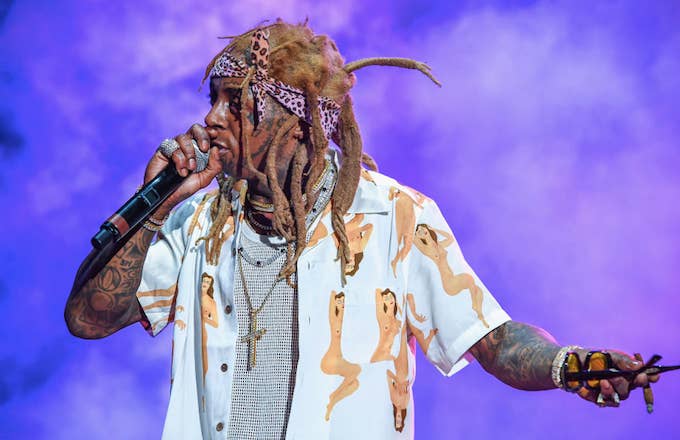 One of the many topics addressed in Tha Carter V was the time Lil Wayne sustained a self-inflicted gunshot wound when he was just a child. The New Orleans rapper previously claimed the incident was accidental; however, in Solange's 2016 track "Mad," Wayne sparked speculation that the shooting was a suicide attempt.
Wayne confirmed the theories Thursday night, in Tha Carter V's closing cut "Let It All Work Out." The track samples Sampha's song "Indecision."  
At the 3:45 mark, Wayne raps:
I shot it, and I woke up with blood all around me
It's mine, I didn't die but as I was dying
God came to my side and we talked about it
He sold me another life and he made a prophet
Wayne's mother, Jacida Carter, also mentions the suicide attempt in the album's penultimate track, "Used 2," stating: "I still don't know today. Was he playing with the gun or was it an accident I still ... I just don't I ... I be wanting to ask him but I never asked him after all these years. Was that a accident or did he... or was he playing with the gun? So I never really found out about what—you know, what happ- what really happened with him and that shooting."
In a recent interview with Billboard, Young Money President Mack Maine revealed Wayne would address his suicide attempt in Tha Carter V. 
"He just told me one day that he was ready to address it now," Main said. "Just being an adult, reaching a level of maturity and comfort where it's like, 'I want to talk about this because I know a lot of people out here might be going through that.'"
If you or someone you know is in crisis and needs help, call the National Suicide Prevention Lifeline at 1-800-273-8255.